You know how some days you have the feeling that the day is just filled with all kinds of possibilities? Today was one of those days. I got to meet and hang out with someone's whose work I admire – Frank Doorhof. Frank is a fashion photographer from The Netherlands who is highly regarded for his lighting skills. He is currently visiting New York to present workshops on photography lighting. (In fact, there are still a few spots open for the Monday workshop.)
A mutual friend, Richard Verlaque, arranged for us to meet, with the intention of us also doing a photo shoot, and possibly exploring some of New York. The exploration of New York was mostly us just sitting in traffic though. But we did get to hang out and chat during the afternoon and over dinner. We also spent time photographing our model, Meagan, who met up with us in Coney Island. It was a great day, filled with interesting conversations about photography. Equally good was to watch Frank work and trying out new ideas. Thank you to Richard for arranging this, and to our patient model, Meagan.
A little more about this photograph ..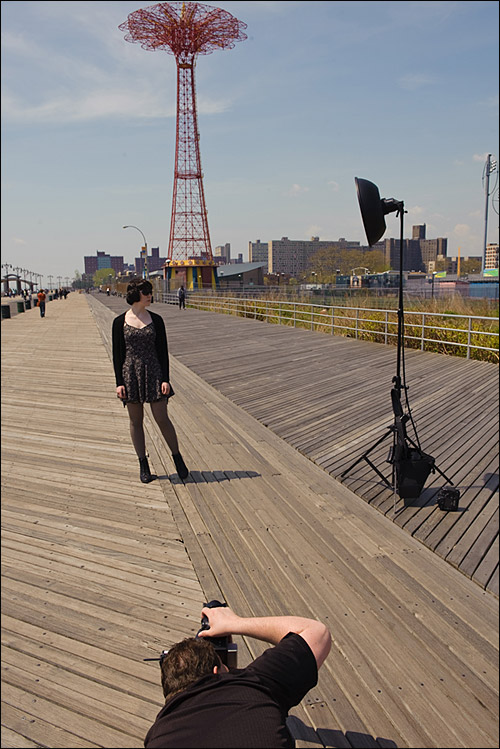 That's Frank Doorhof there, flat down on the boardwalk.
It's not comfortable. There are splinters.
The lighting was with my Profoto AcuteB 600R power pack (B&H) that I use when I need a lot of juice to match bright sunlight.  The light modifier is the Profoto beauty dish (B&H).  Frank likes his light to be dramatic, so that's what we settled for using for the first part of the shoot.  The light was set up to counter some of the harsh shadows of the sun.
In this photograph, I initially didn't like that her hand was "touching" the Parachute Jump in the background.  I also wanted more separation between her feet and the ground, and didn't like how her toe was "touching" the building in the background.  But looking at this image again in comparison to others, I felt it hinted more at a super-hero theme with Meagan towering over the background structures like that.
Camera settings:  1/250 @ f11 @ 200 ISO .. but our model moved closer to the beauty dish when she jumped, so I had to pull down the exposure by 1.5 EV in processing the RAW file.  To sweeten the final image, I used  the Spicify setting in Topaz Adjust.