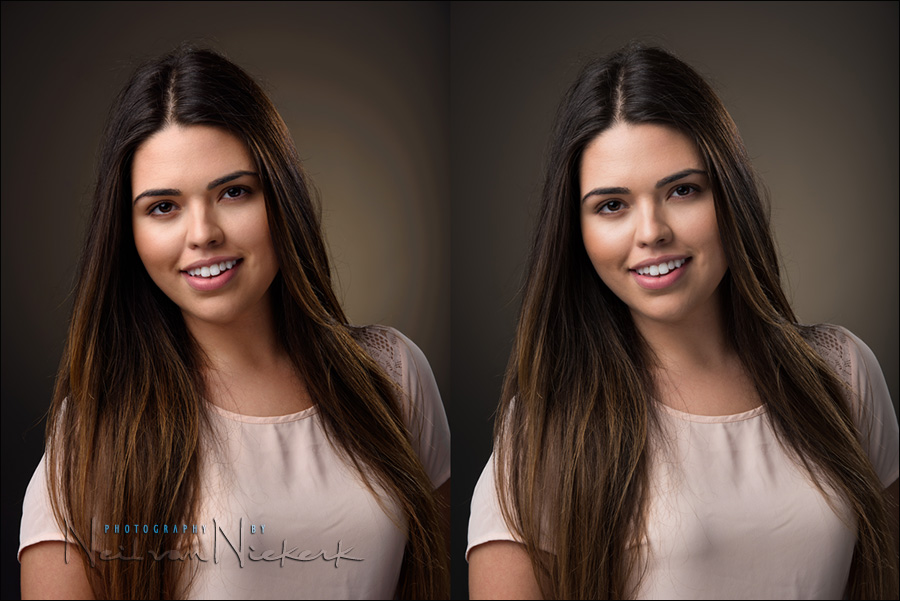 Post-processing workflow: Removing color banding in photos
Photographing people in the studio against a darker background, I've been plagued with banding problems. Some of it had to do with the limitation of working in an 8-bit environment in Photoshop. As described in this article – how to deal with color banding – a work-around was to editing images as TIFF, and thereby skipping a few steps where I would previously just have edited the JPG. The additional info in the TIFF file minimized color banding.
But then with darker backgrounds which have a bit of color in them, the problem still cropped up, as shown in the left-hand image. Then I stumbled on the cause of the problem – the camera profile in ACR / Lightroom.
At some point I had changed the camera profile away from the default – Adobe Standard – to Camera Standard. I liked the added contrast and saturation (as can be seen in the comparison above.) But this unknowingly, come at a cost – increased color banding in smooth transitions in darker tones. This isn't something you'd notice in the background if it consisted of a landscape or an urban scene. But the moment you have smooth gradients of darker tones, this problem rears its ugly head.
It's as simple a solution as that – keep the camera profile in ACR / Lightroom to Adobe Standard. Or, if you use a different flavor via one of the profiles you purchase, just be aware that this could be a problem.
I wanted to share this, since I spent an entire morning on Photoshop tutorials on dealing with color banding – none of which worked in this example. All it took was going back to the root – the camera profile used in editing the RAW files. If you see color banding in your photos, then perhaps, perhaps the solution is as simple as this.
Edited to add: The images were shot with the Nikon D810.