First steps in shooting video with a stabilized gimbal
[Testing out the Defy G2x gimbal, with a test run one evening in Times Square. Here is some of the (random) footage as I played with it to get a hang of its response and handling.]
That smooth, fluid movement when shooting video with the camera moving, used to be the domain of cinema or higher-end productions because of the cost of the gear. Recently however, stabilized gimbals have appeared on the market around the $5,000 mark … and then the more accessible, smaller units at around the $2,000 point. Suddenly, these items were more within reach of everyone who aspired to add another slick level to their videography – sweeping cinematic movement of the camera while following the subject.
Mechanically balanced devices, such as the Glidecam (B&H), had their fans who could create smooth movement with them – but they were difficult to balance, and difficult to master. I hated my Glidecam – it needed constant adjusting, and was heavy. So I was happy to ditch it for a stabilized gimbal.
I rented the Freefly Mövi M5, to see whether I'd even want one. I quickly adapted to it, even though the general warning is that it isn't a "turn-key" product. In other words, you can't expect to use it with skill right out of the box. It needs some practice. Even then, the Mövi quickly allowed me to get smooth movement in video.
I then tried a DJI Ronin (B&H), but it is a heavy monster that killed my back after shooting with it for a while. There is the lighter (and quite affordable) DJI Ronin M (B&H), but I decided on a different gimbal.
I wanted something light and fun to use, and easy to set up. My needs for a gimbal is different than a serious videographer's perhaps, in that I am a photographer who wants to expand his range and skills. (As opposed to say, running a video production company.)
In the end, I settled for the Defy G2x gimbal for a few reasons: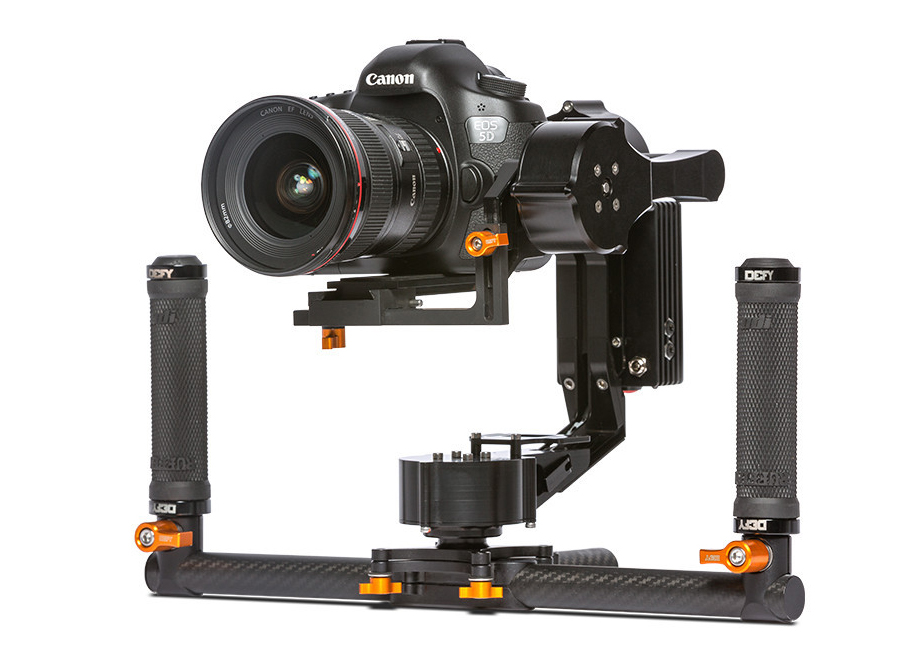 Review: the Defy G2x gimbal
The Defy G2x is USA designed and manufactured. This was a big plus for me, especially considering the first frustrated steps with the DJI Phantom drone – with the manual and instructions not so very obvious in placed. I really liked the idea of the support for this piece of gear being based in the USA.
It is light and small. In that video above, I could walk through the crowd without my hands being spread wide, as it would with a larger gimbal.
Of course, this smaller size meant that this gimbal can't carry a heavy camera & lens combination. I had to make some accommodations there. I started off with my Canon 6D and Canon 16-35mm f/4 IS combination (affiliate). That lens is so crisply sharp! (Here is my review of the Canon 16-35mm f/4 IS lens.) The one challenge with a zoom on a gimbal, is that when you change the zoom length, the glass inside shift position … and the gimbal is unbalanced again. Not such a huge issue with a stabilized gimbal, since it can take up some of the slack – but it does work harder when it has to fight against the center of gravity of the camera & lens combo.
I then settled on a Nikon D750 and Nikon 20mm f/1.8G combination (affiliate links). That lens is razor sharp, and has very little distortion. This is a huge bonus if you are creating a video where architecture features.
The best part of the Nikon DSLRs – they allow you to crop in camera to a 1.5 crop that still gives you 1080p video. With this, I effectively had two focal lengths – the 20mm and the crop-sensor 30mm equivalent. Both of which gave me 1080p video. No change in the balance!
The Nikon D750 also has a swiveling LCD screen, which is a big bonus. With this smaller gimbal, an external monitor would've thrown off the handing again.
Best of all – you can partially see it in this photo from Defy's website – you can balance the camera & lens combo on the gimbal, while in that position. You would actually flip the two handles horizontally. Then the gimbal itself becomes its own stand! Genius. No need to carry a separate stand around … or clumsily hold the gimbal inbetween shots.
You can also invert the gimbal from this position, and add the handle for a low point of view.
I also added the Pan & Tilt Joystick which clamps to the horizontal bar. This allows me to move the camera in a different direction. Quite elegant, and somewhat takes away the need for a 2nd person to monitor and control the gimbal.
With the way this gimbal rests on its own handles so you can balance it – combined with its smaller size – this is as close to a non-clumsy one-person setup as you'll probably get.
[ For more videos, follow me on Vimeo / YouTube ]
Summary
This video clip at the top was a first outing on the streets with this gimbal, other than just testing it out in the studio.

One thing was immediately clear with any of the gimbals I have used – if you hesitate in your movement, it shows very clearly in the shot. You need to be specific about your movement, and follow through firmly.

It will take a bit of time to get used to its handling, and how it responds to specific movement – but I already like these initial random test segments. With practice the movements will become more fluid still.

Early days, but I am excited to have added this device to my arsenal of cool toys.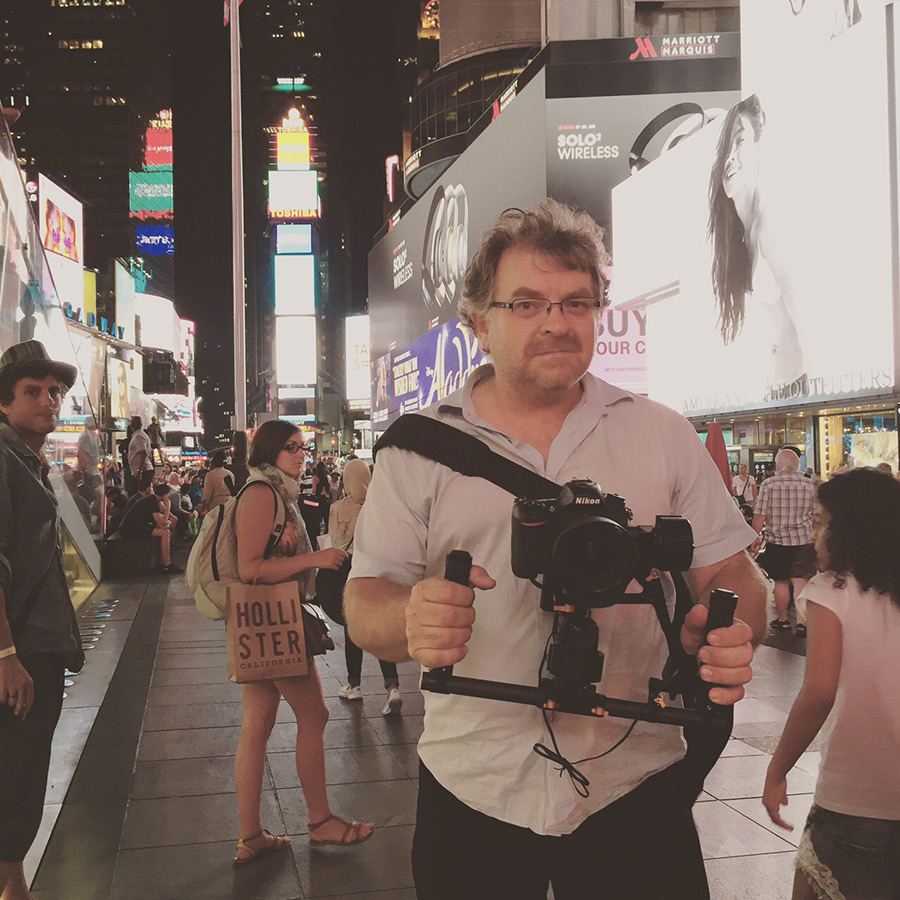 And here I am – an
Instagram
shot from that evening. Yes, this is my happy face. (The strap you see over my shoulder isn't part of the gimbal – it's my camera bag.)