Studio photography: Low-key lighting for a dramatic portrait
Randy has a look reminiscent of Ava Gardner, so I asked her to be a subject for my book, Lighting & Design. I wanted to create a portrait of Randy in the Hollywood Glamor style of lighting, similar to the vintage styled boudoir photo session (with Olena). And it looked great! But while I had someone so photogenic and with such dramatic styling, I wanted to take further photos of Randy, and she happily indulged me.
For one of the setups, I wanted to explore again using the Profoto beauty dish (affiliate) as a single light source. As mentioned in a previous article – thoughts on using a beauty dish – a beauty dish is best used with a grid to contain the light spill. This does mean a beauty dish has to be used in a specific way – close up to your subject, and with specific posing. Without additional light from other light sources to give fill-light, a beauty dish can be fairly challenging as a single light source.
I wanted a low-key look, so I used a dark grey backdrop, and worked well ahead of it so that the light from the main light (beauty dish) had very little effect. (The Inverse Square Law helps here with the non-linear light fall-off to the background.) But to not have Randy's dark hair melt away into a black background, it needed a hair-light of some kind. I set up a gridded Profoto RFi 1'×3′ softbox (affiliate) behind her light from the back (and above).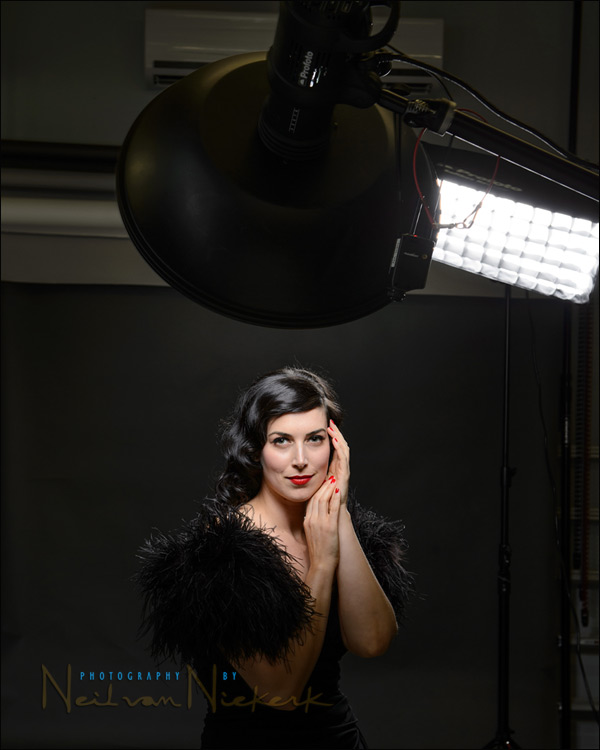 This pull-back shot shows where the gridded beauty dish was placed, as well as the gridded 1×3 softbox behind Randy. Keep in mind that I pulled up the Shadow detail tremendously for this photo so that you could actually see the lighting gear here.
Because the light from a gridded light source is fairly narrow, it does mean you, as the photographer have to pose your subject very specifically. There's none of the free movement you can get when using large light sources and multiple lights in the studio. With this type of light source – a gridded softbox or a gridded beauty dish – even the slightest movement of your subject face, makes a big difference. It means you have to closely look how the modeling light falls on your subject.
Post-processing was an adaption of my usual way of retouching for portraits. I do like the dramatic results achieved with this two-light setup – very well suited for Randy's look.
Photo gear used (or equivalents)
Related articles
Studio lighting workshops
If you are interested in learning more about studio lighting, including lighting for headshots, I offer workshops on studio lighting. The workshops will be held at my studio space in NJ, and it has a wide range of studio lighting gear to play with!
---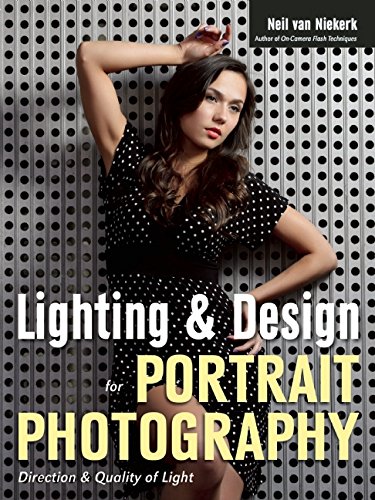 Lighting & Design for Portrait Photography
Lighting & Design is a follow-up of sorts to Direction & Quality of Light. It's a slightly eclectic mix, discussing the thought-process with various scenarios shooting portraits. The examples use available light, bounce flash, off-camera flash as well as studio lighting.
The idea is that in every one of the 60 sections, there is something to be learnt and applied, regardless of your level as a photographer or where you shoot – all shaped to form a cohesive narrative arc throughout the book.
You can either purchase a copy via Amazon USA or Amazon UK. The book will also available on the Apple iBook Store, and Amazon Kindle.
---