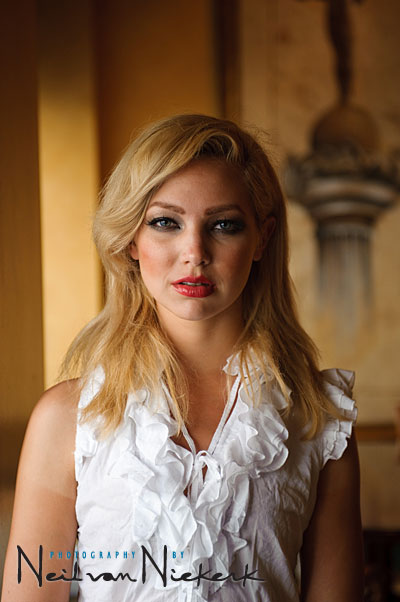 Canon's TTL flash vs Nikon's TTL flash
One of the frequent topics on the various forums is the Canon vs Nikon debate … and one of the usual replies is that Nikon is better in certain ways, and Canon is better in other ways.  And the common wisdom that Nikon's flash system is superior to Canon.  And this seems to be accepted as one of those general truths.
Now, having shot primarily Nikon for a few years (D100 / D2H / D2x), and then Canon (mk2 / mk2N / 5D / mk3), and now Nikon again (D3) … I have this observation about Canon's flash system vs Nikon's flash system … they are different.
Disregarding wireless TTL flash, where Nikon is ahead in simplicity of operation and how much control you have – if we just look at TTL flash in various situations – I honestly can't say the one is better than the other.  Just that they are different.  So I have to go against the common wisdom there.
But they are different in ways that aren't easy to quantify.  Where I'm used to Canon's TTL flash responding in a certain way during different situations, the Nikon flash needs different flash exposure compensation.  So it responds differently, and I have to get used to it again.
This is going to be a long post and I'm afraid the point of what I am trying to say might get lost along the way.  So here it is right at the start already:  When it comes to any particular TTL flash system, just become familiar with it.  You can then make it work.
As simple a point as this … get used to how your particular camera and flash respond, and adjust your technique accordingly.
So, down to business …
One thing I noticed during the workshops that I present, where everyone has a different camera, is that Canon and Nikon responds differently with fill-flash.  And I wanted to explain some of the differences that I observed, in a blog posting here, so I took a series of images of one of the models, using a Nikon D3 and a Canon 5D mk2.
But before we get there, here are a few disclaimers:
1. This is not a Nikon versus Canon argument.
2. I have no idea how any camera handles TTL flash while the camera is an auto mode of any kind.  I also have no desire to learn about this and figure out how the engineers wrote their algorithms for flash when using your camera in Aperture Priority etc.
I use TTL flash in a fairly simplistic way:
I figure out what my ambient light is doing, and figure out what I want my ambient exposure settings to be, and then set my camera accordingly in manual exposure mode …  adding some amount of TTL flash to this, whether:
a. fill-flash to a certain extent, or
b. flash liberally mixed with the ambient light, or
c. have the ambient exposure low and then over-riding it completely with flash.
These decisions usually translate to these broad methods of adding flash to ambient:
a. get a good base exposure for my ambient light, and then add fill-flash to some degree, or
b. get an ambient exposure that is decent, but still under-exposed to a small extent, and then add a fair amount of flash to it.
c. under-expose the ambient light because it isn't ideal, and then have my flash as my main source of light, over-riding the ambient light completely.
This simplicity of using manual exposure mode, and then adding a certain amount of TTL flash to it, works for me.  I decide how much ambient light I want to record, and then add flash to it.
With the workshops, there is a certain technical exercise that I have the attendees do, in order for them to get grips with metering techniques, including selective in-camera metering; the use of the histogram; and then finally adding TTL fill-flash to reduce the contrast.
Here is some images from what would be a typical sequence of images:
To start off with, a window-lit portrait of the model with the exposure determined with the histogram for each camera.
As you can see, exposures are good in that I am not losing detail on her shirt.
image on left:  Canon 5D mk2;  Canon 85mm f1.2 II;  580EX II
image on right: Nikon D3;  Nikon 28-70mm f2.8 AF-S;  SB-900;  TTL BL
There is going to be some contrast differences and color differences between the two cameras – mainly because  I haven't properly set up ACR yet for my tastes for the Canon 5D mk2.  Therefore the 5D mk2 images might lack some punch here in comparison to the D3, but that is entirely my doing.  But the difference in color, etc, is not the discussion here.
Also, with these images, there is 1/3rd stop difference in the settings, but I went by the histogram to get correct exposure via the brightest part of her shirt.
The particular sequence that I do, is with the model looking straight at the camera, with the one side of her face lit by the window-light, and the shadow side of her face lit by varying degrees of flash.
Here is the sequence for the Canon 5D mk2 and 580EX II, changing no settings other than FEC:
The flash metering was set to Evaluative in the camera.  In my experience, Average flash metering makes the TTL flash too strong with the 5D / mk2 / mk2N / mk3 bodies that I have used, for times when I want fill-flash.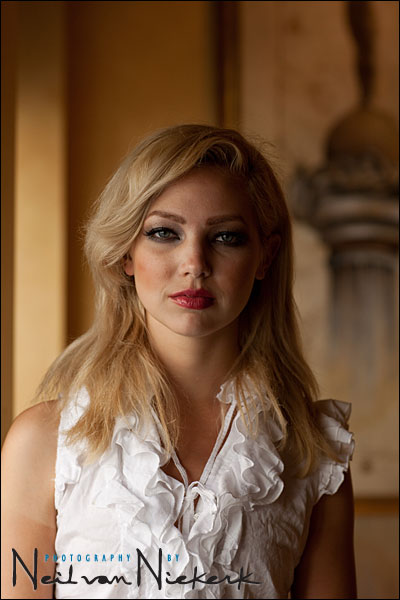 Canon: no flash
So here there is a lot of contrast because of the inside of the room not reflecting much ambient light back onto her.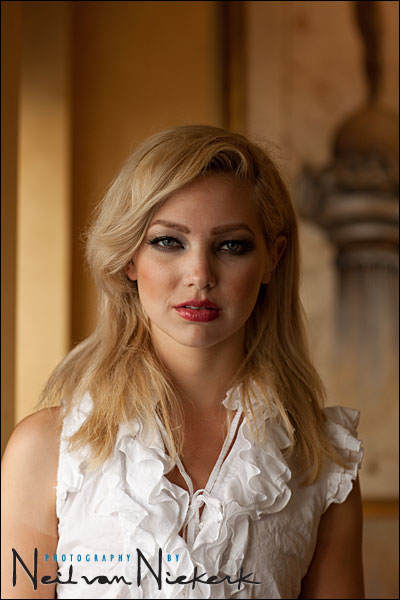 Canon: FEC -EV
The bounced flash lifts the shadow areas a little bit.  Just perceptible.
This, imho, is where -3EV FEC needs to reside .. adding just a touch of fill-flash without being obvious.
I like this.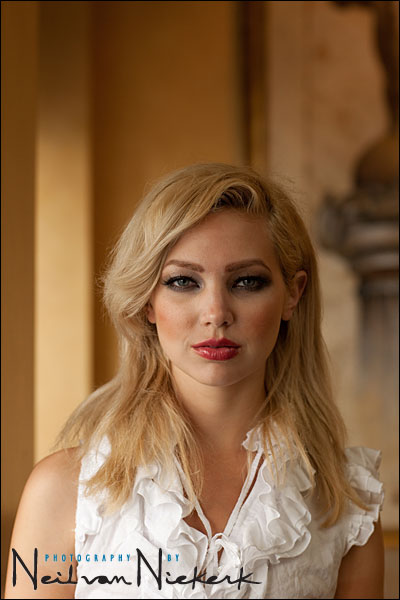 Canon: -2EV FEC
This looks the best to my eyes .. the contrast is lifted juuuust enough without anyone being wiser that flash was used.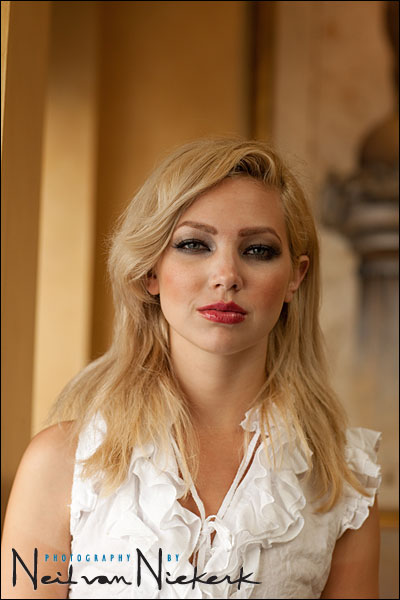 Canon: -1EV FEC
The shadow areas are now significantly brighter.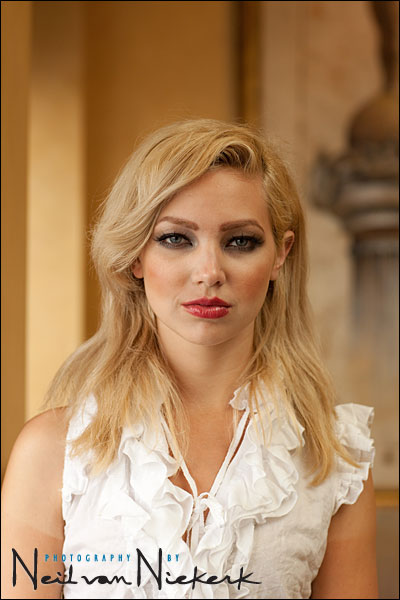 Canon: 0EV
The flash is now adding nearly as much light as the ambient. (It will still be about a stop lower than ambient because of the brighter tones of her shirt and skin pulling down the automatic-metered TTL flash exposure.)
OK .. so far so good.
There is a linear progression here that is predictable within the usual constraints of  TTL flash exposure.  Meaning, we have to keep in mind that the tonality of the subject and scene WILL affect our exposure. But .. we're wise to this and can compensate and even pre-evaluate this with some experience.
Let's see what the Nikon D3 does.
Here's the D3 with the SB-900 in exactly the same situation, with -3EV dialed in on the flash in TTL BL mode: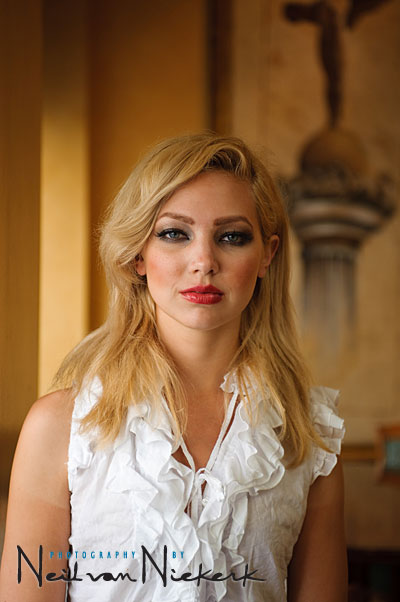 It looks good, but imho, is too much flash for a setting of -3EV.
Where I think it should've been is around here with what I get at -5EV cumulative FEC + overall exposure comp.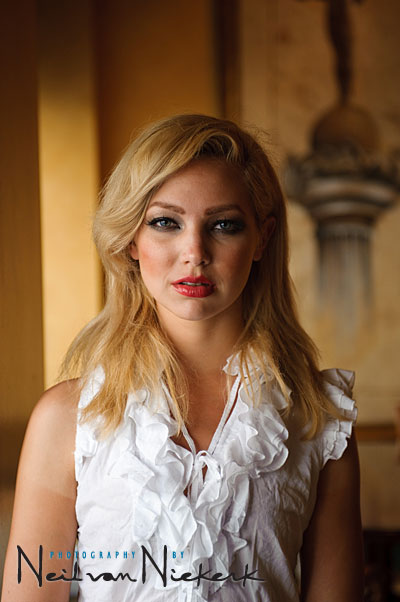 See? Now we're getting back to where the flash is barely perceptible .. which, again, IMHO, is where -3EV FEC should reside.
I want flash to be juuuust perceptible at this point.
Placing the relevant images next to each other:
left:     -3EV FEC .. Canon 5Dmk2;  Canon 580EX II
right:  -3EV FEC .. Nikon D3;  SB-900;  TTL BL
.
left:     -3EV FEC .. Canon 5Dmk2;  Canon 580EX II
right:  -5EV FEC .. Nikon D3;  SB-900;  TTL BL
Ideally, I would want the Nikon to respond here like the Canon.
-3EV FEC should be barely perceptible.  No, really.  That's how it should be.
Why else have a -3EV FEC setting then if it is meant to be as bold as the Nikon has it there?
So there it is.  It is repeatable.  I've seen this on other random cameras .. D300 / D700 / D3 that various of the attendees to my workshops have used.  What I don't know yet, is whether this is something pertaining to the SB-900 only.  I haven't tried it with the SB-800.
But back to the original point of this post … there are differences between different camera makes and models.   Figure out how your equipment responds, and adjust your technique accordingly.  You can make it work for you.