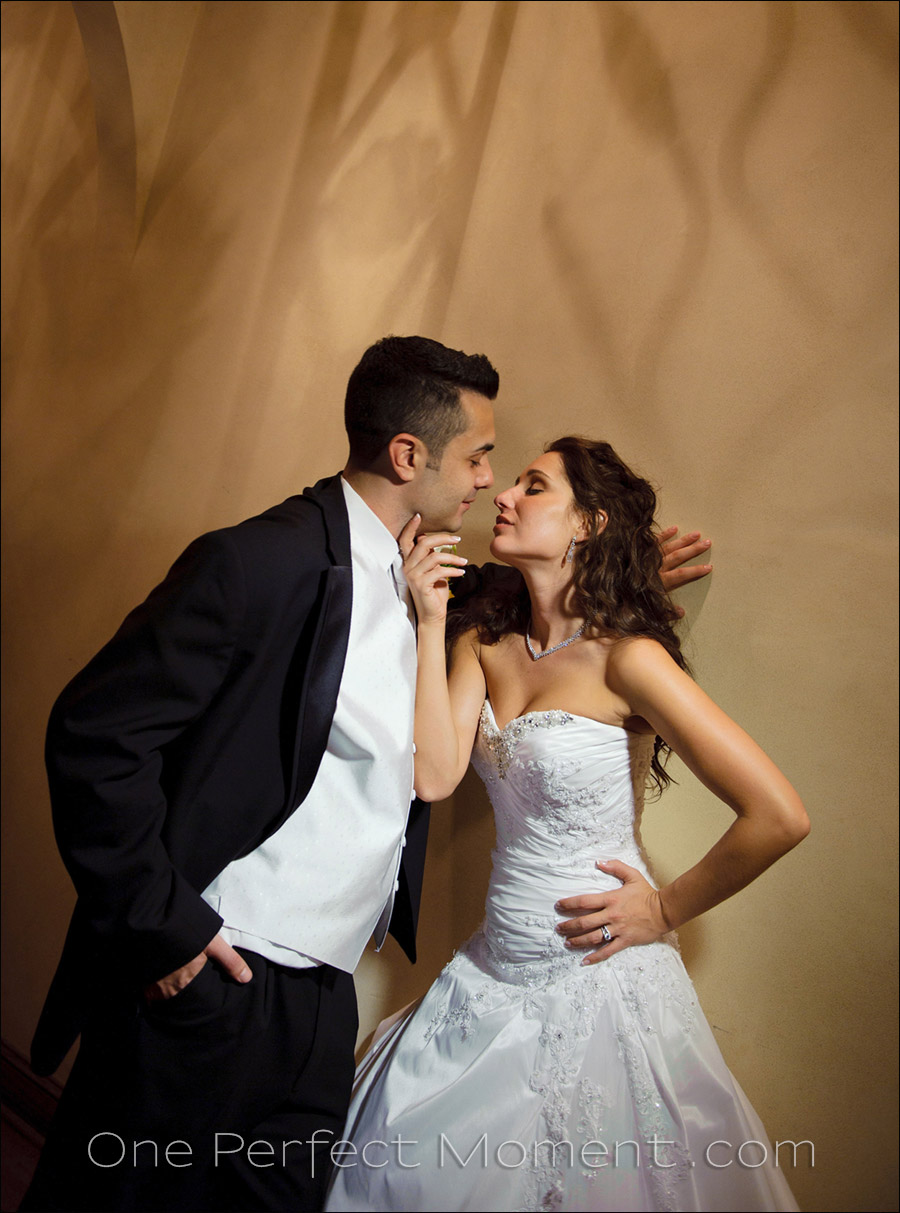 Using a video light for wedding portraits
When possible during a lull in the wedding reception, I like to sneak the bride and groom away for a few minutes to do romantic portraits. Since time is usually tight, and the couple wants to enjoy as much of their reception as possible, I like to work efficiently. Jessica and Michael had their reception at a venue where I hadn't worked before, so during dinner time, I quickly went around the venue with my assistant, to scout a few places to photograph the couple.
In the basement of this venue, I noticed the light shining through gates … casting interesting shadows on the wall. I thought this might be ideal to pose the couple, and then light them beautifully with a hand-held video light.
This is the test shot without an additional light, with my assistant more or less in position. I wanted to see if my pre-visualization would work.
Yup, the patterns on the wall looked interesting … at these exposure settings.
1/30 @ f3.2 @ 1000 ISO
At those settings, this photo of my assistant was under-exposed. A great scenario for video light to light up the couple. Because video light has a fast light fall-off to the edges, it is perfect for lighting up just the couple, and not washing out the patterns on the wall. Bounce flash would've been unconfined, and would've lit up the entire place .. and I would've lost those interesting shapes on the walls. Just as important, the WB of the video light can be set to Incandescent WB, which better matches the existing light there. In this way the video light blends better with the ambient light than an ungelled flash would have.
The test shot confirmed that my idea would work. Then it was a quick set-up with the couple when I had them there. We could shoot fast, and move on.
Camera settings & Photo gear (or equivalents) used during this session
1/30 @ f3.2 @ 1000 ISO … with video light;  no flash
Nikon D3;
recommended LED video light
Related articles