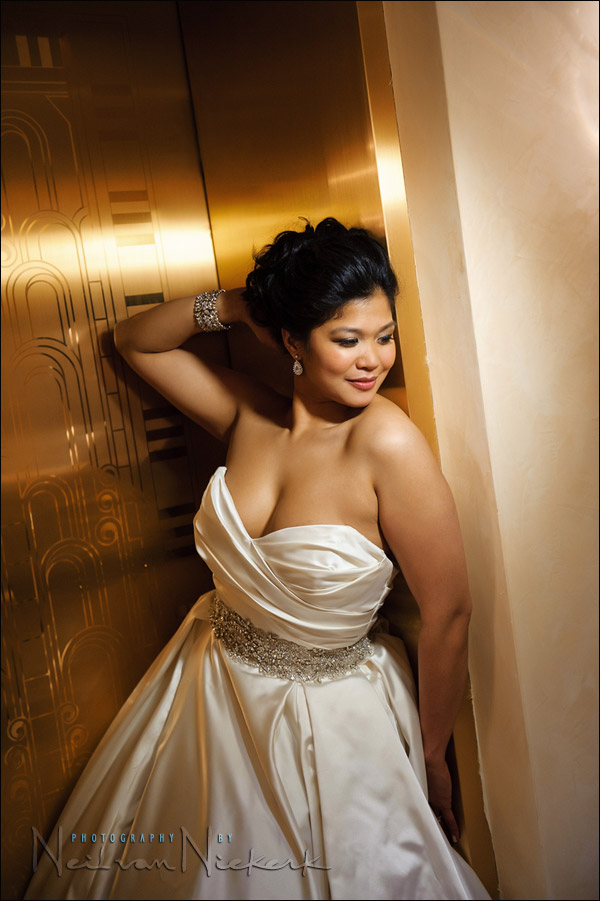 using video light as fill-light for the romantic wedding portraits
Having just photographed my first wedding of 2011, I'm back in the groove of things. Keeping to the recent theme of showing how video lights are used for photography, I'd like to show a small selection of images of Cherryl and Jim's wedding where I used a video light to enhance the existing incandescent lighting at the reception venue …
The bridal portrait above of Cherryl was shot in a closed elevator door.
I used the Nikon 24-70mm f2.8G on a D3 body.
Camera settings: 1/125 @ f2.8 @ 1250 ISO
There was already a lot of light around from the various light sources, but to make sure that I get great light on her face, I added the video light. I used the Litepanels MicroPro, my usual go-to video light at weddings. For this image, I had my assistant hold it up for me. (Here's the pull-back shot.) But for the other two image shown here, I had the Litepanels LED light on a light-stand. This was to free Jessica up to shoot some video on the Canon 5D mk2. We'll get a video clip up later this week of Cherryl and Jim's wedding day.
Nikon D3; Nikon 70-200mm f2.8 AF-S VR II (B&H)
camera settings: 1/60 @ f2.8 @ 1250 ISO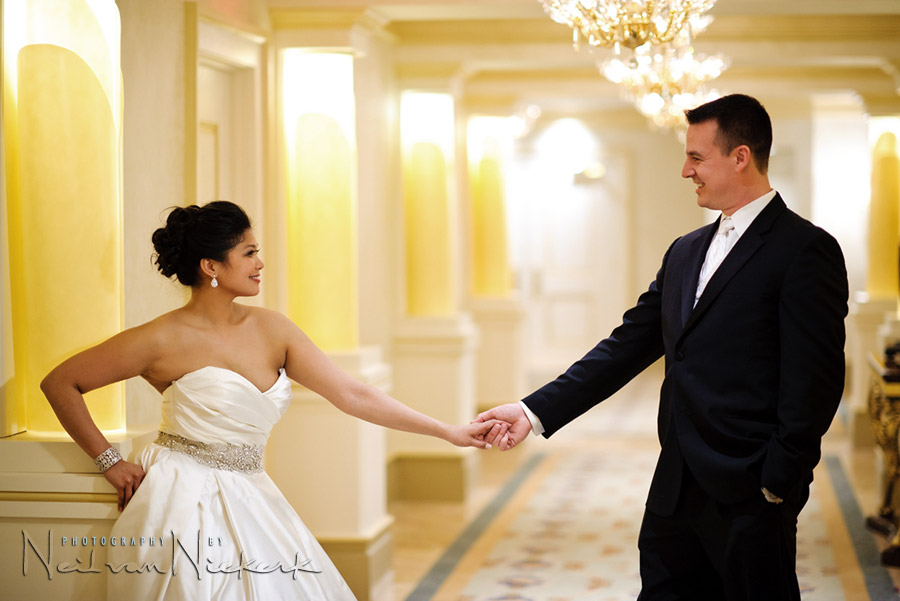 Nikon D3; Nikon 85mm f1.4G (B&H)
camera settings: 1/250 @ f1.6 @ 1000 ISO
With these images, the video light wasn't the dominant light source as in other examples I've shown before in various articles. Instead, I used the video light here to enhance the existing incandescent light. The video light I used here is an LED light which has to have a filter placed over it to change it from a daylight-balanced light source, to an incandescent-balanced light source.
In all the images, the video light was to my right-hand side, adding a fill-light to the bride's face. Just enough to light up her face and clean up any shadows that might have been there from the existing light.