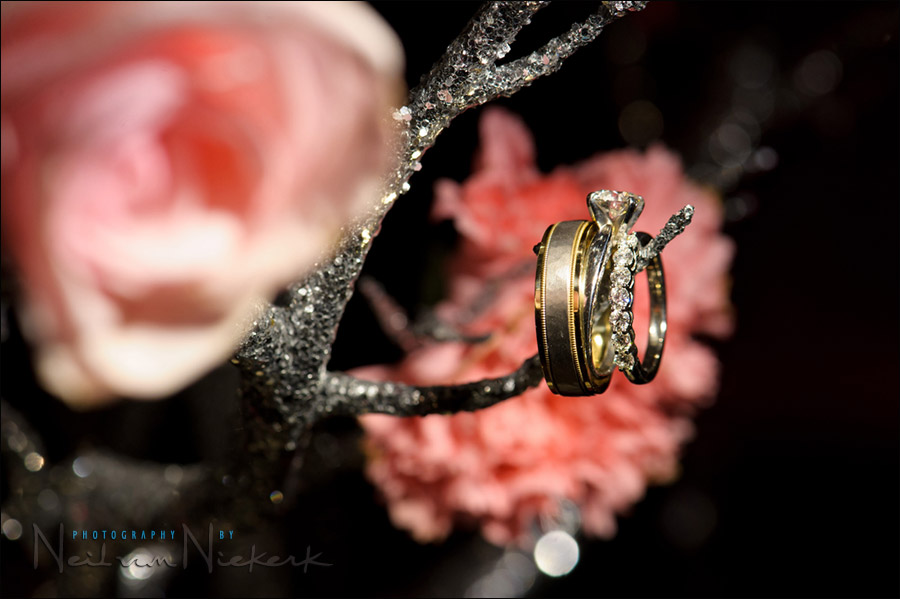 Wedding photography – Video light for macro detail photos
With the details photos of the wedding rings, I generally resort to on-camera bounce flash for enough light … and for interesting light. Sometimes though, I mix it up by using video light instead. Here I used the Litepanels Croma LED video light (affiliate).
The need for smaller apertures means enough light … but working with a tripod is often just too slow with the hectic pace of a wedding day. Then a stabilized macro lens is essential.
The photo above was shot with an LED video light, so we had to hold the light very close to the rings to get enough depth-of-field. Fortunately though, with a macro lens, you're working so close to your subject, that the light source won't interfere.
camera settings: 1/125 @ f/8 @ 1600 ISO
I purposely composed the image so that the one flower would be in the background directly behind the rings, otherwise they would've blended into the black background. The rings and flowers were all lit with the single LED video light.