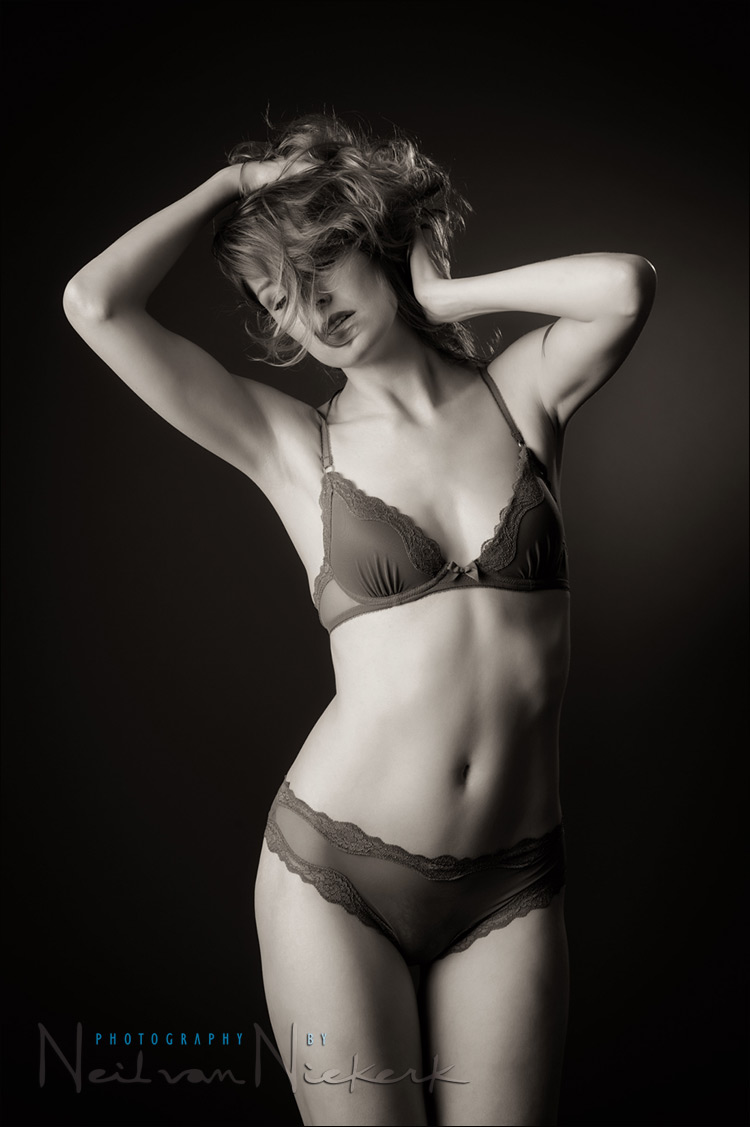 studio photography – lingerie photo shoot
Aiming for a sensual mood somewhere between Lingerie, Fashion and Art, I tried various lighting setups in the studio to get to the feel and look that I envisioned. I've worked with Carly Erin on other personal photo shoots before, and knew her playful and bold personality would help a lot with this photo session.
camera settings for image at the top:
1/160 @ f10 @ 100 ISO
equipment used:
Nikon D4 (B&H);  Nikon 70-200mm f/2.8 VR II (B&H) used at 100mm
Westcott 7′ Parabolic Umbrella (White / Black) (B&H)
Profoto D1 Air 500 W/s Monolight Studio Kit (B&H)
Profoto 10 degree grid (B&H); Profoto 7″ reflector (B&H)
The lighting set-up is straight-forward. The main light is the Westcott 7′ Parabolic Umbrella (B&H), which I also used in the recent photo session with Ulorin Vex. I scalloped the Parabolic reflector away from the background, to minimize the amount of light falling on the background.
I used the other Profoto D1 head as a background light to give that slight gradient there to the background. This light wasn't diffused, but had a Profoto 10 degree grid (B&H) on it. This grid, connected to the flash-head with a Profoto 7″ reflector (B&H), is there to control the light from this flash-head.
Similarly, I used my Profoto 600R kit as a third light, which acted as the rim-light on her. This too had a 10 degree grid on it to minimize spill light.
And there you have it. A straight-forward setup that gives interesting, slightly moody light on Carly Erin.
Similar to the vintage photo session Sarah R, and the urban photo-session with Molly K, I used  a home-brew recipe in Radlab, to make the image pop with more contrast and add warm tone to the B&W image.
related articles
- other photo sessions with Carly Erin
- review: Westcott 7′ Parabolic Umbrella (model – Ulorin Vex)