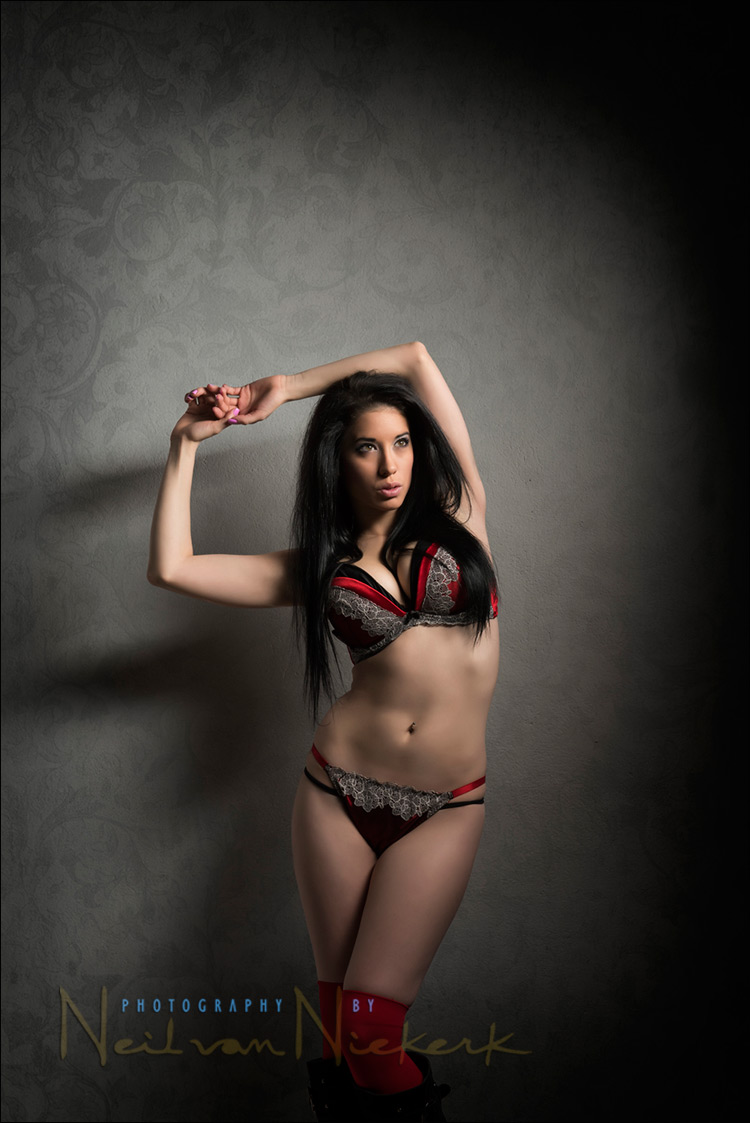 Lingerie photo session in the studio – lighting, light & textures
This photograph of Melanie, one of my favorite models, is one of a sequence where we played with different lights and lighting styles in the studio. I wanted lighting that was both soft and dramatic. Both feminine and bold. The lighting is the same idea – using a big gridded strip-box / soft-box – as I used in a previous photo session with another model, Anita DeBauch.
The final image above, is the result of adding texture layers in Photoshop. I wanted to retain her shadow and other detail in the wall, while enhancing the appeal of the image with a texture layer in PS. I felt that the unadorned photo needed an additional element to elevate it.
The first thing you'll notice with the 'before' image, is that the wall behind her is actually a bland white. While the lighting pattern is perhaps interesting – there is that "staggered" blocky effect from the gridded stripbox – but it is still a plain white wall. To make it infinitely more interesting, I added a textured layer in Photoshop.
There are always a number of ways to go about things in Photoshop.
Here is how I do it: Adding texture layers to photos.
Camera gear (& equivalents), and lighting gear used
The pull-back shot shows the lighting, and the position of the light. It is a single Profoto D1 Air 500Ws studio flash (affiliate), with a Profoto 1'x6′ gridded strip-box (affiliate). I really like the way it throws the light when used close to the wall.  The grid helps contain the light intensity close to the wall, so it doesn't completely over-expose. The long shape of the softbox, as well as the grid on the softbox, create a unique light fall-off – giving soft, but dramatic light.
Related articles
Studio lighting workshops
If you are interested in learning more about studio lighting, including lighting for headshots, I offer workshops on studio lighting. The workshops will be held at my studio space in NJ, and it has a wide range of studio lighting gear to play with!