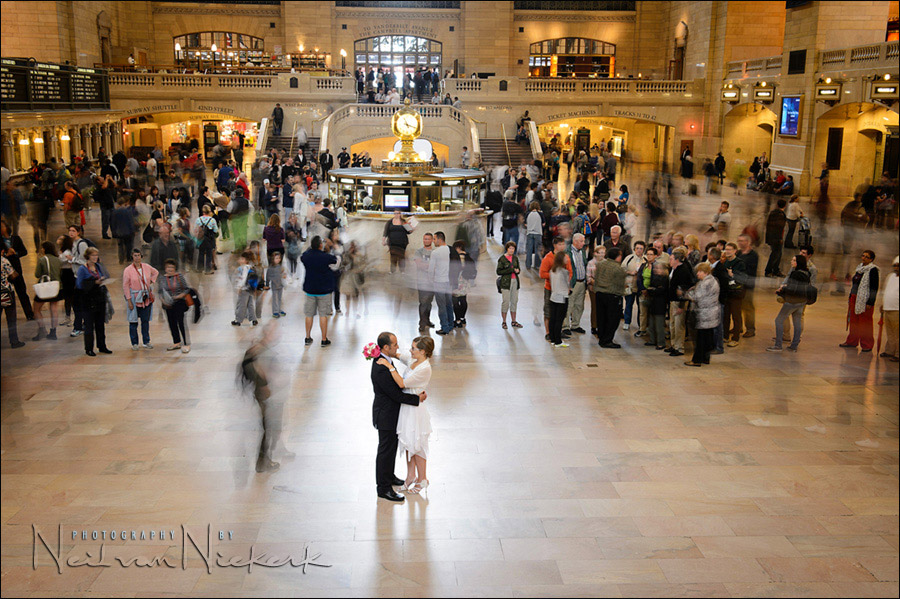 adapting your photographic style during a shoot
I had the pleasure of photographing Rebecca and Max's elopement wedding in New York. They're both from Denmark. (Actually, Max is from Spain originally.) They both planned to get married in New York while over on a trip here. I met up with them at City Hall on the day, where I was the witness to their wedding ceremony. That's quite an honor too. Then, after the ceremony, we ventured out into Manhattan for an extended photo session.
And this is where there is a certain balance that I need to maintain. If I have a specific style in photographing on-location portraits, it is one of simplicity.
The straight-forward recipe is to make my subject(s) the center of the image by:
– careful composition,
– minimizing extraneous clutter,
– eliminating distracting backgrounds,
– compressing the perspective with a long lens,
– by using a wide aperture on a tele-zoom for shallow depth-of-field.
Great. This works well when the area that we're photographing our subject in, is just something to have as an interesting, but non-specific background. The background might even be defocused so you can't really tell where it was. Now, when the location is very much part of what is happening, then as a photographer we need to definitely include the location as part of a "character" in this story. I recently did it with the father and son portrait in Times Square.
And so it is with a wedding taking place in New York, where New York was very specifically chosen as an exotic destination. The photographs of Rebecca and Max had to show a wide range – from the more specifically portrait-like images, to photos which show the city they are in. But I also wanted to avoid a cookie-cutter touristy thing where we move from landmark to landmark and just have them pose in front of things and buildings.
I still wanted to show how they interact with each other. For me, wedding photography, and photography of couples, should be about how they interact with each other. It should reveal something very much *them* along the way.
So there's the challenge – to take photographs of the couple in Manhattan, and have the range of photos – from elegantly simple portraits, all the way to showing them against the backdrop of the busy city. And yet, not have that same busy-ness intruding, and distracting attention away from them when their family and friends look at the photos.
Let's run through some of the images and look at the thought-process behind them …
{ 19 comments }