Sydney & Paul – their wedding day – photo & video fusion clip
This idea of blending photographs and video snippets from a wedding, into a fusion clip, still fascinates me. In a 5 to 6 minute clip you're able to give a nicely condensed view of the wedding day. Combining the photos and video in a sensible way that visually makes sense, takes time however.  And Jessica and I are still on the learning curve. (Is it even possible to really get to to the top of things these days with the rapidly accelerated pace of digital photography?) Anyway, I love the results so far!
So here it is – the latest fusion clip of a wedding I photographed.
The music track is a royalty-free track provided via Triple Scoop Music.
[ For more videos, follow me on Vimeo / YouTube ]
Sydney & Paul met at a wedding of mutual friends of theirs, whose wedding I had also photographed. (More about this on the blog entry with images from their wedding.) From their description of what they envisioned for their wedding day, I knew it would be off-beat and uniquely them. The wedding took place in the quaint town of Hackets Harbor, in upstate New York.
The recent article on wedding photography – light & lighting; posing & direction, was from this wedding. But before we get to the details of the photography and lighting, a bit more about the video footage.
The video footage was again shot using a Canon 5D mk II (B&H). We used three lenses with the 5D mk2. The outdoor footage was shot with the versatile Canon 24-105mm f4L IS lens (B&H). For the video footage shot in low light, like the release of the Chinese lanterns, or when the evening made the wedding reception tent too dark for the f4 optic, we used the Canon EF 35mm f1.4L (B&H), and sometimes the Canon 85mm f1.8 USM (B&H). Actually, it doesn't look like any of the 85mm f1.8 footage made it to the final clip.
All the footage was shot with the camera on the Manfrotto fluid video monopod (B&H). The one thing we still need to properly incorporate into these clips, is camera movement. Static video footage is boring. There either has to be some movement in the frame, or movement has to be introduced by using a glidecam or a slider. The one hiccup here is that the Glidecam HD-2000 (B&H) that I have, is just too heavy for Jessica's wrists, to handle for even a short while. The movement that can be seen in places, is where I lifted the camera and let it balance in my grip with the Manfrotto monopod as a counter-weight. It seemed to work well for short intervals. But this is one important aspect of doing these video clips that we still need to streamline and properly incorporate. As I said, a never-ending learning curve!
Regarding the choice of Canon in this regard – as mentioned in a previous article accompanying a fusion clip – the Canon 5D mk II dominates the HD video field. I therefore upgraded to a 5D mk II body some time last year. Superb image quality and 1080p video. Of course, I also need the Canon equipment to remain au fait with Canon, for my workshop presentations and for articles on this blog as well.
This video clip was edited with iMovie '11. Although I installed Final Cut Pro X, we haven't delved into it yet. That's next!
a variety of lighting techniques were used to photograph this wedding
All of it quite familiar to regular readers of the Tangents blog:
on-camera bounce flash using the black foamie thing
a touch of direct on-camera fill-flash to lift the contrast
off-camera flash (using the Lastolite Ezybox and PocketWizard TT5 wireless transmitters)
and also just being aware of the available light. For much of the day, I didn't even use fill-flash when the light was either perfect, or when flash wouldn't have helped.
With the photographs at the short of Lake Ontario, I had to deal with some pretty harsh sunlight. Fortunately, it wasn't over-head but coming in at an angle at that time of day. Still, I had to take care not to get strange shadows or important areas blown out. This has everything to do with how I posed them.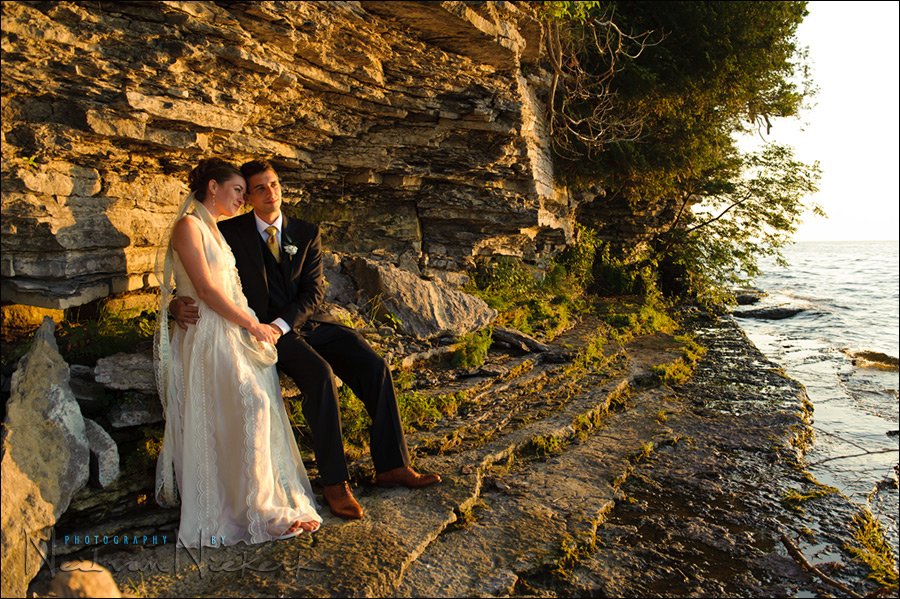 settings: 1/320 @ f5.6 @ 400 ISO
Nikon D3; Nikon 24-70mm f2.8G ED AF-S (B&H) … at 28mm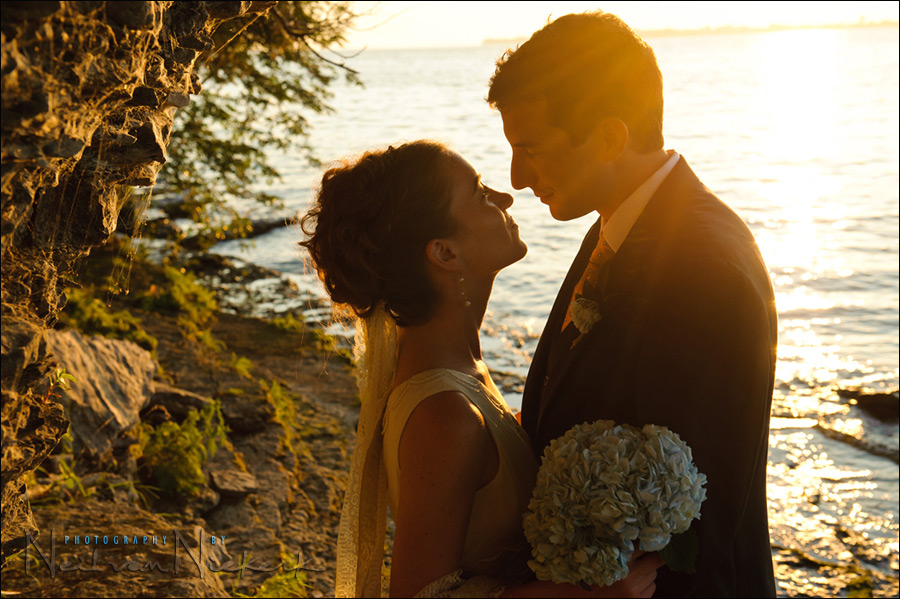 settings: 1/640 @ f7.1 @ 400 ISO
Nikon D3; Nikon 24-70mm f2.8G ED AF-S (B&H) … at 50mm
Shooting into the sun causes flare of course. And this can be used for impact. I do remove the filter from the front of my lens for this so that the flare is more controlled and not just a mush of blown out areas.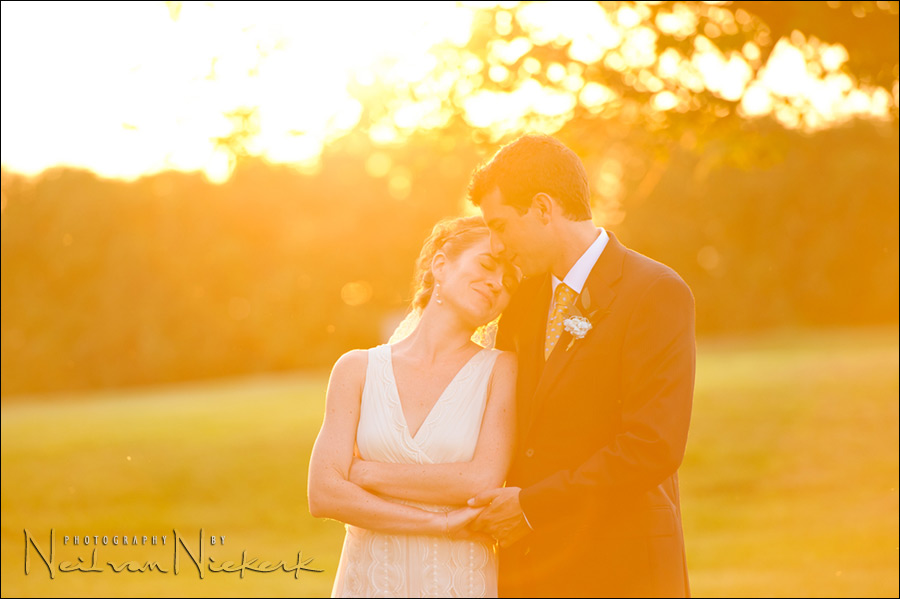 settings: 1/320 @ f4 @ 640 ISO
Nikon D3; Nikon 70-200mm f2.8 AF-S VR II (B&H) … at 200mm
The sequence of images with the release of the Chinese lanterns, were all shot at 3200 ISO and f2.8 so that all the available light could register, at the highest possible shutter speed for the settings available to me.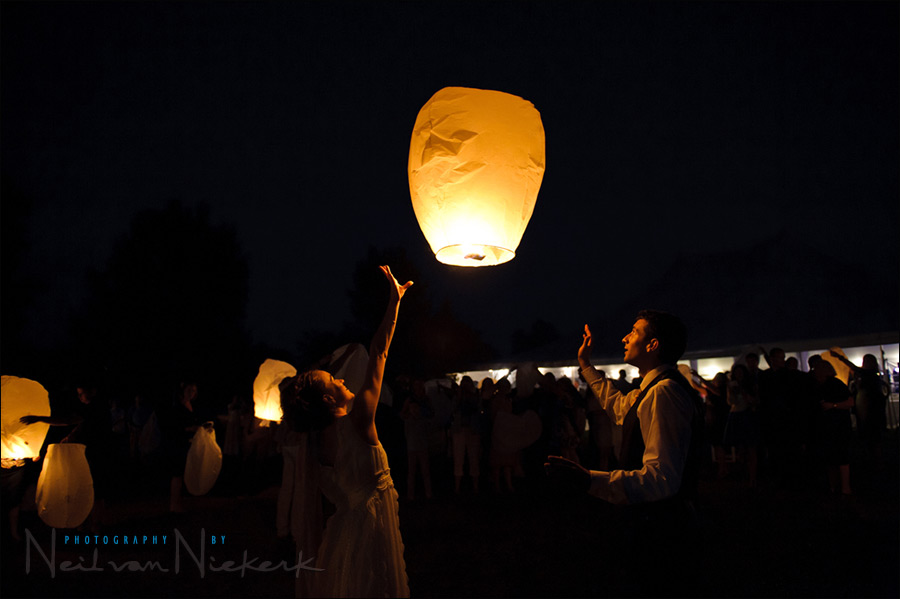 settings: 1/60 @ f2.8 @ 3200 ISO
Nikon D3; Nikon 24-70mm f2.8G ED AF-S (B&H) … at 24mm
Interestingly enough perhaps, a handheld video light was the one lighting tool that I often use, which I didn't use at all on this day.
So it was a mixed bag of lighting techniques used. No specific set way of doing it – it becomes whatever is necessary to get great light on my subjects, or work within the constraints of what I am presented with. The philosophy is always to be flexible and be able to adapt.
quipment used for the HD video
Canon 5D mk II (B&H)
Manfrotto fluid video monopod (B&H)
Canon 24-105mm f4L IS (B&H)
Canon EF 35mm f1.4L (B&H)
Canon 85mm f1.8 USM (B&H)
equipment used for the stills photography
two Nikon D3 bodies;
Nikon 24-70mm f2.8G ED AF-S (B&H)
Nikon 70-200mm f2.8 AF-S VR II (B&H)
Nikon 105mm f2.8G VR (B&H)
(2x) Nikon SB-900 (B&H); (2x) Nikon SD-9 battery pack (B&H);
Lastolite Hot Shoe EZYBOX Softbox Kit (24″x24″) (B&H)
PocketWizard FlexTT5 transceiver (B&H)