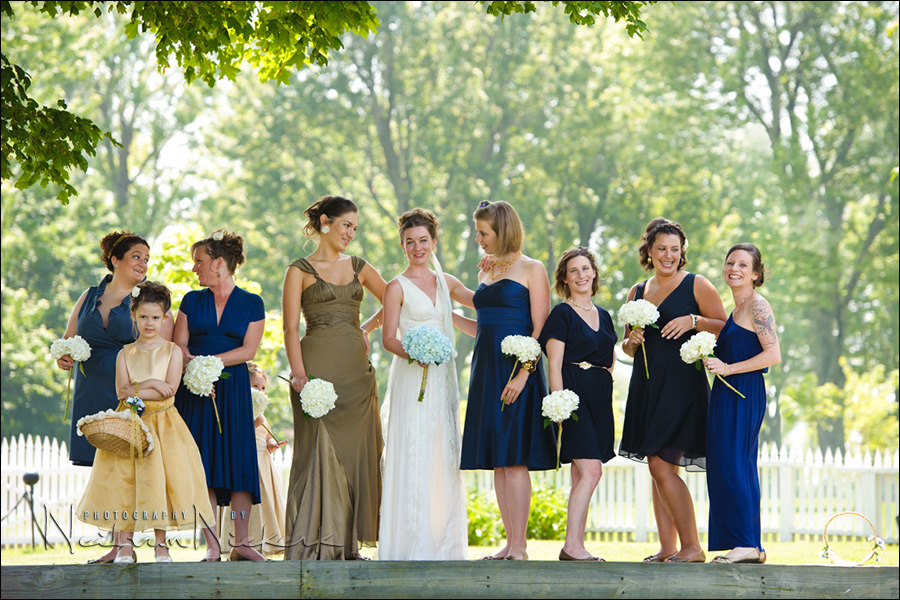 wedding photography – light, lighting, posing & direction  – making the decisions
The title of this article is quite ambitious. To cover all of that, it would be a 50,000 word book. But in editing this wedding at the moment, I noticed this photograph, and I love the look of it. So in the context of that one single image, let's look how it all came together. While the photograph itself isn't complicated, a lot of quick decisions went into making this image work … and easy to edit. A number of things had to be considered, but instead of being overwhelmed by juggling all the decisions and thought-processes simultaneously, there's a way to break it all down to simple elements which will help the photo session come together naturally.
Now even if you're not that interested in wedding photography per se, hang in for a while, for the thinking here is applicable to just about any other field of photography …
1. photographing during the middle of the day
This was shot around 2pm on a sunny summer's day. It's hot and the hard sun isn't flattering. Therefore my first thought in working with the bridal party here is to have even light on them – preferably open shade. I also know that I want to photograph the bridal party at several spots around the grounds of a historic building. This way I can get variety … but I also limit my choices to areas that make it easier for me to shoot and edit the images. This, for me, usually implies clean open lighting. I found this shady spot under the tree here, with a neutral background. A good background is one that is neutral or complementary. Not too busy and distracting.
If I hadn't been able to find a shady spot  then I would've found some place where I still have a good background, and had my subjects turn their back to the sun. I want everyone's face to be evenly lit, without harsh cross-shadows from the sunlight.
So now we have shade. Great. The side benefit here is that it keeps everyone cool. It is okay for me to work in the hot sun, but my client or subjects should look cool and relaxed and happy.
The open shade here works like a charm, giving me great light. I can let the background blow out to an extent. I don't care much for specific "correct" exposure for the background. It's just context. And if the background is somewhat over-exposed, it helps convey a bright, hot summery day. The brighter background also helps isolate my subjects by creating separation from the background.
Now we just need to figure out our camera settings …
2. starting off with sensible camera settings
Before we get much further in discussing things, the settings for that photo are:
1/250 @ f4.5 @ 200 ISO … TTL flash -1.7EV
And here is the lighting set-up with which I added the TTL fill-flash: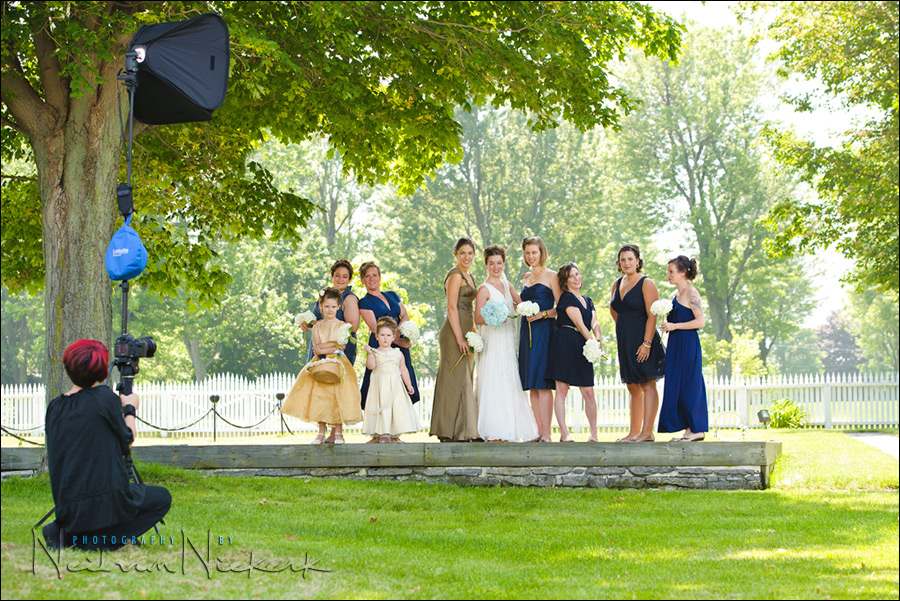 It is an extremely useful thing to constantly learn what the usual camera settings are for bright sunlight, as well as for shaded areas. When you work and play with your camera, take meter readings or test exposures. This way, when you're actually doing a shoot, you have a good idea of the range of settings which would make sense. So from experience, I knew that open shade like this under a tree, would be in the order of 1/250 @ f4 @ 200 ISO … and I was right.
Here's the starting image of an entire sequence in this spot: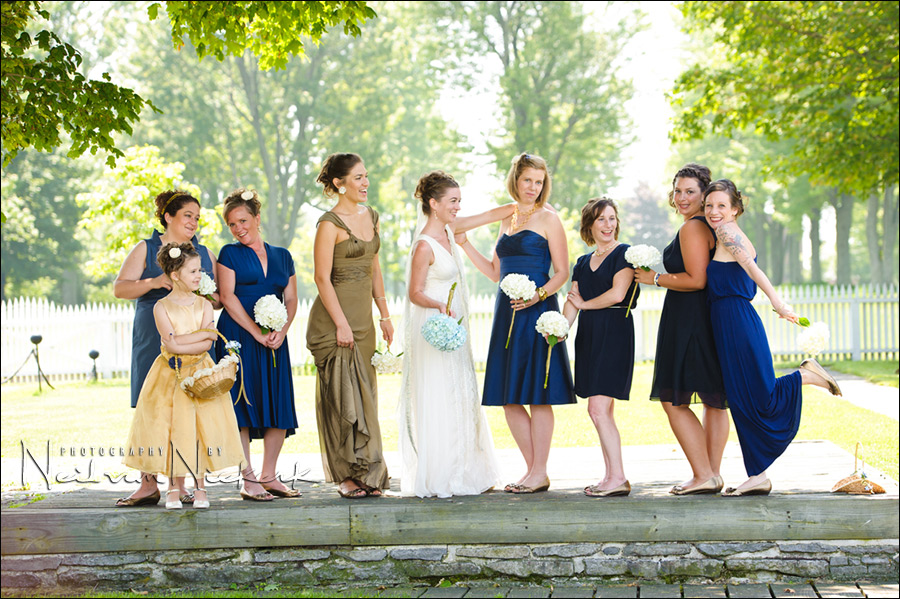 camera settings: 1/250 @ f4 @ 200 ISO … TTL flash -1.7EV
The choice of camera settings isn't a lucky guess, but comes with years of experience and playing with a camera, and remembering the usual settings that would come up for specific types of light. This helps me get there faster when working under pressure. And there's less pushing of buttons and turning of dials in front of your client. You can just concentrate on the other aspects of the shoot, such as directing or talking to them. You have to become very familiar with your equipment. Play a lot!
So for the rest of the images, I dialed to f4.5 as my working aperture. This aperture gives enough "bite" to the lens' sharpness, and there is enough depth-of-field (DoF) for a group posed like this in a single line. The image at the top was zoomed to 140mm, and the second image of the group was shot with the lens set to 90mm. So at these medium telephoto focal lengths, the f4.5 aperture gives a fairly shallow depth-of-field, without being f1.8 kinda crazy for this group. The aperture choice makes sense.
For my shutter speed – since I knew I would add fill-flash – was immediately set to maximum flash sync speed. It just made sense. And there was no need to go into high-speed flash sync territory to chase a shallow depth of field. I already had the DoF that I wanted.
And there we have our settings, with off-camera TTL fill-flash (via a softbox) picking up the exposure a bit on them, enhancing the light.
The softbox was my usual  Lastolite EZYBOX 24×24 softbox (B&H), with an Nikon SB-900 (B&H); Nikon SD-9 battery pack (B&H) … and with the flash fired with a  PocketWizard FlexTT5 transceiver (B&H), controlled with another FlexTT5 on my camera. Dead simple.
3. posing and directing the group
The style that I prefer for wedding portraits and group photos, is less formal than would be expected from a wedding photographer working in a traditional style. Therefore, when photographing someone, whether individually, or as a group, my approach is more to guide their natural pose. Rather this than formally positioning someone according to classic rules of posing.
It is easier to guide someone's natural stance of posture, than force a more specific pose. Besides, the couple on this day was far from formal. As you can see, the bridesmaids wore shades of blue, with different styles and cut for their dresses. So an overly posed look wouldn't really be necessary here.
So I am more attuned to how they might turn their body, or hold their head or hands. A simple instruction to someone to lean … or jokingly telling them to flounce or drape themselves over something (or someone), always helps in getting reaction and a smile.
(While we're on the topic of quips and jokes as a wedding photographer – don't be that wedding photographer that trots out the tired "act like you like each other" line. It's barely worth a sneer of a smile by now.)
You will notice that my viewpoint in the image right at the top is lower than the 2nd image of the group. I noticed that there was too much of an overly bright area behind their legs … so I dropped down in my position to eliminate most of that as a possible distraction for the rest of the sequence.
Oh, and in the pull-back shot, you can see Jessica, busy shooting HD video on the Canon 5D mk2 … a fusion clip is in the works.
And it all comes together …
There we finally have it, in a much shorter time than it took to describe this. Fast to set up, fast to shoot … and an easy edit because of the clean open light. A bunch of decisions easily made to get fun, energetic photos of this group.
more images from this wedding: Sydney & Paul – their wedding day
more articles about wedding photography
more articles about off-camera flash
equipment used during this photo session
Nikon D3;  Nikon 70-200mm f2.8 AF-S VR II (B&H)
Nikon SB-910 Speedlight controlled by PocketWizard FlexTT5 Transceiver & AC3 Controller
or alternately, the Canon 600EX-RT Speedlite controlled by Canon ST-E3 Transmitter
Lastolite EZYBOX 24×24 softbox (B&H)
Manfrotto 1004BAC light-stand