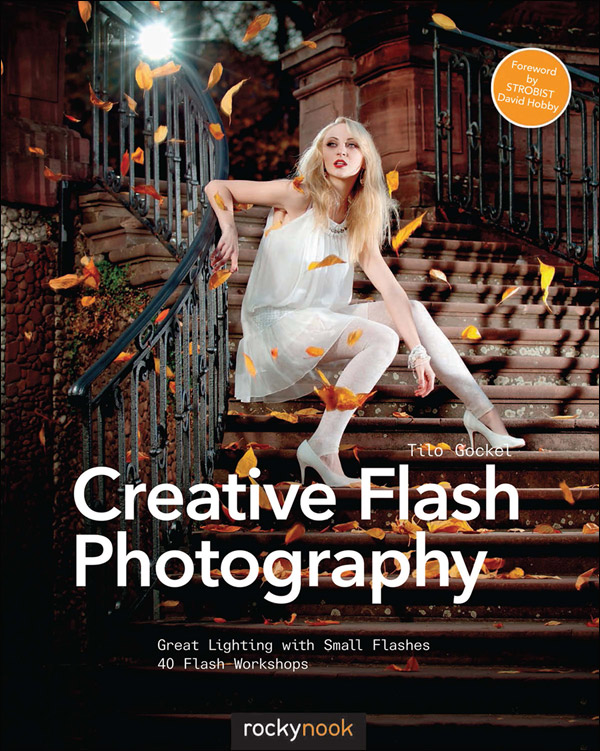 Tilo Gockel (website: FotoPraxis), is a German photographer who some might remember from guest articles that has appeared on Tangents. His article on innovative product photography on a budget – Diver's Chronograph, was particularly impressive when you compare the results with the home setup. You might also know Tilo from various impressive posts in the Strobist group on Facebook. Prolific and innovative.
The subtitle of this book is the best description of what you'd find inside: Great Lighting with Small Flashes: 40 Flash Workshops. Over the course of 290 pages, this book breaks down numerous techniques into digestible chunks – 40 chapters discussion subjects which range from portraits to product photography and macro photography.
What is particularly impressive me about Tilo's work and this book – the variety in subjects.

The author concentrates on speedlights and affordable accessories. So the techniques are well within the reach of every photographer.

The book starts off with a description of the gear he uses, as well as basic technical stuff you need to know before getting into the heart of the book.

The material in the book is easily accessible – the techie stuff is also distributed in each chapter as Tips, Tricks and Notes. There are also side-bar articles and In-Depth notes within each Workshop chapter, where topics are discussed on their own. There are also notes on any Photoshop techniques he used in post-processing an image.
{ 3 comments }