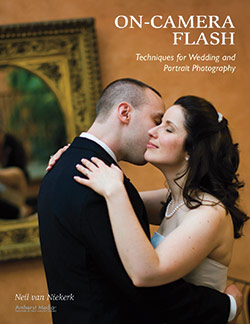 On-Camera Flash Photography
Please note that this best-selling book is now out of print, but has been updated with a revised edition:
---
Info about my other books on photography
1. On-Camera Flash Photography (out of print)
2. Off-Camera Flash Photography
3. Direction & Quality of Light
4. Lighting & Design for Portrait Photography
5. On-Camera Flash Photography  (revised edition)
Also check out my list of recommended books on photography technique,
and my choice of best photography books.
Errata & Corrections – On-Camera Flash (1st ed.)
I would like to correct a few errors in my book on flash photography.
It seems no matter how many times work is cross-checked, mistakes do slip by.
On p.107 – plate 14-14 .. the camera settings are incorrectly given. (They are correct in the actual text on p. 106). The correct description for plate 14-14 (p.107) should read:
Adjusting my camera settings, I dropped the ambient light and left the couple illuminated mostly by flash. Settings: 1/250th @ f2 @ 320 ISO
The image on p.71 (plate 10-13) has a slight error. It says that I bounced the flash to my right, but as should be clear from the photograph, I did indeed bounce the flash to my left. (I have a life-long tendency to confuse left and right when I give directions or descriptions, and it unfortuntely creeped in there as a typo with that image.)
Newsletter / forum / photography workshops
Stay informed of new articles via the monthly newsletter.
Also join us on the Tangents forum for further discussions.
If you need more direct help or instruction on flash photography,
I do present workshops & seminars and also offer individual tutoring sessions.