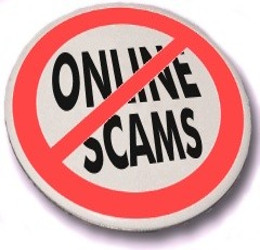 E-mail scammers targeting photographers
Photographers are more and more becoming the target for scammers and con artists. They come in all kinds of ways. Really, it's the Wild West out there! The most prevalent scam is the over-payment scam where the photographer is asked if they are available for a date … and they just want to throw money at you and book you, without even finding out details.
One of the things that reveal them, is the phrasing. For example, if they say "your city", then it is 100% guaranteed to be a scam. Other vague descriptions like that should also start the alarm bells.
How these scams work
The scamming method here is that they want to book you for a certain date, and then pay via bank guaranteed check or via credit card.
The scam comes into play in that they over-pay, and then ask for a refund of that portion of the money.  The bank guaranteed check of course is fake, or the credit card they used is stolen.  Another clue is that you often have to pay the scammer via Western Union Money Transfer. That's often a consistent part to this type of scam.
The end result is that the photographer who is naive enough to fall for this, is out of pocket by whatever amount they "refunded" to the scammers.
You'll encounter variations of this, but there are always specific patterns to it that will reveal you're dealing with a con artist / criminal / scammer.
Here are some other examples of scams against photographers
An example (in Comic Sans font):
Greetings,
Do you have indoor or outdoor session availability for any of this date 16,17 and 18 of october.Let me know your charges for Family Portraits per session for immediate booking.
Do you have a website?<
Await your reply.
Andrew Miller
(redacted: UK phone nr)
Um … they don't know my website?  So how did they hear about me? Of course, I'm still waiting for a reply to that question.
And is often the case, the poor use of language is a tell-tale sign.
With this next scammer, I played along for a while, to see what twists and turns they would take.
From: mike steel

Sent: Tuesday, July 08, 2008 12:06 PM
Subject: PHOTOGRAPHER NEEDED

Hello

i will like to Make an enquiry Concerning my Wedding Which would be Coming up on the 5th of september 2008 ,i need a Good Photographer/videographer who will be Covering all the event(5 hours).Please let me know if you are Available and if you have facilities to accept Credit Card Payments.

Hope to hear from you in other to know your Prices

Warmest Regards

Mark
Again, the poor spelling and grammar are usually good clues.
Then the next clue is that they aren't specific about what they want … they just want to give you money. No matter whether you are a photographer or videographer.
Then there's another clue in the inconsistent info, or the lack of info. And when you ask for more details, they will supply some details but will usually remain vague. Or the details won't match up. Note how the email is from 'Mike' but the email is signed by 'Mark'.
I played along with them for a while, trading emails, but they finally lost interest when I asked whether he is Mike (the "groom"), or Mark (who signed the first email), since I wasn't sure who I am actually responding to. Here's their reply.
lol. i see its my twin brother!
sorry!
Riiiiiiiight!!
It seems like the scammers have come up against photographers who are wise to this, and insist on speaking to them over the phone, because the emails have changed slightly now. Now the emails are from the bride's mother, who happens to be deaf now. However, the rest of the wording remains the same.
Hello
My name is Rose Winans, I Live in Wood-Ridge, NJ 07075, but presenlt in North Corolina for the sake of the Wedding, I will be back soon I am deaf if not i would love to call about this enquiry, I will like to Make an enquiry Concerning my Son's Wedding which would be Coming up on the 29th of August 2008 , I need a Good photographer/videographer who will be Covering all the event (5 hours) In NJ. Please let me know if you are Available and if you have facilities to accept Credit Card Payments (No Paypal, i dont have a paypal acc).
Hope to hear from you in other to know your Prices.
Regards
ROS
And again, note the bad spelling and grammar, and lack of details.
She even misspells her own name.
You know, we might actually be in trouble the day  these scammers become more articulate.
Related articles