Fitness photography – photo session in the gym
Collaborating with other photographers, I am often involved as a kind of lighting tech, bringing along the necessary lighting gear, and setting it up as needed. With this Fitness photography photo session in the gym, I helped my friend Yasmeen who specializes in fitness photography here in NJ and New York. On this occasion, I arrange the lighting as needed for various setups she decided on. This is a large part of what I like about being involved on this end of a photo shoot – not just collaborating, but being problem-solving, concentrating on the lighting. I have described similar occasion before – Lighting an on-location Fashion shoot. Working as a duo like this, takes a lot of stress off the principal photographer – and I am busy with an aspect of photography that I really like – the lighting.  While the lighting setups shown here aren't crazy complex, we did have to change it up ever so slightly, depending on where we were in the gym.
With that in mind, I want to show some of the setups here, and the fluid way in which we adapted the lights to get the results that Yasmeen's client would like. The client here is a fitness instructor, Janine Delaney, who has a huge Instagram following. The photographs we took here would then add to Janine's portfolio and help promote her online presence.
---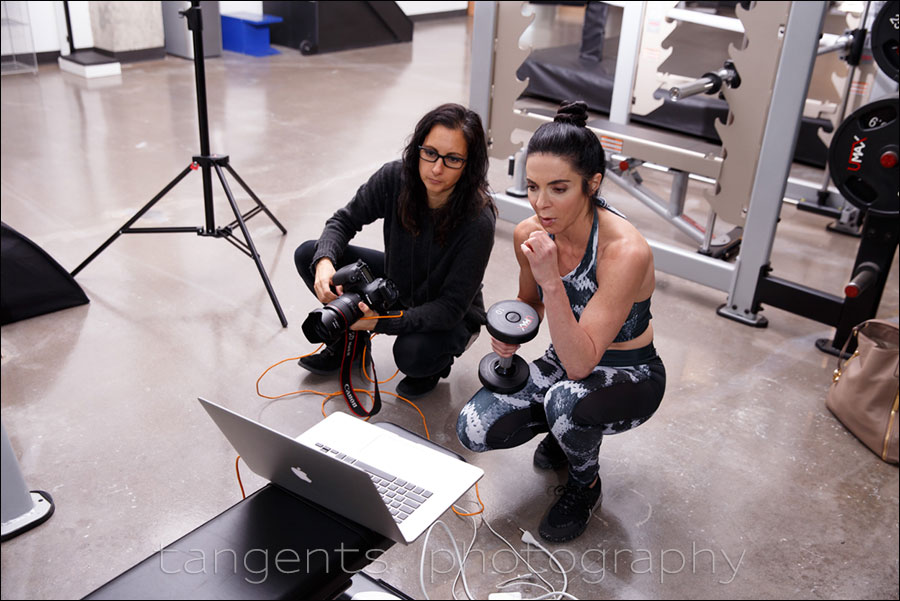 Yasmeen and Janine discussing the images they have shot so far. I have found that it is essential with this kind of photo session to shoot tethered to a computer – it allows the client an easy to way to see the progress, and to give input about what might need to be changed or added.
I asked Yasmeen about her approach to Fitness Photography:
Fitness photography as I approach it can be aggressive, intense, celebratory and/or fun. The approach I take for each shoot has to match the personality and goals of the subject. I'll shoot one person light and airy and the next one dark and contrasty- but all have a level of edge  to them that reflect they were shot by me. Having a marketing background I always think about where the photos are going to live, who the audience is and what is the purpose of the imagery.  I inject a level of my personal style to the imagery while still staying focused on the strategy and goals of the work. We have a lot of fun on set in a casual atmosphere so we can get images where the subject is relaxed and can be their best.
---
A little but more about Janine.  I asked her to introduce herself to readers of the Tangents blog, and tell us more about what she aims to achieve with her endeavors:
Hi everyone it's me Janine!  Many of you may know me already from my crazy workouts like one handed pull ups or double unders in the ocean.  All done with a smile on my face.  For those of you tuning in for the first time, let me introduce myself. 
My goal is to help others realize that being fit is not just about the way you look. It's about being healthy in mind, body and soul.  All of these components have to work together before we can be the best possible version of ourselves. At the age of 48, I feel better physically and mentally than ever before
Fitness has always been a big part of my life, from dancing professional ballet, to teaching exercise and nutrition classes, to competing and placing in figure competitions.  Whether you are in your 20's looking to put on some muscle, your 30's looking to get your figure back after having kids, or even looking to shed those past few pounds as you enter your 40's, I've been there and know what it takes to make those changes in your life.
Between my career as a Psychologist and raising teenagers, I also understand that it's not easy to find time to exercise and eat healthy.  That's why I have started my social media fitness brand, to give you workouts, nutrition tips and other motivational tools to make juggling more manageable. 
Janine Delaney, Ph.D.  Instagram  |  Facebook  |  YouTube
---
Lighting gear used during this part of the photo shoot
The lighting kit I brought along, consisted of two Profoto B1 TTL flashes  (B&H / Amazon), and two Profoto A1 flashes for Nikon  (B&H / Amazon). The Profoto A1 is also available for Canon  (B&H / Amazon). Then of course, there was the usual assortment of light-stands and light modifiers. For light modifiers, I brought along a gridded 1×3 strip box, and some umbrellas, and grids and gels.
I rolled in with the gear in two roller cases, as shown in this article:  What's in my bag – lighting gear for headshots on location.
Then it was a matter of using what was needed.
---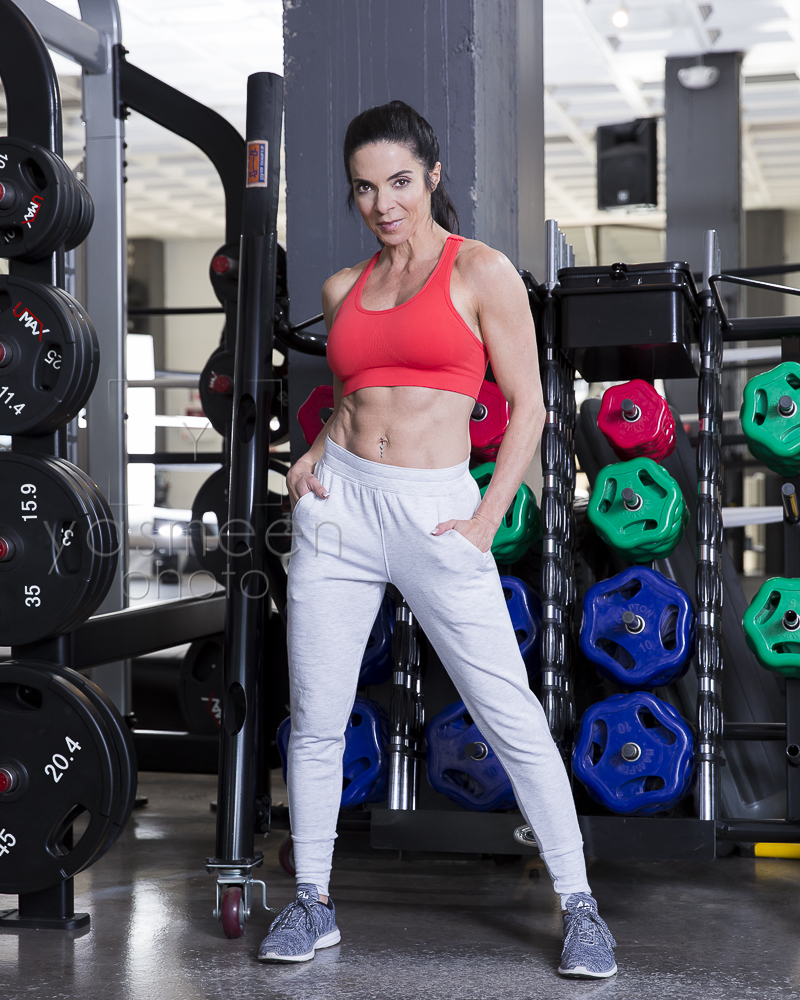 Main light was a Profoto B1 flash (affiliate) with an umbrella, and a Profoto A1 flash (affiliate) as a rim-light from behind. Both are marked with red circles in this pull-back shot.
To brighten up the background and the ceiling, there was a third light – a Profoto B1 – bounced straight up into the ceiling.  The position is marked with a red circle as well.  The 2nd pull-back shot showed where the flash was positioned – on the mat in the boxing ring.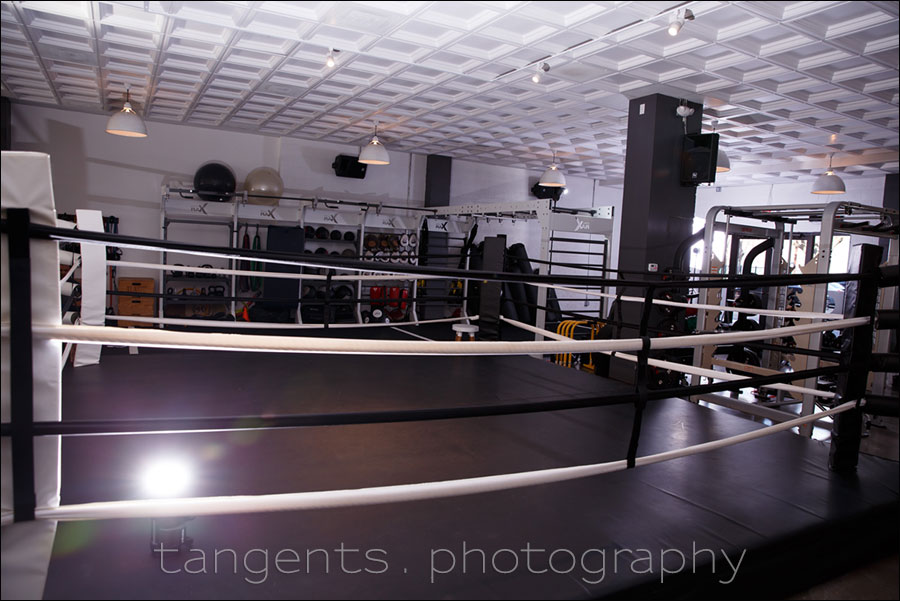 ---
The main light here was a Profoto B1 flash (affiliate) in a  gridded 1'×3' softbox (affiliate).  The intent was to have more directional light on Janine for a contrasty look, but we ended up using the light in a more straight-on way. The background was lit again by another Profoto B1, aimed straight up into the ceiling. This flash, along with the flood of daylight through the windows, gave a high-key look to the final image.
---
Again the Profoto B1 flash (affiliate) and the  gridded 1'×3' softbox (affiliate) as the main light, and a Profoto B1 bounced into the ceiling in the background.
---
We wanted a flood of light here instead of the controlled (contrasty) light from the stripbox. I used a Profoto A1 (affiliate) as a bounce flash, with the flash turned slightly backwards. In the background, there is still the Profoto B1 flash (affiliate) bounced into the ceiling.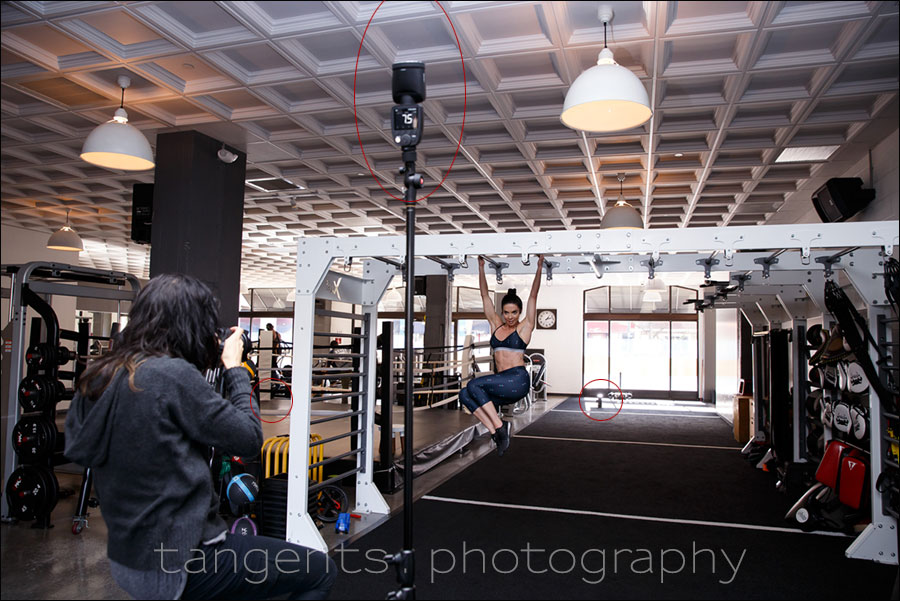 ---
For a sequence of photos at the lockers and then at the scale, I used the most simple of lighting setups again – a single Profoto A1 (affiliate) bounced into the wall behind us.
---
Again a very simple lighting setup – the main light is a Profoto B1 flash (affiliate) bounced into the area behind us, and a  Profoto A1 flash (affiliate) as a rim-light from above and behind.
---
Here I used three lights again – the main light is a Profoto B1 flash (affiliate) bounced into the area behind us, and a  Profoto A1 flash (affiliate) as a rim-light on camera left. The third light (not visible, but positioned behind the gym equipment circled in red), was the sameProfoto B1 flash (affiliate) bounced into the ceiling, but with the power reduced.
---
Summary
I wanted to show here how we kept the lighting setups straight-forward, yet flexible, depending on where we shot in the gym. We had to shoot fast, since there was a 3pm deadline for when kids would come into the gym for classes – so the setups could not be cumbersome. Also, as I mentioned in my review of the Profoto A1 flash, I love how this smaller flash integrates into the Profoto ecosystem, whether as a flash or as a controller.
Related articles