Silent Shutter / Electronic shutter vs mechanical shutter
I "accidentally" bought a new camera recently. I had no real intent to. This is going to be a long story … or a short review. The story starts when I dropped the small camera Fuji X-T20 (affiliate) that I use on a gimbal. While it was still in for repairs, so I went in to my local camera store, to see what I could rent for a gig that upcoming weekend.
I idly asked to see the new Fuji X-H1 (affiliate) … and the moment I tripped the shutter, I knew this was the camera I had been looking for. It has the quietest mechanical shutter that I've ever heard. Super-quiet shutter sound – only the slightest of "snick" sounds. And if I wanted an actual silent shutter, it offers an electronic shutter like other mirrorless cameras.
Mechanical shutters vs Electronic shutters
Mechanical shutters come in two types – leaf shutters (more commonly found in medium format cameras), and focal plane shutters (which we commonly find in 35mm film cameras and DSLRs. The focal plane shutter which everyone is familiar with, has two curtains which physically open and close to expose the sensor to light. The time difference between the first (front) shutter opening, and the second (rear) curtain closing, determines the shutter speed.
Mechanical shutters, by their very nature, make some kind of sound. Add to this the sound of the mirror flipping up and down with DSLR cameras, and you have even more noise when you trip the shutter. This combined sound can be lessened somewhat with DSLRs when they delay the mirror returning down. This is what happens with the Quiet mode on DSLRs. It's slightly quieter, but not silent.
For a truly silent shutter, an electronic shutter is needed. An electronic shutter reads the data from the sensor, line by line. No mechanical shutter involved – but the time taken for the data to be read, (which varies from design to design), can cause problems under certain conditions. You can get "rolling shutter" – for example wiper blades become bendy. Or when the camera moves at certain speeds, the subject can become "wobbly".
The real problem with electronic shutters appears when you get banding in your photos when shooting in with certain types of artificial lighting. Some artificial lighting isn't quite continuous, but pulses (usually at the frequency of the AC power.) Then you get
Here are two examples from a wedding that I photographed, where I tested the Sony A7R III  (B&H / Amazon) for a few frames to see how the silent / electronic shutter would work out. Not so well, in this situation.
The banding is quite horrendous.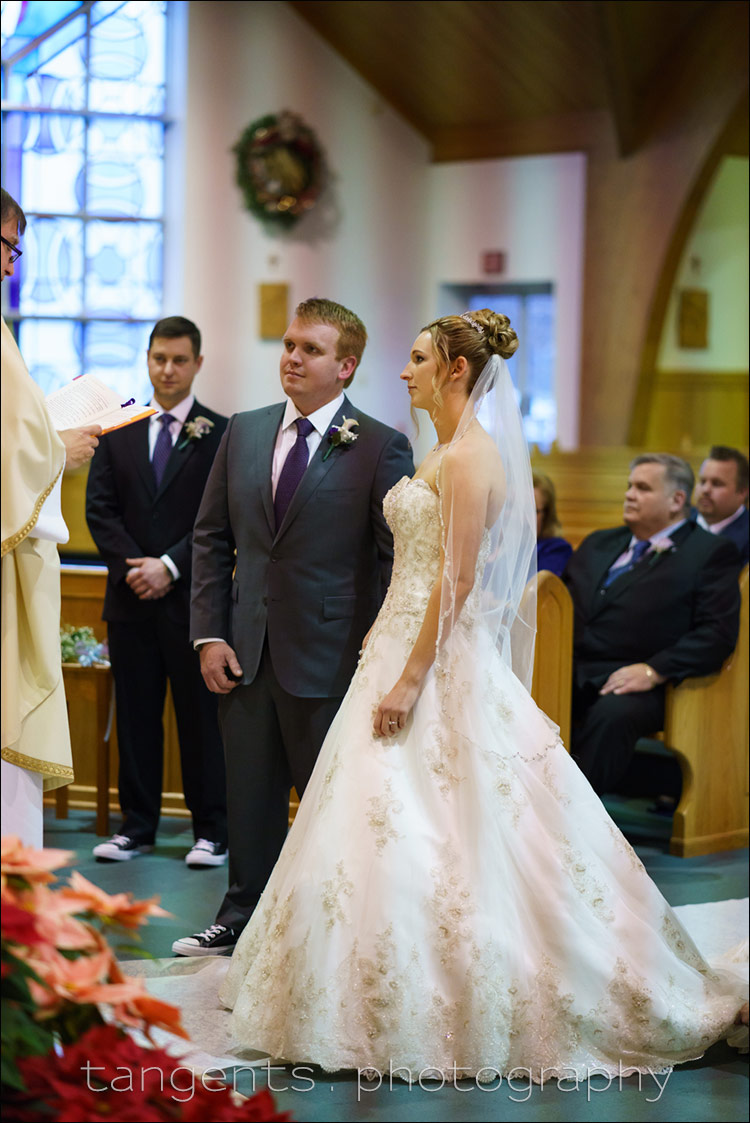 Here is another photo taken directly afterwards, using the mechanical shutter.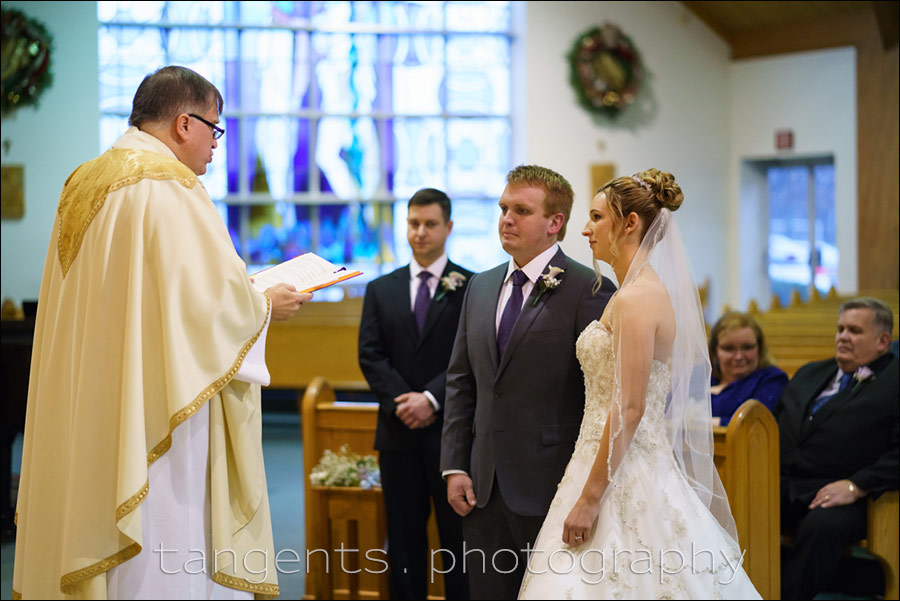 Both images were taken at 1/200 @ f/2 @ 3200 ISO
The banding may have been reduced at slower shutter speeds. I wasn't going to experiment any further during the wedding, and continued with my workhorse cameras – the Nikon D5 and D810.
This banding  is nearly impossible to fix in post-production. The appearance of the banding depends on a few things though:
The appearance of banding depends on how fast the camera dumps the info from the sensor. A camera like the The Sony A9  (B&H / Amazon), has a much faster readout than the Sony A7Riii, and is less prone to banding.
The specific shutter speed will affect how banding appears, and you might find at slower shutter speeds that it is much less noticeable.
And of course, the lighting type will affect whether there is banding at all.
Note again that the banding doesn't appear in the image with the mechanical shutter.
The need for a silent shutter
I have been strongly desiring a camera with a silent shutter for a long while now. Every time I'm photographing a wedding ceremony, or a corporate event where someone is speaking at a dias, I cringe when the loud shutter sound echoes around the quiet of the place.
With corporate events, where someone is speaking at a podium or on stage, I would like a selection of photos of the person while they are speaking, but without weird mouth contortions. This means I have to take a lot of photos so that I have that choice afterwards when I cull the images …. but the camera's loud shutter sounds so loud, that I can't bear it to take so many photos. It really stresses me out in quiet environments.
It gets even worse when I have to stand close to a videographer, for then zina is the camera's sound can be really intrusive.
So I've been looking for a camera with a really, really quiet mechanical shutter, and an electronic shutter for when I truly have to be silent.
That camera turned out to be the Fuji X-H1 which I accidentally bought when I discovered just how quiet its shutter is. But buying the Fuji X-H1  (B&H / Amazon) wasn't really such a quick decision – it's been a long path getting here.
How I decided on the Fuji X-H1
As mentioned earlier, with DSLRs you need to distinguish between the silent (electronic) shutter and the quiet shutter … which is just the mechanical shutter with the mirror return delayed. It's still not silent.  The Canon 5D mk 4 is very quiet with its Quiet shutter. The 5D mk3 and 6D are even better.  The Nikon D810 isn't too loud either, but they can still be heard.
I love my workhorse Nikon D5  (B&H / Amazon), but the shutter is loud. It does offer an electronic shutter for silent shooting, but the D5's electronic shutter limits you to a 7 megapixel JPG. It can't shoot RAW files with the silent shutter.
Then the Nikon D850  (B&H / Amazon) seemed like a perfect solution for me, fitting in with my existing system, while offering a silent / electronic shutter for when I need to shoot silently. The major obstacle for me was when I found that the  Nikon D850 medium RAW files are soft.  So that still left me hanging.
The Sony A9  (B&H / Amazon) would appear to be my best option … but the mechanical shutter is still loud. If I had banding issues even with the A9, I would be stuck with a loud shutter. I wanted silent or really, really quiet. The Sony A9 is much less prone to banding than the A7iii … but electronic shutters will suffer from banding to an extent, until they they manage to make the 'global shutter' (with instant readout of the entire sensor), more affordable.
So yes, I've been strongly considering the Sony mirrorless cameras, but their shutter sounds are loud. Electronic shutters are actually silent, but you run the risk of banding when shooting in artificial light – which is generally what you encounter when shooting corporate and other events. Sony can still happen. I just don't see much advantage over my Nikon D5 for most things.
So here, unexpectedly now, I have a new camera that I've fallen in love with – the Fuji X-H1.
The X-H1 offers in-camera stabilization, which might be crucial for some. There are various other features which makes the X-H1 a really superb camera. I also like the soft shutter release. Some people complain that there isn't an apparent point at which you can feel resistance to hold the focus, but I found I instantly liked the feel of the shutter button.
---
I bought the Fuji X-H1  (B&H / Amazon) along with the Fuji XF 50-140mm f/2.8 R  (B&H / Amazon), and I immediately used this combo at a corporate event where there were presenters speaking in an auditorium … and I LOOOOVED there being so little shutter sound. What a relief after the ker-chunk of the Nikon D4 and D5 bodies. It really feels like a weight off my shoulders not cringing every time I hit the shutter button.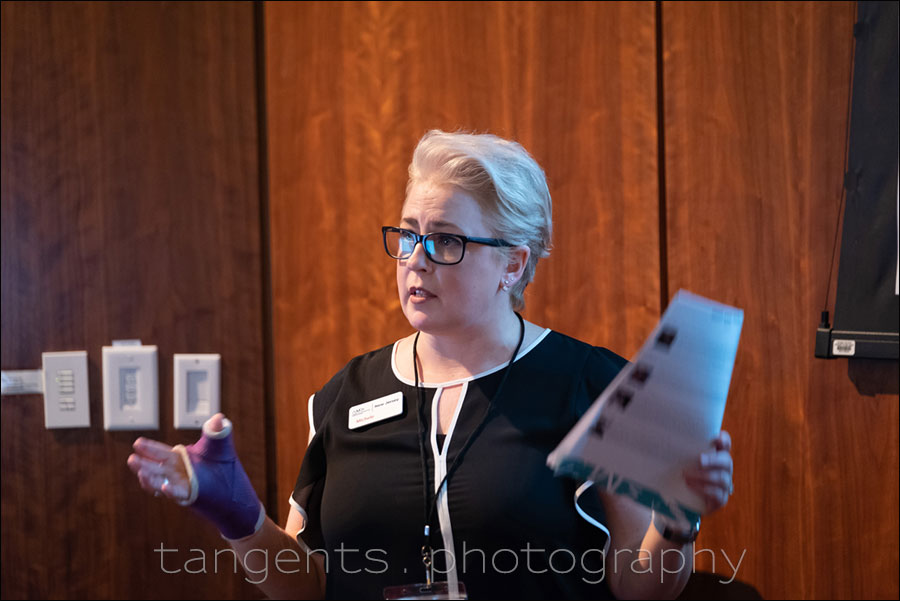 For equivalent sensor technology and megapixel count, the full-frame sensor will always give you that stop better high-ISO noise, compared to a crop sensor. However, here is the 100% crop of this photo shot at 3200 ISO with the Fuji X-H1. I can live with this.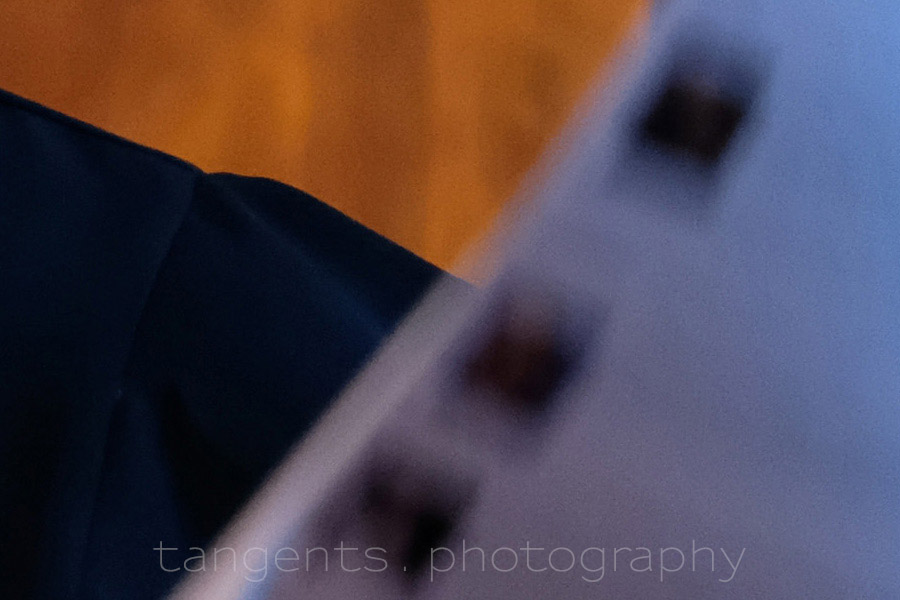 This was shot at 1/55 @ f/2.8 @ 3200 ISO … and I had some subject movement at that slow shutter speed. But I could take a much larger number of photos without anyone knowing, and then select the sharp images where people had good expressions.
With mirrorless cameras, the lack of a mirror also means there is no mirror slap, less risk of blurred images. And when you shoot in silent mode with the electronic shutter, there is no physical shutter smacking around inside the camera, and this too reduces your risk of camera shake.
My final summary – I think I am going to love this new direction that this (type of) camera will allow me – completely silent (or near silent) photography.
---
Related articles