Off-camera flash for dramatic back-lighting
During this engagement photo session with a couple, Ashley and Michael, we roamed around the campus grounds of the university where they had met. In the one part of the grounds, there was this clump of trees, planted in a small rectangle with two seats. Since it was so dark there under the trees, they wondered who'd ever go and sit there. It just didn't look appetizing. Then I though … hmmm, with some off-camera flash from behind, we can really make this place look like something.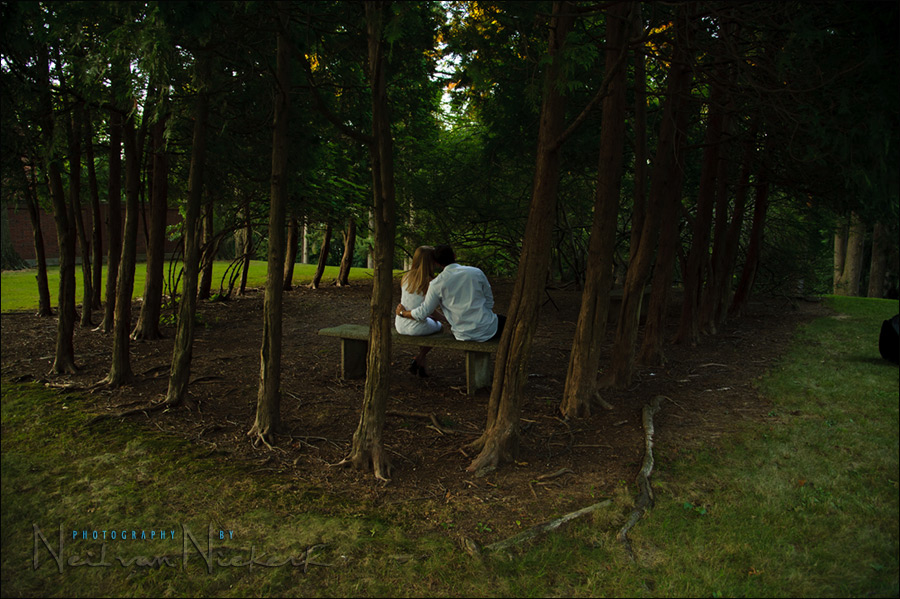 This is the same place, taken at the same camera settings as above: 1/60 @ f5.0 @ 800 ISO … but without flash, it's just dark. The direction of light is such that you'd have to position your subject outwards, and then the light would still not have been wonderful. The light levels would also have been too dark.
I immediately hoped that throwing a flash high-up above them, pointing down at where they are seated, would create an interesting radiating pattern of shadows from the trees. And it worked.
Since I didn't have an assistant with me, I took a light stand with me in case I wanted to use an off-camera softbox. For the light-stand, I chose the Manfrotto 1004BAC  – tall light-stand  (affiliate) because of the large footprintand because of its extra weight. The extra weight helps on location where there is the possibility of wind.
So with the 12-foot tall light-stand at hand, I was able to hoist a speedlight up high, and tilt it slightly downwards. To have the speedlight give me a wide spread of light, I flipped down the wide-angle diffuser panel.
Here is a shot where I purposely included the flash, as a kind of pull-back shot.
The off-camera speedlight was trigged by the  PocketWizard FlexTT5 & AC3 Controller I started off shooting in TTL mode, since this is the mode I most often shoot in when on location. But since the flash is used as back-lighting, it made more sense to have it as manual flash. Changing modes was a breeze with the AC3 Zone Controller.
In the end, I shot at full manual output. So the set-up was quite simple. Of course, any manual, flash triggered off-camera, would've worked.
To my eye, the vertical shot didn't work as well as the horizontal image here. With so much of the blue sky revealed in the vertical image, the mystery and dramatic feel to the image is reduced. A higher shutter speed (e.g. maximum flash sync speed), might have done the trick here. But I didn't go as far.
Related articles
Photo gear (or equivalents) used during this photo session