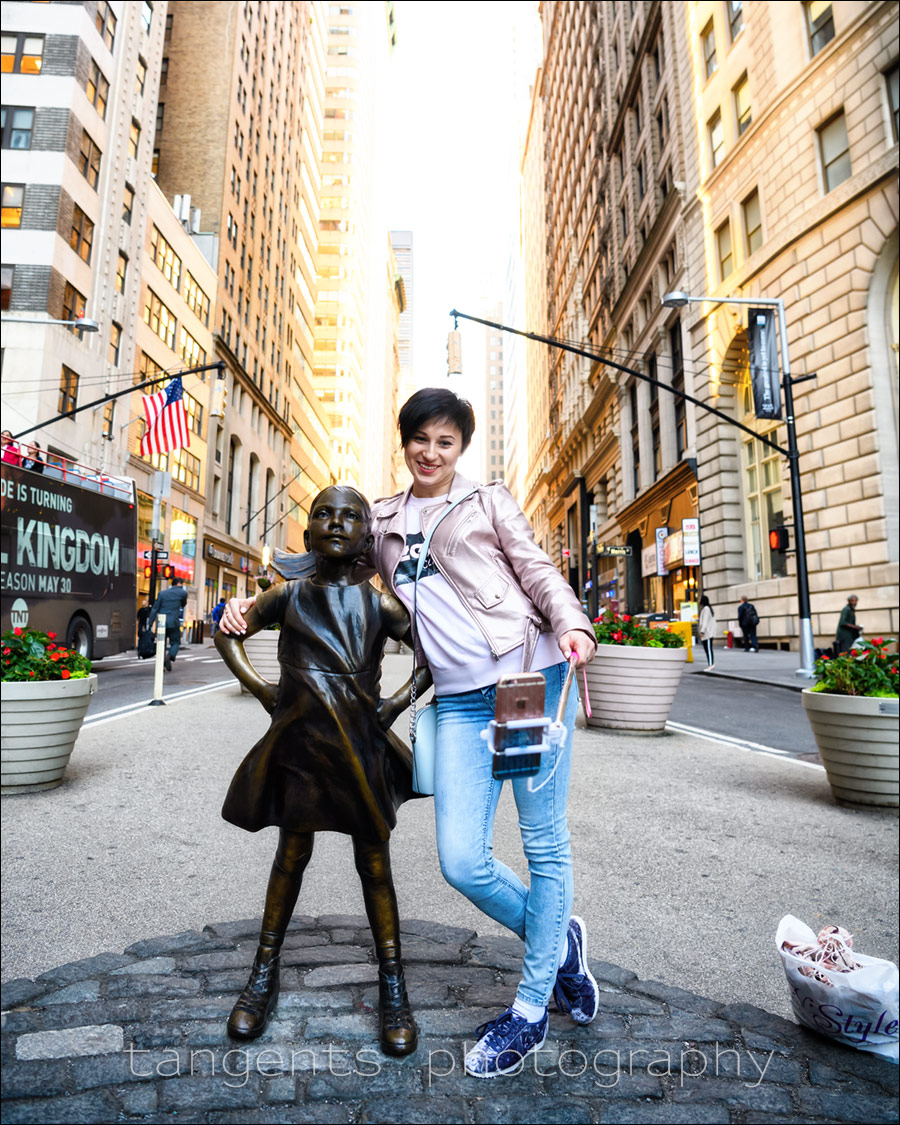 Photographing semi-candid portraits out on the street
Not quite "street photography", but rather a semi-candid portrait out on the streets, I love the resulting photograph. It encapsulates a few of the typical New York elements for me – colorful vibrancy and attitude.
Late this afternoon, as usual when I had finished with a corporate headshot photo session in the Wall St area of New York, I waited out the peak time traffic by roaming around the streets with my camera. This young woman graciously waited a few seconds for me while she took selfies with the Fearless Girl – there were other people walking past in the background, and I wanted a cleaner shot. I held up my hand to ask her non-verbally with this gesture (and a smile) to hold her natural pose for me. And she did – and with that, I have a photograph where everything gelled. It's one of those rare moments that make the semi-aimless wandering around looking for photographs, worth it!
One of the toughest things I had to overcome when I first picked up a camera, was engaging people I didn't know. Just like many other newer photographers starting out with their first camera, I felt too awkward about making any kind of contact- ending up  photographing people from the side or from behind. If the resulting photograph works, then that's fine – but I would say that capturing expressions make for far more interesting photographs than the back of someone's head.
And that's it – you could engage in a quick conversation, or even with a nod or a smile or a hand-gesture, ask permission to take a photograph. I'm never pushy with it – if I sense someone would rather not, I just nod to show that I understand, and I move on. But people do often respond favorably, so it's worth overcoming that fear!
Share with us how you go about approaching strangers when you want to take a photograph of them.
Techie details
1/125 @ f/4 @ 1600 ISO   … available light
The photograph has a slight HDR effect added, via Aurora
Related articles