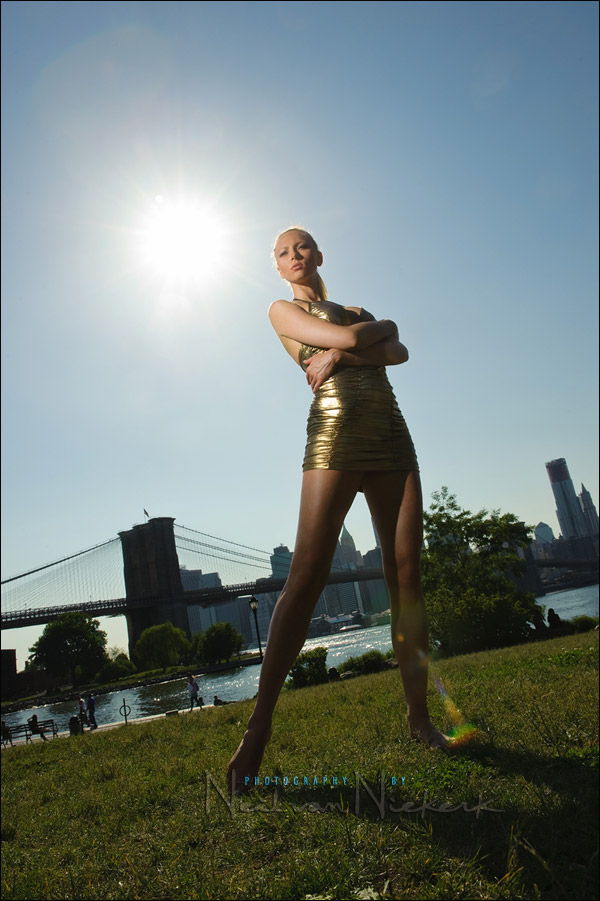 recap: photography workshop – New Jersey and NYC
Aleona was one of our striking models at the recent 2-day long flash photography workshop held in Jersey City and New York City.  The setting in this photo is the DUMBO area of Brooklyn, with Manhattan in the background.  The challenge was to overcome the hard sunlight with a small speedlight … and still make it look good.
The flash photography workshops have undergone certain changes over time – the material and sequence of material are always honed over time. The biggest recent change is that the workshop has expanded with an optional 2nd day where we play around further with on-location lighting. The first day is still the intensive workshop – the combination of seminar and practical sessions where we cover everything thoroughly.  The first day takes place in a hotel in Jersey City with a magnificent view of Manhattan.
The second day is where we have fun, and walk around with two models, and try different backgrounds and lighting scenarios while we apply what we learnt during the first day's intensive 10 hour workshop.
Thank you to everyone who attended and made it a success.  And a big thank you to our four models.
Two more images from the workshop:
Photography workshops