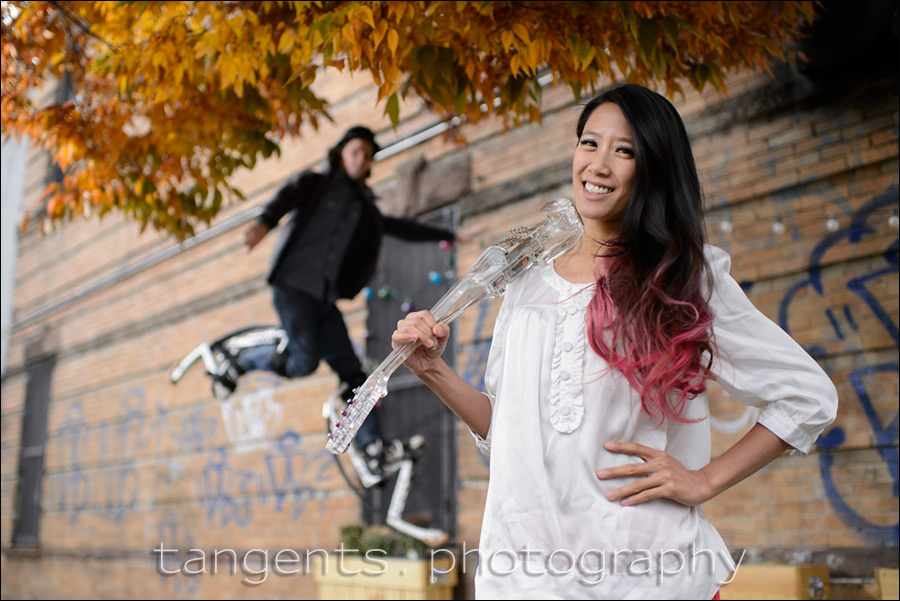 Portraits with shallow DoF & high-speed sync flash
High-speed flash sync (HSS) has two primary uses – being able to get to a fast enough shutter speed to stop action, and for shallow depth-of-field. Other than that, I rarely stray higher than max flash sync speed. So for me, it is a conscious decision to go to HSS. Or not.
For these playful portraits of my friends, Irene and Michael, I wanted to use the shallow depth-of-field with specific intent. Irene and Michael are at the core of a performance group called the Modern Gypsies. Their official website: Modern Gypsies productions. I have photographed the Modern Gypsies several times over the past few years for their own promotion. Since they are always in outlandish costume then, I wanted to photograph their portraits as themselves, sans costume and stage make-up. For this photo session we met up in their home turf, Brooklyn.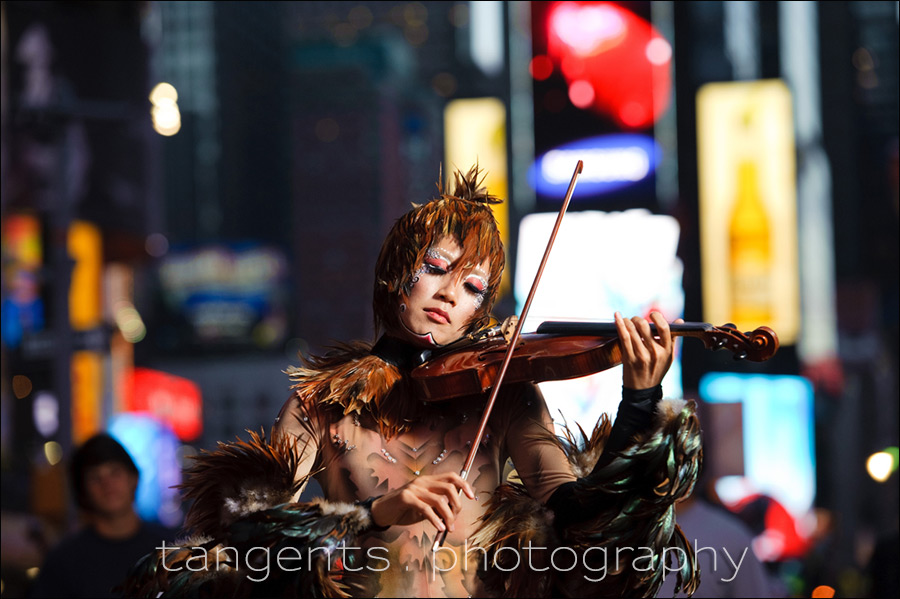 Two photos that have appeared on the Tangents blog before from promotional stills I shot for them: Irene as a BirdGirl, and Michael as PinkMan.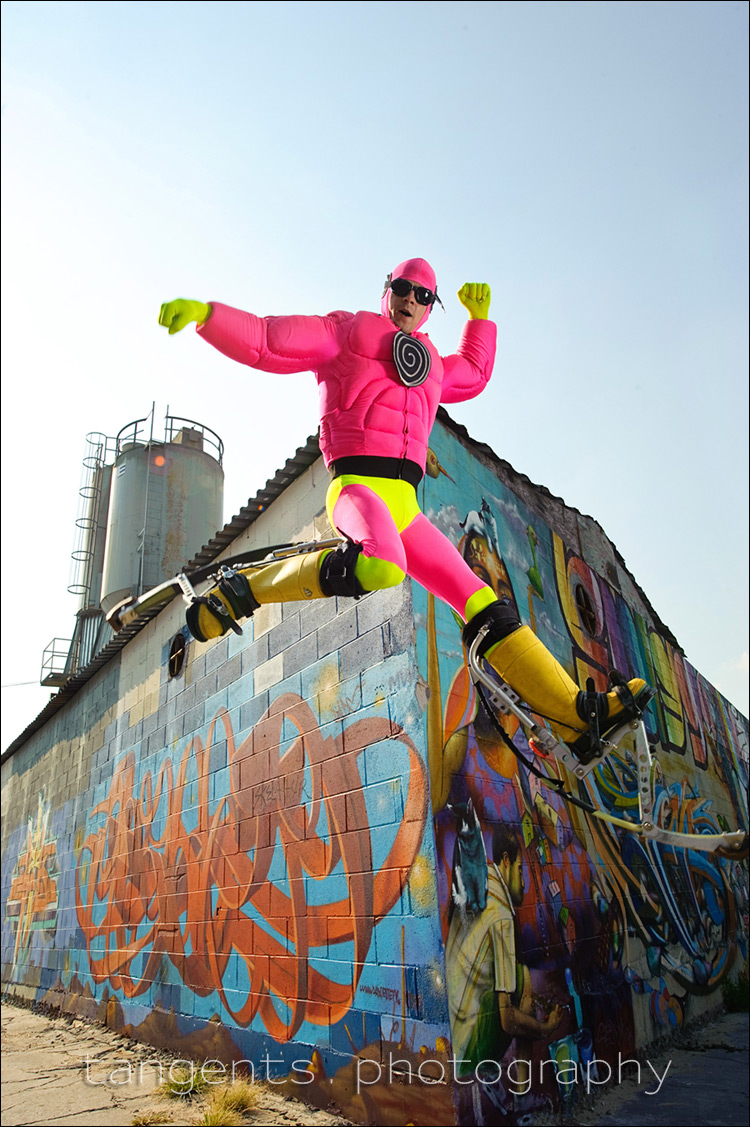 Straight-forward portraits wouldn't be as true to who they are – I wanted to give a sense of some of their crazy inventiveness.
The idea I came up with was to have Irene's portrait slightly surreal – Irene with her trademark see-thru violin … but I still wanted to include Michael. Some of his acts (such as PinkMan) has him bouncing around on stilts while in costume. I wanted to include him, but still have this be a portrait of Irene. By using a wide aperture (f/2), I was able to throw him out of focus in the background.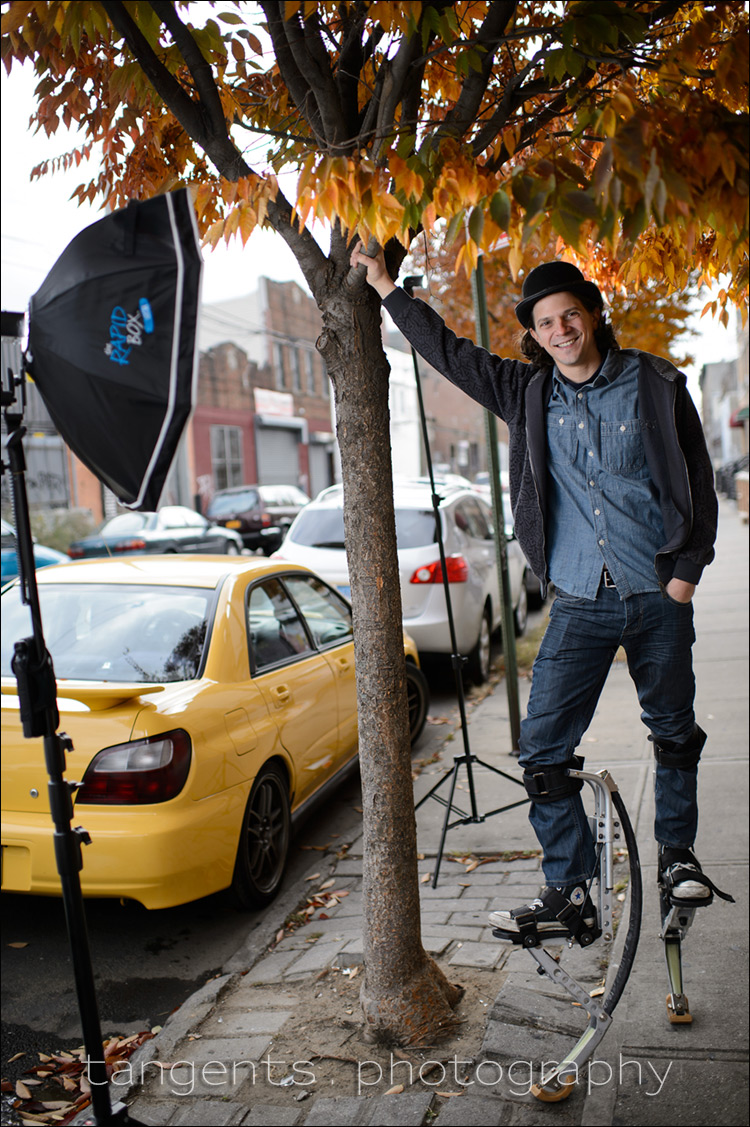 Camera settings and photo gear (or equivalents) used for this photo session
1/1,000  @  f/2  @ 100 ISO
I used two lights here – a speedlight in a softbox on Irene; and a direct, unmodified speelight on Michael in the background. I wanted that shallow depth of field, hence an f/2 aperture. Since the f/2 aperture implied a fast shutter speed – we were shooting outdoors – we were in high-speed flash sync territory. We needed that 1/1000 shutter speed to freeze action. (Since the available light was the dominant light source, the flash wouldn't be able to freeze the action on its own.)
The pull-back shot above shows the positioning of the two lights, with Michael standing more or less where Irene would be in the final sequence of images.
And here we have it – quirky portraits of Irene, with context … Michael on Kangaroo stilts.. These photos also appeared in my book: Portrait Lighting & Design.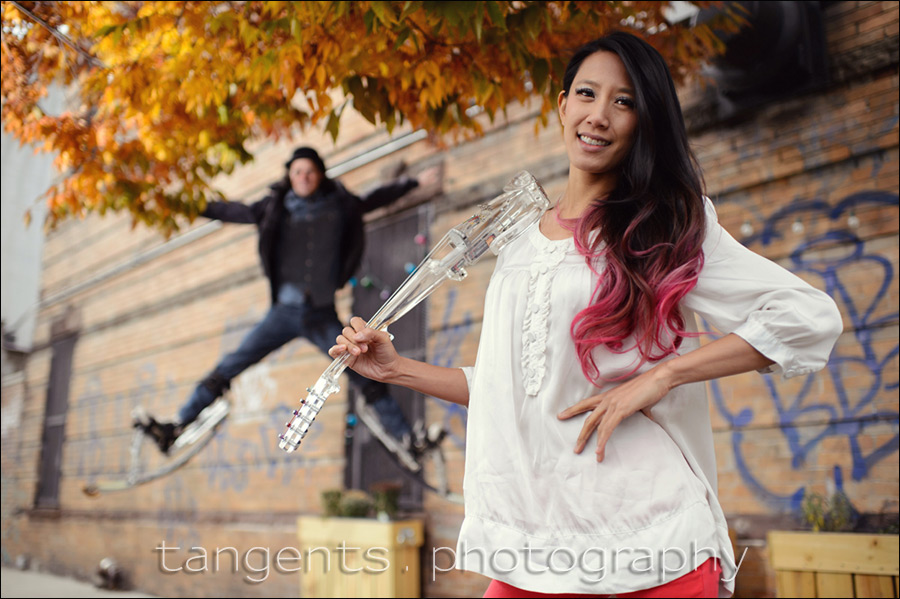 Related articles