recap: Presentation at B&H's Event Space in NYC  (2010)
I presented the first of two lectures on flash photography, at the Event Space at B&H  … and, wow! This was all very exciting to me. Some of the biggest names in the photography world have presented talks and seminars at B&H. So for me, this was quite A Big Deal to present a lecture there.Just as exciting was to see that the place was jam-packed. The venue has 65 seats, but in the end I think there were about 75 people inside, with some sitting on the floor in front of me, and some lining the door .. and some 20+ people outside seeing if there were some way of still finding a spot …
This 24mm wide shot wasn't even wide enough to capture everyone in there!
Oh, by the way, the pieces of blue tape on my shirt was to hold the microphone in place – the clip had broken.  More pieces of tape was added as the lecture progressed, to everyone's amusement.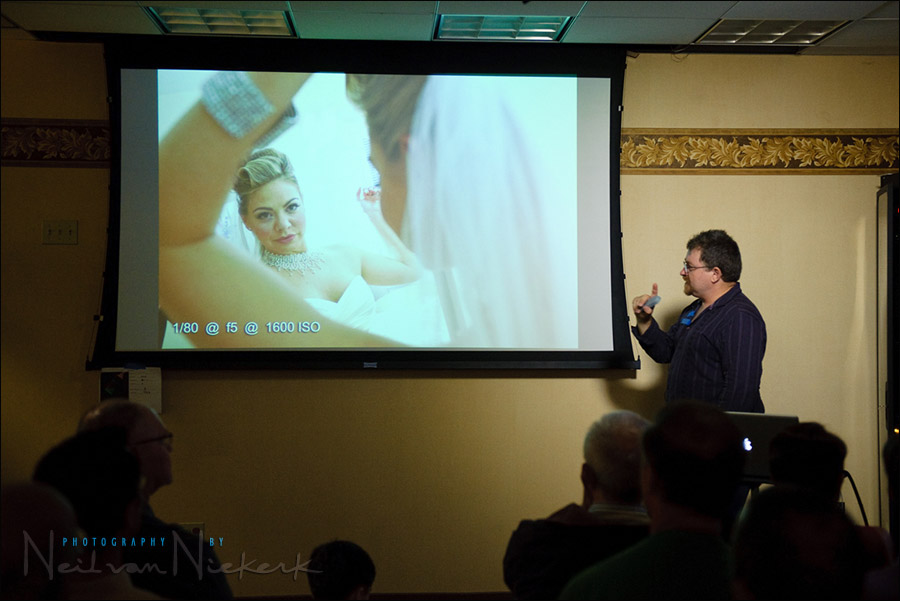 The title of the presentation was: Just Give Me The F-Stop. The motivation behind this talk was that photographers often stare themselves blind at the specific settings, when instead, the camera settings are often largely irrelevant.
Response by those who attended was also wonderful:
Your class at B & H's Event Space was fast paced and full of concepts that could be hard to wrap ones head around, but you made them easy and fun. There was plenty of time for questions both during, and after the class and I feel that every student received as much attention as they needed. I know I did.
(Jeff Mitchel)
Hi Neil, it was wonderful attending your workshop yesterday, at B&H. Fantastic! Thanks again and look forward to more of its kind.
I was sitting in the first row, across from your laptop. Truly enjoyed the class–hands on, built so that everybody would understand. Maybe a good title would be "Deconstructing the secrets of lighting with flash" or something of that sort.
(Alina Oswald)
I'm planning to present other lectures on different topics at B&H in the future as well, so sign up to their newsletter .. and sign up to my newsletter to keep up to date with announcements. As always, I look forward to meeting everyone there.
Photography workshops