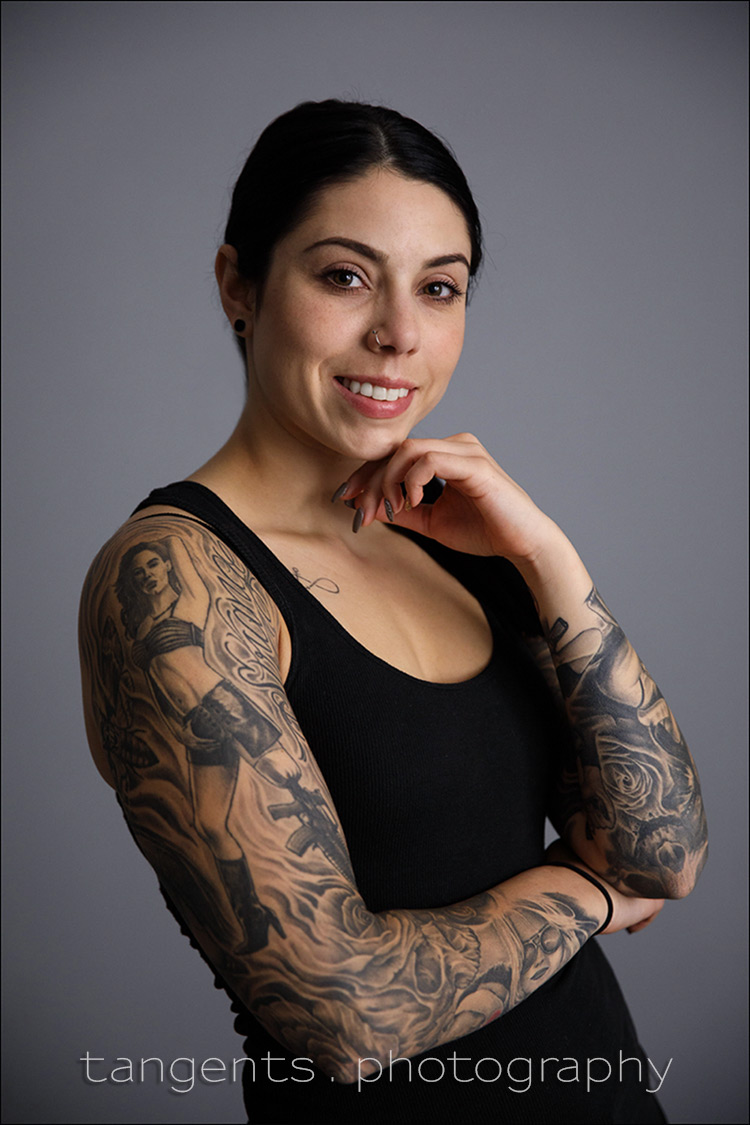 review: Canon 5D mark IV – high-ISO performance
The Canon 5D mark IV (B&H) offers a bunch of new features which are exciting: higher resolution than the previous incarnation of the 5D series. It now offers 4K video. The autofocus has also been  improved – a weak point of the previous 5D bodies. There is also new features such as Dual Pixel RAW – a way for fine adjustments to be made after the image is taken, to make slight adjustments to the focus point to improve the fine details recorded. The 4K video capability also allows you to grab 8.8MP still frames during playback, via the touch-sensitive LCD screen.
A lot of magic happening there. More than I feel I can do justice in a single review. Therefore I will concentrate on a few features in a series of mini-reviews of this camera. This time, the high-ISO noise performance.
Not all the features will seem compelling to every photographer – our needs vary. Whether  you'd want to upgrade from a 5D mark II or III (or the 6D) would depend on the subjects you shoot. I know that wedding photographers, amongst others, have a real need for superb high-ISO noise performance. So this review will concentrate on comparing these cameras:
Canon 6D  —  (20 megapixels)
Canon 5D mark II  —  (21 megapixels)
Canon 5D mark III   —  (22 megapixels)
Canon 5D mark IV   —  30 megapixels)
The one thing which makes a direct comparison difficult, is that their resolution differ. The 5D mk2 and mk3 and 6D have approximately the same resolution, but there is a distinct jump with the Canon 5D mk4, to 30 megapixels. So simply viewing the images at 100% might not give you the best idea of how the 5D mk IV compares to the others.
Therefore I have done two things:
You can download a sample RAW file for each camera, ranging from 800 ISO to 12,800 ISO. (The 5D mk2 is the exception, with the files only going to 6,400 ISO.) So now you can play with these files, and change the noise reduction, etc, and see how you like the high-ISO files from different cameras. The naming convention for those files should be obvious.
I show comparison images here for all four cameras at 6400 ISO, but I have equalized the images for 20 megapixel resolution. So we see the same size image, and that in a way equalizes the comparison of the high-ISO noise between the cameras.
See what I did there? I neatly side-stepped to-and-fro arguments about which method is the more valid way of appraising the images. You decide!
To make the test as even as possible, I had to make sure the lighting didn't vary. This is tougher to do with flash, where the WB might shift as you change the power … which you have to do when you run out of shutter speeds around maximum flash sync speed. So I opted for continuous lighting. Here's the setup: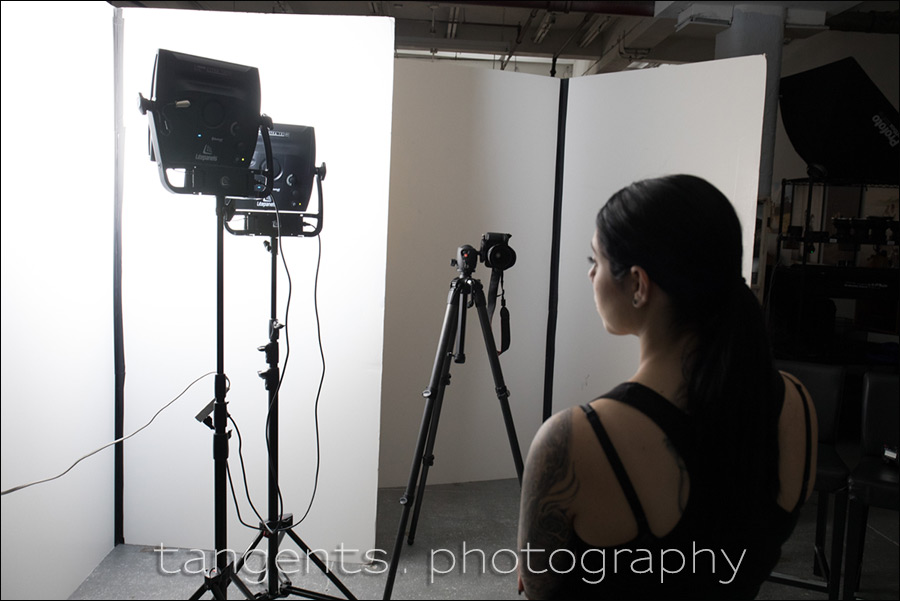 The lighting and setup for this test
To be able to use soft, flattering light, which is also a continuous liught source, I bounced two Litepanels Astra EP 1×1 LED Panels (affiliate) into a white V-flat. The other V-flat helps as fill, but was mostly there to block any light that still sneaked in from the curtained windows. I wanted to have the light on Sara as uncontaminated as possible, so she was just lit by the Litepanel LED lights. What made these Litepanels Astra LED lights (affiliate) ideal for this kind of test, is that they have a High color rendition (CRI) – in other words, they have a full spectrum for the light they emit. They make it much easier to get pleasant skin tones from these lights.
I used the Litepanels Astras in a similar way with these two shoots:
The camera settings for the images were based around:  1/60 @ f/4 @ 1600 ISO
I used a tripod to avoid camera shake at the slower shutter speeds.
The lens I used was the Canon 24-70mm f/2.8L II (affiliate), which is my go-to lens when I shoot with Canon bodies.
You might notice the composition for these images have a lot of headroom – I wanted to keep the composition and point of focus the same between every image, and it was simpler to keep to a central AF point between all the cameras, since they have different layouts for their AF sensors.
As an aside, our model here is a make-up artist in New Jersey, Sara Hayton, who I frequently use when a client needs hair and make-up done before a photo session. When the model I was going to photograph flaked out on me, Sara kindly stepped in. I might just be happier for how things worked out.
You can see Sara's work on her website; or Instagram account, or follow her on Facebook.
Comparing the 5D2, 5D3, 6D and 5D4
As mentioned above, since the 5D mark IV has higher resolution than the other three cameras, I scaled the processed JPGs down to 20 megapixels, and created these 100% crops. I took it from the shadow side of our subject where high-ISO noise might be more visible.
Remember, you can download a sample RAW file for each camera, ranging from 800 ISO to 12,800 ISO. Play with these and see what you think.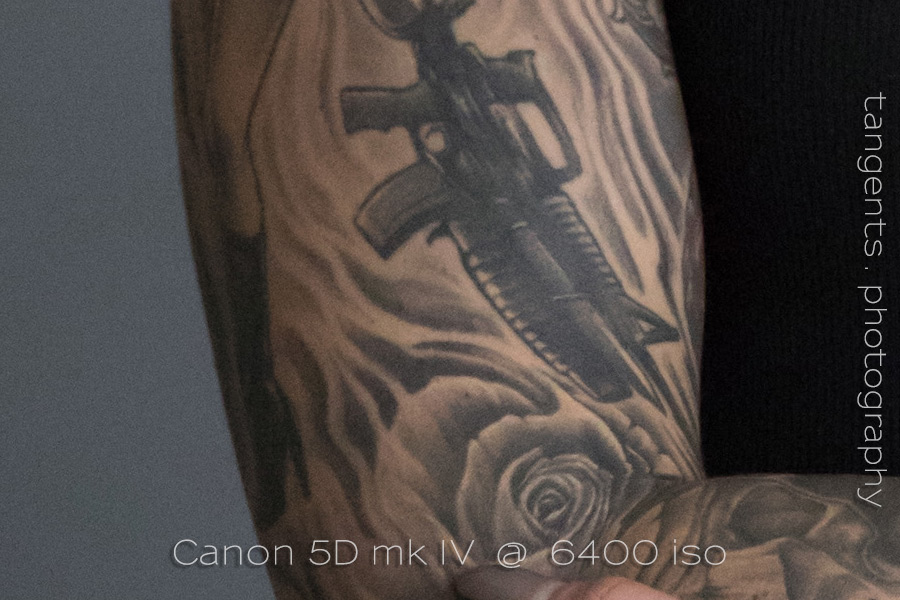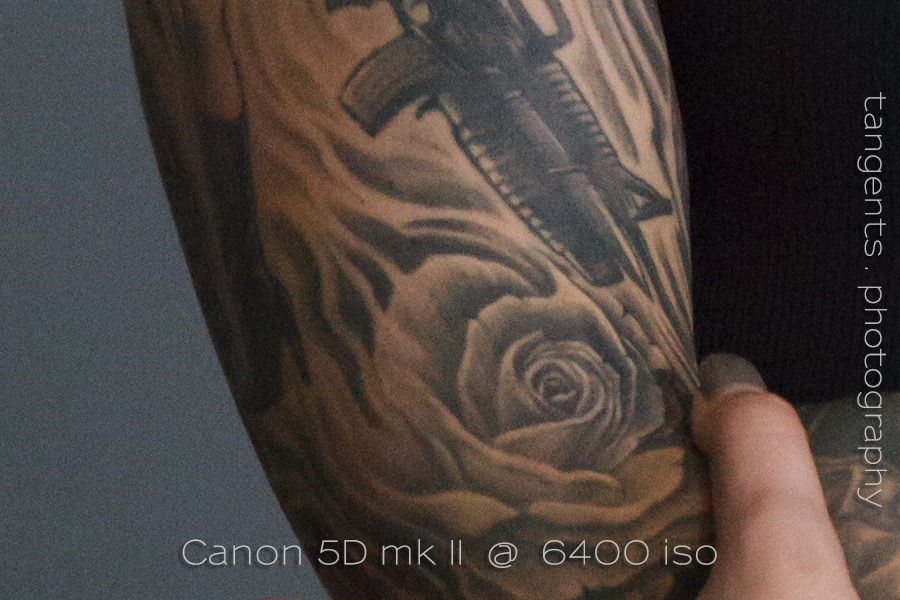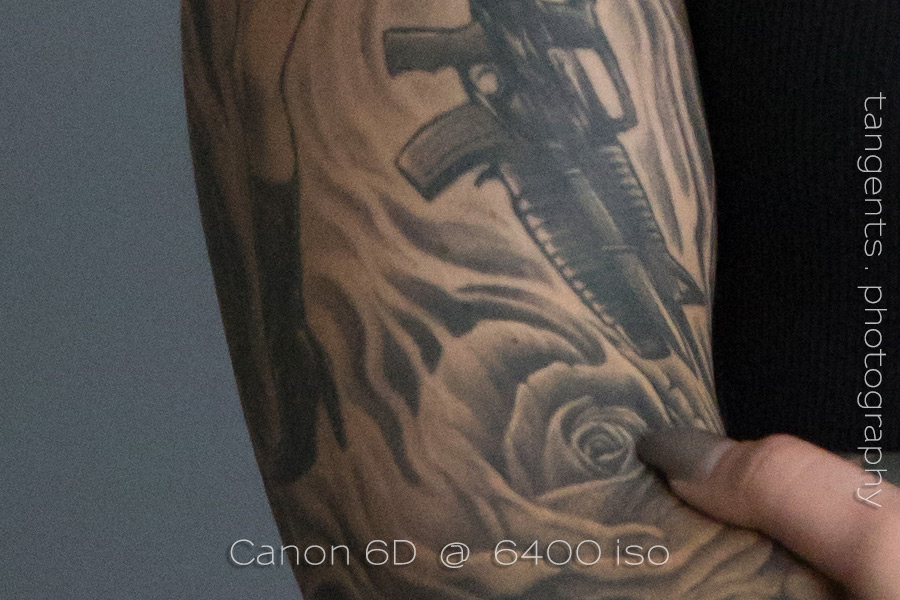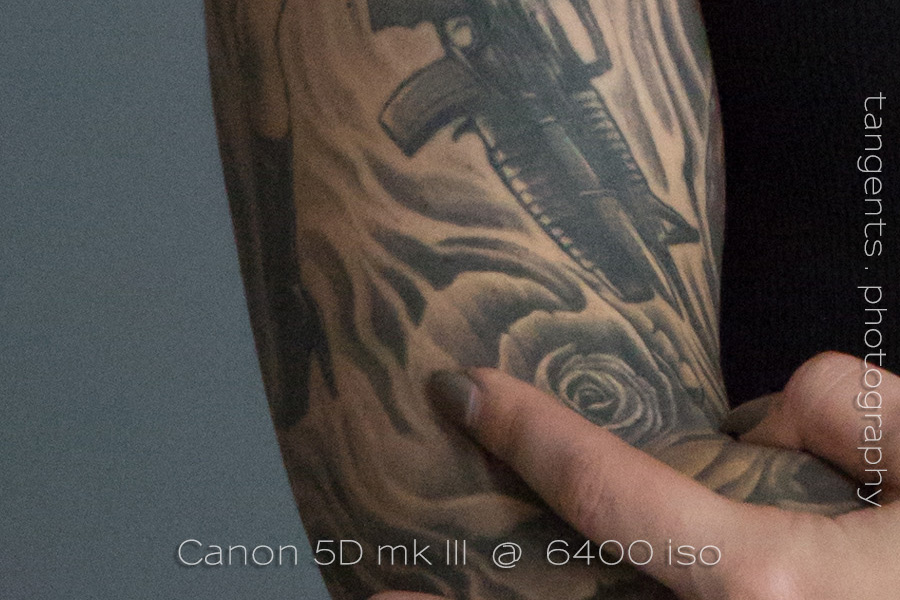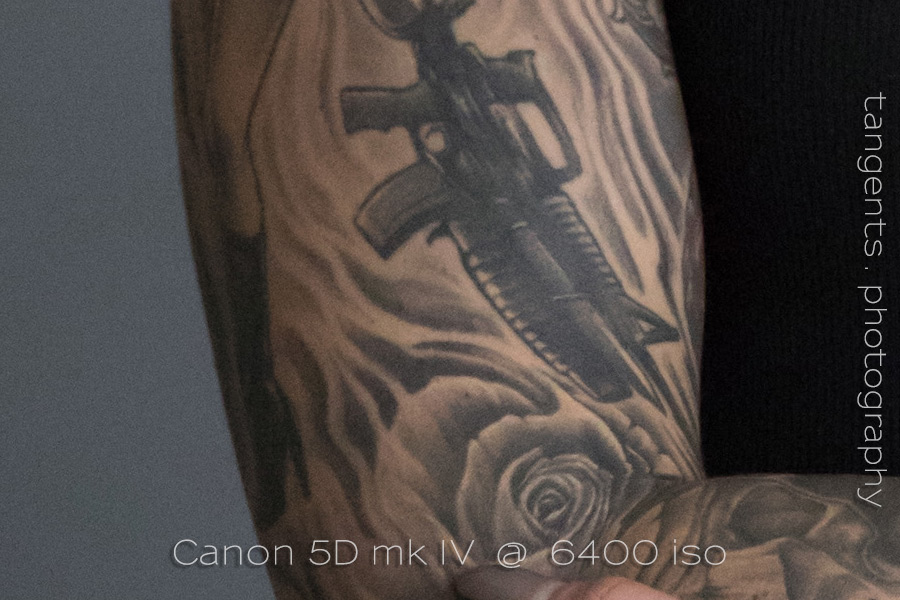 Summary
Looking at these and images at other ISO settings, the pattern is expected and obvious:  The 6D and 5D mk3 improved on the 5D mk2. The 6D and the 5D mark3, appear to be very similar. In turn, the 5D mk4  (in the images which are equalized), appear to be a touch better again than the 5D mk3 and 6D. Thist then gives an obvious jump from the mk2 to the mk4. Nothing surprising there. How much of a difference this is, and how important this is to you, you have to decide.
Is the Canon 5D mark IV (B&H) worth the upgrade from the 6D and the 5D mark III, purely based on this? I can't tell you – it will depend on what you need from the camera in terms of the high-ISO noise performance and any other features which are useful to you in your photography. We have options! It's a good time to be a photographer. We've never had it so good in terms of gear which enable us.
Related links