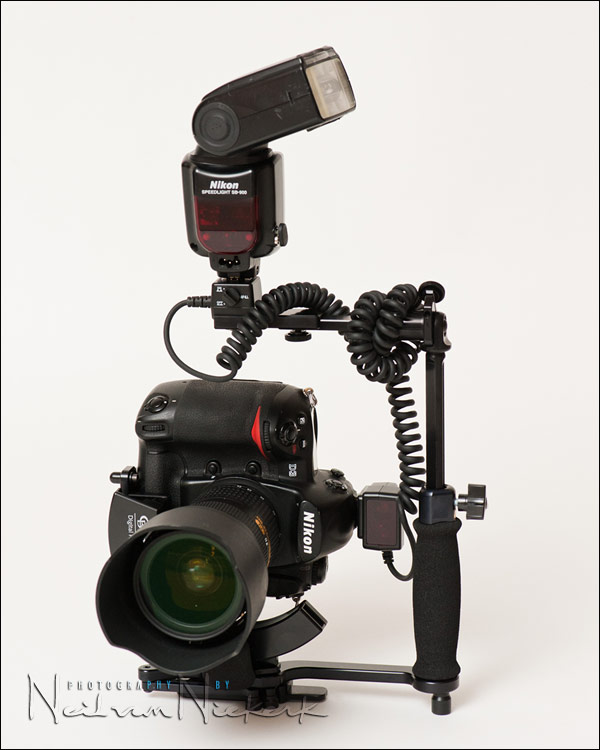 review: Custom Brackets Digital Pro-M rotating bracket kit
The makers of the Custom Brackets flash brackets, recently sent me a copy of their latest and best rotating flash bracket, the Pro-M rotating flash bracket (affiliate), for review. Of the various makes of flash brackets I had tried out when I first started doing wedding photography full-time, the Custom Brackets was the one I settled on out of all of them. As far as I was concerned theirs was the flagship of the flash brackets. So I was curious to see what the updated model could offer …
the reason why we'd use a flash-bracket:
We would use a flash bracket when we want to avoid that side-ways shadow when direct on-camera flash is used and the camera is held vertically. It really does look ugly. See the tutorial on flash brackets for examples. Now, if you only use your camera in a horizontal position, then the flash shadow falls behind your subject, and is less of an intrusive element in the photograph.
When working indoors where there are bounce-able surfaces, I find a flash bracket less of a necessity, thanks to high-ISO capable cameras and the use of faster lenses. Bouncing the flash off other surfaces, and purposely shielding my on-camera flash from directly falling on my subject, I can achieve results which are quite remarkable for on-camera flash.
But photographers who shoot red carpet events or news events, don't have the luxury always of working indoors with walls and ceilings off which they can bounce flash. Then a flash bracket can really improve the look of the photographs by avoiding that distractingly hard side-ways shadow.
the Custom Brackets Pro-M rotating bracket
So how does this flash bracket stack up against the one I've originally been using? Immediately noticeable for me, is that this unit is more compact and lighter than the older design I have been using. The literature says it is made of light-weight aircraft quality aluminum.
The more compact size of this unit is made possible with a clever series of knobs and adjustments, with which the height of the upright stem can be lowered. The new Custom Brackets Digital Pro-M bracket is more compact.
Part of it is due to the way the stem now slides up and down inside the handle. The handle is not a big fat handle-grip to the side anymore, but is part of that stem with a cushion-y padding to the handle. Great. That's taken care of.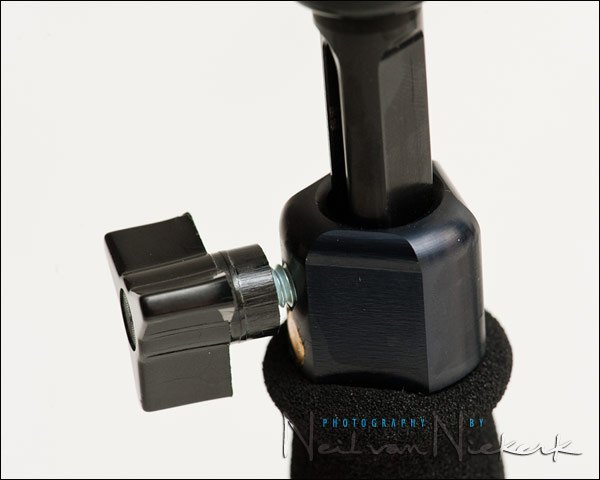 The adjustment to tilt the flash connection forward or backwards, is also more compact now with a smaller adjustment knob. It also seems less likely to slip over time.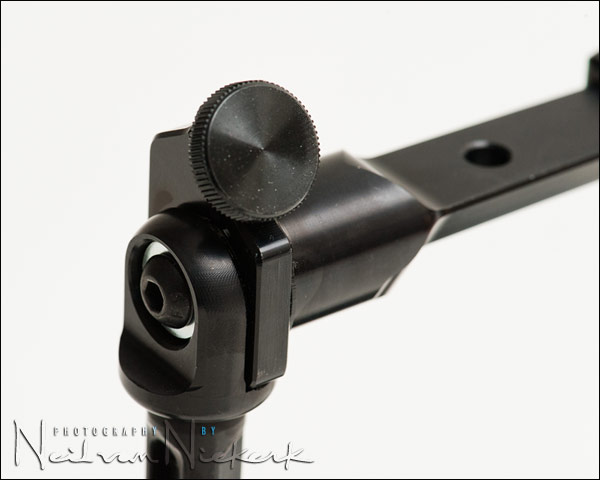 In this image, you can also see the hole for a radio slave to be attached right next to the speedlight. Neat.
attaching your camera to the flash bracket
With the previous designs, you had to buy an attachment plate for each specific camera body. It was a pain, and costly, to attach a different camera plate whenever you upgraded your camera.
The Custom Brackets people have come up with a really elegant way to adjust the camera plate to match your specific camera to the bracket. In the next two photos you can see the adjustment screws which slide the connector screw forward or backward. Nice bit of innovation there. You can flip the camera plate upside down for a larger camera where the camera grip makes the camera taller. I really liked this over the older design which forced you to buy a different camera plate for a new model of camera.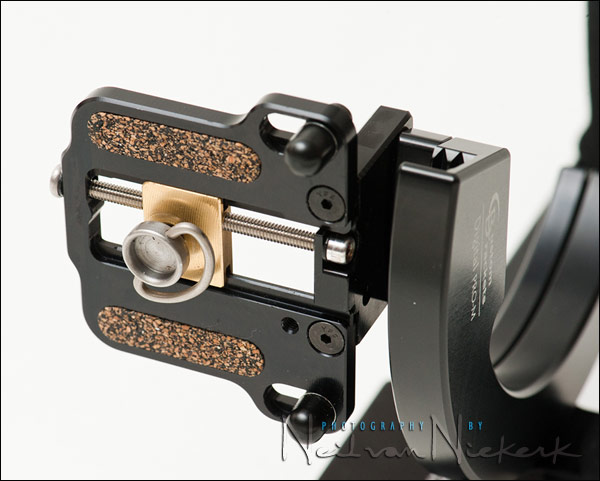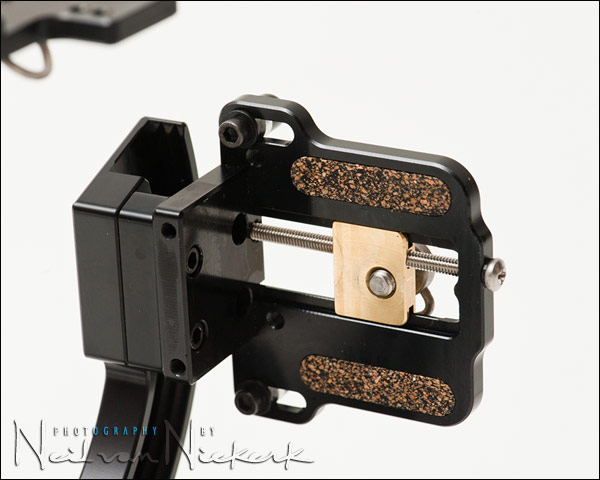 Here is the entire set-up again, with the Nikon D3 and Nikon SB-900 speedlight. I turned the flash head as I would use it for bounce flash with the black foamie thing attached.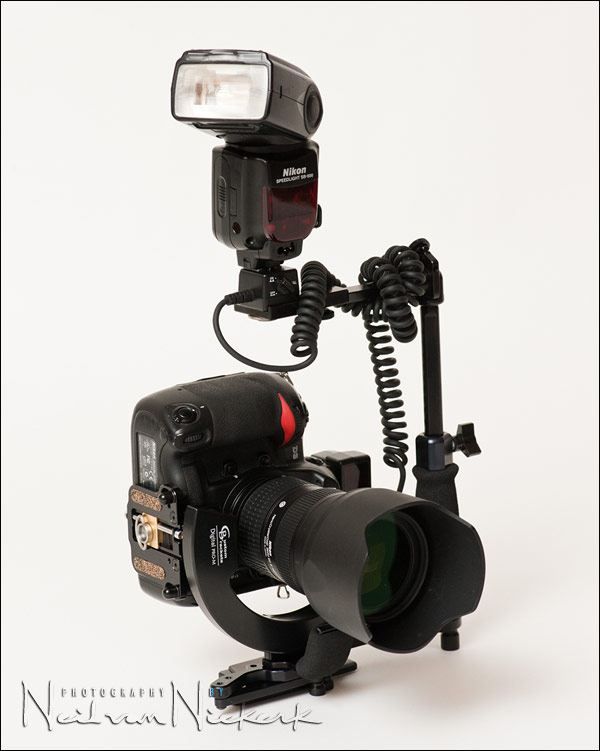 One thing I neglected to show in these photos of the flash bracket, is the fold-out legs which keep the entire set-up more stable. As it was, the contraption balanced well enough even without the legs folded out. However, the fold-out legs would offer much more protection against it being knocked over when setting it down somewhere.
the specs and features for the Digital Pro-M rotating bracket
The camera rotates on a roller bearing system to achieve the best and smoothest rotation from horizontal to vertical possible.
Maintenance-free and requires no lubrication.
A flash lock allows the flash to be tilted and locked in any position. An additional hole next to the flash allows for adding a radio slave or additional flash to your setup.
Ergonomically designed, the bracket features a foam handle and foam palm grip which allows you to hold your setup in many different ways to suit your shooting style and the balance you desire.
The legs on the bracket allow your setup to stand without leaning or laying it down, saving possible damage to your equipment.
Easily stores in a camera bag with a retractable upright and fold-in legs.
There's nothing there that I would argue with. It is quite obvious they have done their homework on this unit, and produced a flash bracket that is as elegant as you can make a flash bracket be.
As a final note, check the tutorial page on flash brackets for examples of how a flash bracket could be used with bounce flash photography.
If you'd like to order the Custom Brackets Pro-M rotating bracket kit, you can do it via this affiliate link.
Related articles