Time-lapse photography project with multiple cameras
Earlier this year I shared details of one of the more involved time-lapse photography projects that I had been tasked with – multiple cameras over 3 days – Time-Lapse Photography project in New York: Cipriani. I recently shot another fairly involved time-lapse photography project for an agency that was creating a promotional video for MLB. The concept behind this was that they had 5 artists painting 6 murals of the 6 most likely drafts for MLB this season. The agency had a team there shooting video, and I had to do time-lapse photography of the graffiti art murals being painted. All of this happened in the span of a few hours one afternoon.
This time-lapse project involved 7 cameras and 7 tripods, with 2 of those cameras on motion dollies, and 4 static cameras on tripods. In this final video, I added a zoom effect in post for 2 of these static setups. (The 7th camera was a hyper lapse of the entire set, which I didn't include this in the final video.)
Not only did I have to keep track of the logistics of moving this much gear around, and setting it all up fast and efficiently – but I also had to make sure that my camera settings were optimal. The thought-process of this was discussed thoroughly in a previous article on Camera settings for Time-lapse photography. With that in mind, I had to know approximately how long each event would be (of painting a mural), and how long my client would want the footage to run. This in turn would then affect camera settings. All this is discussed in that linked article.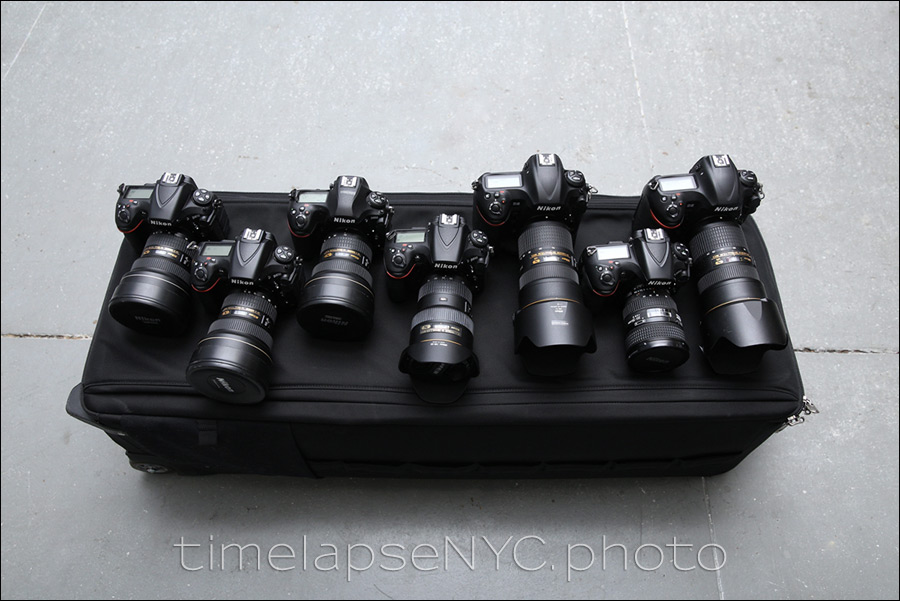 Photo gear used with this Time-Lapse project
Of course, some of the gear had to be rentals (via Unique Photo, a camera store local to me) – the D850 and two of the Nikon 14-24mm lenses, as well as 4 tripods.
---
Here is a behind-the-scenes video showing the motion time-lapse rigs used during this project:
Motion dollies and controllers used with this Time-Lapse project
(2x) Dynamic Perception Stage Zero / Stage One Motion Controllers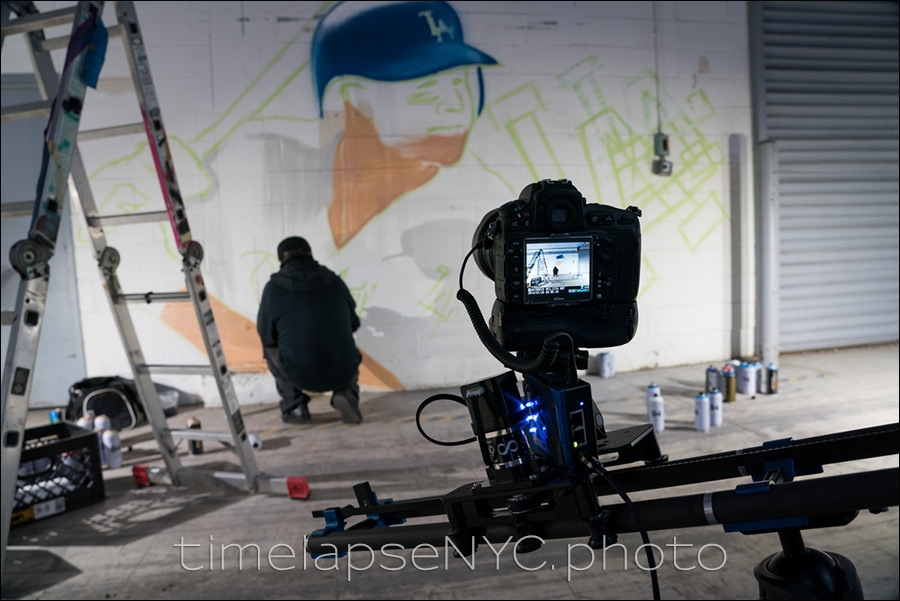 The motion controllers give a cinematic movement to the camera, and the perspective gradually changes throughout the specific sequence.
With two of the static cameras, I zoomed in post-production with Final Cut Pro X. If you zoom (whether in camera or in post), the perspective doesn't change – the image is just enlarged (or made smaller). There is no change in perspective.
This distinction is perhaps subtle in the overall video, since there is a mixture of these two types of movement. That said, the actual movement of the camera, to my eye, gives a more interesting visual.
---
Timelapse photography – a complete introduction
As with everything in photography – or as with everything in life really – there is a learning curve. Then you have two options. You can reinvent the wheel, and figure it all out from scratch by yourself … or you can do some homework and study what people before you have done.
There are several websites that are loaded with information – and then there is this thorough primer on the topic, written by Ryan Chilinski: Everything you want to know about Time-Lapse Photography. (Amazon)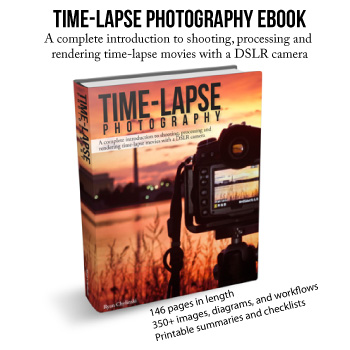 ---
Camera settings used with this time-lapse shoot
I had to work with the continuous lighting they had set up in this warehouse. I didn't use neutral density filters, since I opted to now have the artists' movements completely blur. I still wanted to see some of their movements, even if I lost the fluidness of blurring movement.
The camera settings were in the range of f/16 and 2 seconds, but varied slightly between the cameras on the different sets. The intervals were 30 seconds, which I based on how long the events were supposed to be, and how long my client wanted the final videos to be. Each mural took between 3 to 5 hours for the artists to complete.
Ramping and smoothing was handled in post-production using LRTimelapse software – an essential part of time-lapse workflow. This software iteratively adjusts the RAW files to smoothy ramp the exposures and WB changes. If you want to delve into time-lapse photography, you will nearly inevitably end up using it.
Summary
Each time-lapse project that I work on brings new challenges, and this one was a challenge again because it was logistically on a new scale for me. I do like how it all came together in this final video clip I created for my portfolio.
Related articles