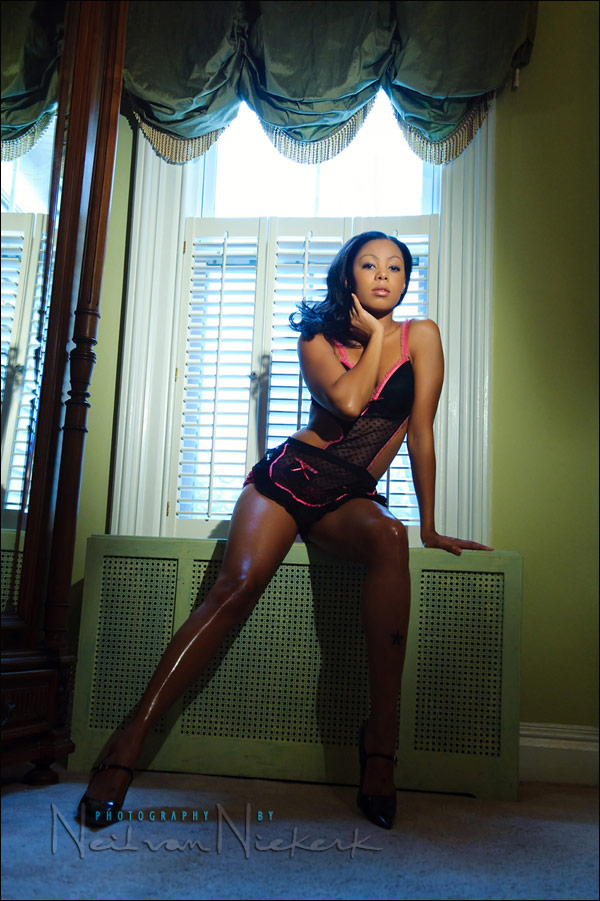 using a video light for boudoir photography
An image from a boudoir photo session today.  I ended up mostly using a video light (or two) for the directional and dramatic quality of the light.  I tried on-camera bounce flash a few times, but even when I carefully flagged and bounced the flash, there were a number of times where I found that the bounce flash just evened out the light too much.  Sometimes it is soft light, and sometimes it just becomes flat light.
With the video light (held up by my assistant), I was able to ask my assistant to flag the light and drop the light off dramatically to the model's legs.  That's the beauty of using video light – it is completely WYSIWYG.   You can make immediate changes to the position of the light – or how you position yourself – based on the light and light patterns on your subject.   And with an assistant holding up the light, instead of fixed on a stand, you even have voice-activated automation in how the light is placed.
More on the video light equipment I use, and more examples of how I use video light for photography lighting.