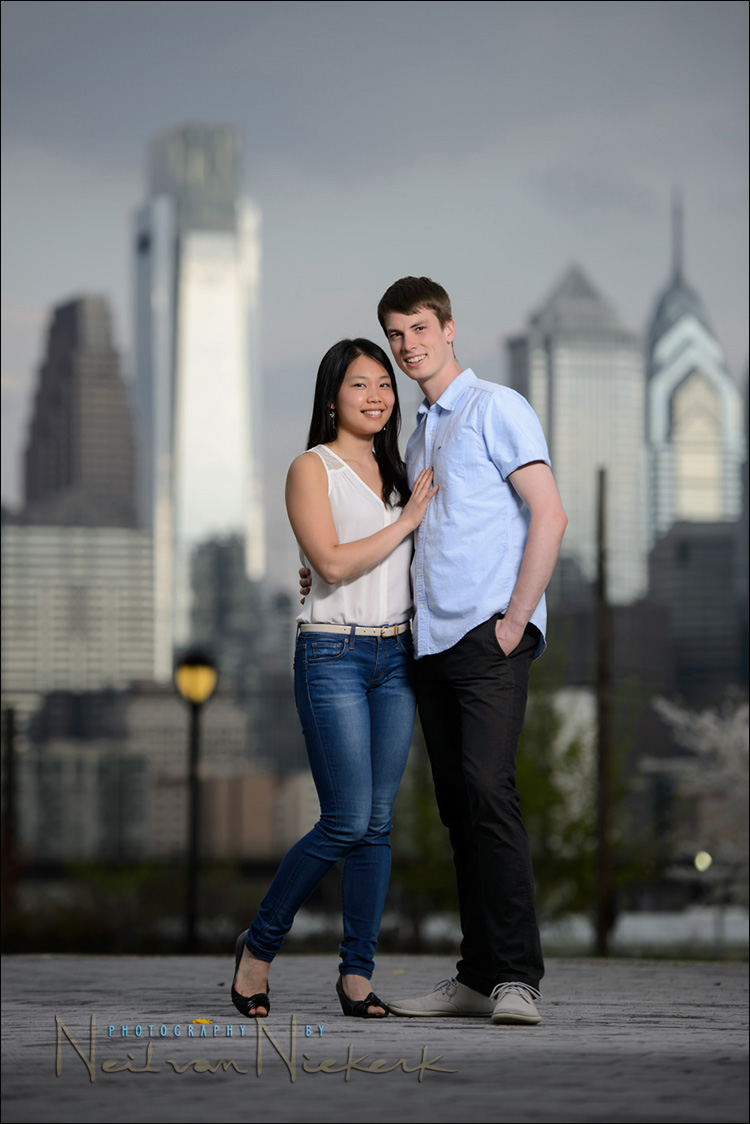 engagement photo sessions: posing, lighting & context
I love this photo! I also like how it came together. This was within minutes of meeting DaWeon and Toban for their engagement photo session in Philadelphia. We had only chatted on Skype before. Embarrassingly enough, I arrived late to the meeting place for their engagement session through my misunderstanding about the address. No excuses there. But it did mean I had to work fast – the setting sun was lighting up the Philadelphia skyline, and I had to nail a series of photos very quickly.
DaWeon and Toban had said they wanted the city to feature in their engagement photo session. And of course, I am always under a self-imposed instruction that the photos have to look great and have to please and even surprise my clients.
More than pre-visualizing a shot, you have to be able to immediately recognize what needs to be done to get the photograph that you know is possible.
Everyone who regularly follows the Tangents blog, would know that my approach is one where I work with a structure – an algorithm that will make sure the shot works technically. But I also want to be open to surprises. Chance.
That idea of allowing serendipity and change to influence a photo session, has been a regular topic lately:
With clients though, I am more inclined to favor my chances of success by working with structure to my photography technique. The images need to work! There needs to be a solid yet fluid baseline from which I can be creative and look for opportunities and play off the couple's playfulness.
A few things had to come together to make this photo (and the entire series of photos) successful:
– lighting,
– composition
– context,
– posing.
And these are things I have to control. No time to wait for luck to favor me with some random goodness.
{ 19 comments }