Tips for posing your subject during a photo session
Too often, when I am being photographed, I notice one major flaw in how the other photographer interacts with me during the photo session — they lose connection. They will take a shot, and then spend too long checking the image. Then after that, every other shot is interrupted by looking at the playback screen. Not only is it annoying to the person being photographed – the continuity is lost.
Using this photo of Rozalinda as an example – while she looks magnificent, and is supremely easy to pose and interact with, it depends on me, as the photographer, not to interrupt the flow of the photo session.
In a sense, there has to be a kind of respect from the photographer's side for what your subject is offering you during the photo session. They are "giving" you the moment. If you take a shot, and then interrupt the flow, it is jarring.
Look at the thumbnail images of some of the photos we took in this location — and you will notice immediately that there are sequences of continuous photos. I will stop her and slightly adjust a pose, but I don't "pull out" of the moment by scrutinizing my camera scene after every photo. I direct her, and correct her poses (verbally), but I make sure I keep shooting while she is "giving" me the moment.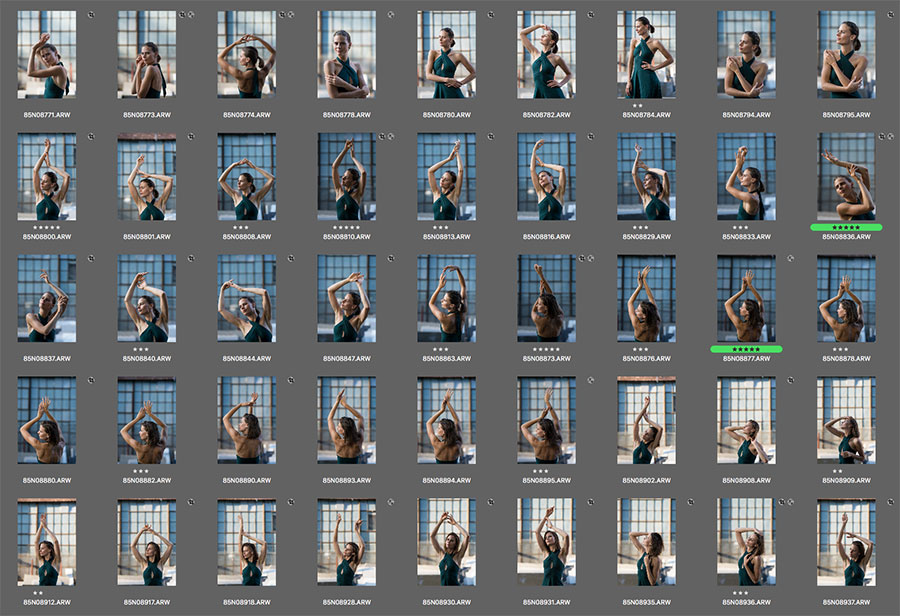 All these photos were taken within minutes of each other, and you can see how the light and mood changes as the clouds move in and out.
This spread of images also shows that the photo at the top wasn't just a single image where I got lucky – but that it took repeated photos to get this. A touch of off-camera flash, and her graceful moves.
The lighting is dramatic with the cool tones in the background contrasting subtly with the warmer skin tones. However, this photograph didn't just come together with a single take – it was a long sequence of Rosalinda trying various poses – while the sun flitted in and out behind clouds. It was during one of these moments where all the elements came together, for this powerfully graceful gesture. In this way, I think we often set ourselves up when we look at killer images by other photographers – we see the single "hero shot" without knowing how many attempts it took, or how things had to be adjusted for it to work.
---
My tips for directing and posing your subject while shooting
Tell your subject when it is just a test shot (or two) to adjust the lighting. This way they don't have to expend mental energy yet in posing for you. Make no mistake, it can be a draining experience for anyone to be photographed.
Tell your subject when everything is set and you are ready — that they know they are now actually being photographed.
If you need to know, take a single quick glimpse at the camera to make sure the first proper image is there — just a glance. Not even a second. Don't interrupt the flow.
Concentrate on sequences of images. Five images or more. If you and your subject have a good rhythm, keep shooting. But don't be relentless.
Allow your subject to relax a bit between sequences. If you are doing photos where they need to smile, drop your camera and tell them to puff their cheeks and blow out air to relax their cheeks. When they are ready, then only lift the camera.
Talk to your subject. But for the love of everything that is good on this planet, stay away from the clichéd phrases such as "work it for the camera", even if you think it is ironic and amusing. Just talk to your subject.
Sometimes it just needs a nod or gesture with your fingers — but the connection is there to let your subject know they are doing well and you like what you both are getting during a sequence of photos.
Have a look at the Two Perspectives videos for examples of how I, along and other photographers, direct people during a photo session.
---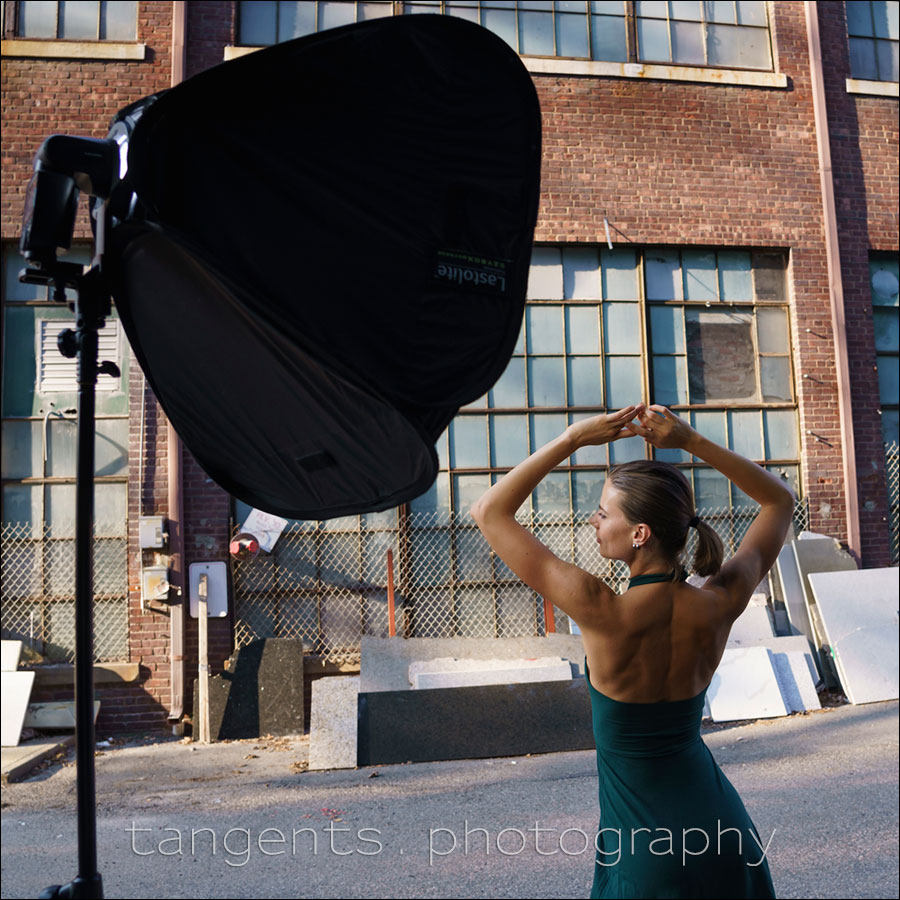 Camera settings & photo gear used during this photo session
1/250 @ f/2 @ 100 ISO … available light
Related articles