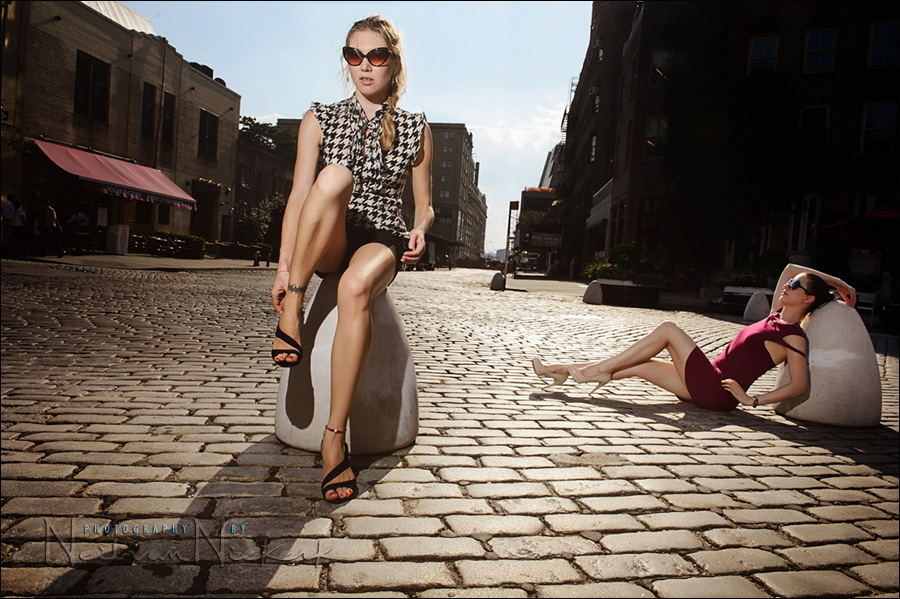 improving a photograph by finessing it in post-processing  (models: Yulia & Anelisa)
While I'm a strong supporter of the idea to get it right in camera (as far as possible), there are times when massaging a photograph in Photoshop, can greatly improve it. And ultimately, it really is the final image that counts.
As a kind of companion piece to the photo of Anelisa jumping, here is a photo taken in the same area with the same kind of strong daylight. In using off-camera lighting here, the look of the photograph is inherently different. When I posted this image on Facebook as a teaser, someone guessed that it took "very expensive reflectors and an army of assistants". Perhaps that was meant as a tongue-in-cheek comment, since my lighting is quite straight-forward. Or perhaps it does look like an image that could pop out of a Fashion magazine. I'm biased of course .
In deciphering how the photograph came about, let's look at the straight-out-of-the-camera image …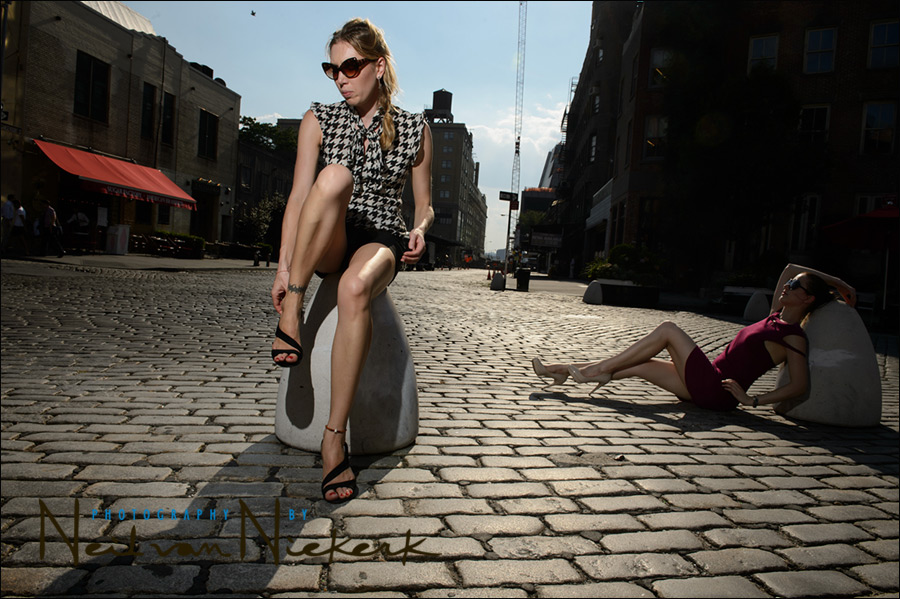 camera settings: 1/250 @ f/11 @ 100 ISO
Here is the un-edited, un-adjusted image. It was one of my test shots during a photography workshop in New York. I was still getting to my basic settings, and Yulia wasn't quite ready yet – so her pose is not quite there, and her expression is unguarded. Yet, the image nearly hung together with Anelisa languishing in the background. But it needed some work in Photoshop.
But before finessing the image in Photoshop, I first had to do the major changes in the RAW file itself.
Counter-acting the strong sunlight with just one off-camera speedlight, we had to work with bare, un-diffused flash. So the lighting on Yulia was good. Anelisa though, was posing for another group of photographers in the workshop. But in zooming wide, and changing my composition, I could include both models. However, I didn't want to disrupt everyone in the group for my own photographs, and have them now light my background subject. So, instead of using additional lighting on Anelisa, or just discarding the image, I used local corrections brush with the RAW image.
I pulled the Exposure up on Anelisa between 1 stop and 1.3 stops across her frame. Since I shot at 100 ISO, the increase in noise isn't noticeable. It would be noticeable at 1600 ISO and higher, when viewing the image at 100%
You can see the effect that the flash, pointed at Yulia, still had on Anelisa, a bit further in the background – you can distinctly see the flash shadow on her legs.
So that took care of the brute adjustment – and the RAW file has better leeway for this kind of adjustment.
Then of course, I also did the usual changes in Exposure, Color Balance, Saturation and Contrast, in adjusting the RAW file.
Then, after generating a JPG from the edited RAW file, I pulled the JPG image into Photoshop:
- I swapped heads with another image; and
- removed clutter with the use of the Clone Tool and Healing Brush in Photoshop.
- I removed the crane, and the water-tower on top of the building.
- I desaturated the red of the awning on the left. The color was too strong and distracting.
- That pesky pigeon in the sky also had to go too!
To give the final image that warm sun-drenched look, I used my own recipe created in Radlab.
photo gear (and equivalents) used in this photo session
Nikon D4 (B&H)
Nikon SB-910 Speedlight (B&H)  /  Canon 600EX-RT Speedlite (B&H)
Nikon SD-9 battery pack (B&H)  /  Canon CP-E4 battery pack (B&H)

related articles
- getting the most out of your flash / speedlite / speedlight
- tutorial: how to use the guide number of your flash
- overpowering hard sunlight with flash
- using direct off-camera flash
a little bit of homework
How do my camera settings relate to the Sunny 16 Rule?