Nikon D4 / Nikon D800 time-lapse photography – review
The highly anticipated Nikon D4 (B&H) and Nikon D800 (B&H) are loaded with features, and both cameras offer exceptional image quality. Hidden in the list of camera specs, is an item which is of specialized interest – Time-Lapse Photography. So if a photographer doesn't have a specific interest in this, they are most likely just going to gloss over this – but this is quite a powerful feature.
With Time-Lapse photography, as with video, it just looks much more interesting if the camera moves as well. With movies too, the cinematography and how the camera moves, make all the difference. Last year some time, I stumbled on the Time-Lapse photography by MindRelic. The movement of the camera as the city scenes unfolded, blew my mind. This was done via a motorized dolly – specifically, the Dynamic Perception Stage Zero dolly. So of course, with no prior interest in Time-Lapse photography, I immediately bought a Stage Zero dolly. It all just looked that cool.
But then the winter approached and it was just too cold to venture outside at night to try out Time-Lapse photography. So the dolly lay dormant, still boxed, in my office. Until my Nikon D4 cameras arrived a few days ago!
time-lapse photography with the Nikon D4 / D800
If there is any motion with time-lapse photography, the photographer previously had to figure out the number of frames, and exposure intervals, to calculate the duration of the final clip. The Nikon D4 and D800 does this for you.
Even better – previously, with time-lapse photography, the photographer had to try and visualize how the movement of the camera, from the starting point to end point, would finally appear when the images are compiled as a movie clip. I can just imagine how frustrating it must have been to spend time setting something up, only to realize later on when compiling the clip, that the duration is too fast or too slow, or there was some kind of hiccup.
This is where the Nikon D4 and Nikon D800 shine – they compile the time-lapse sequences into a .mov file for you, in camera!
You shoot the sequence of images from start to end, and then hit playback on the camera, and the movie plays back for you. Right there!  So if there are any changes you'd like to make in the sequence, and how the camera moves during the time-lapse sequence, you can adjust it right there and then. Beautifully elegant. This has to be very attractive to any photographer interested in time-lapse photography.
Setting it up is very easy. So easy that I was able to shoot the time-lapse sequences without referring to the manual.
The time-lapse movie file is generated at the settings that you have for the camera's video settings. In retrospect, I should've shot this at 24fps. Perhaps a minor difference.
For quick access, I have this enabled in My Menu of the camera:
And in turn, to quickly access My Menu, I have the DoF preview button set to be the quick access to My Menu instead.
about the New York time-lapse sequence
Erik Colonese and I went in to New York late last night to shoot time-lapse sequences to compile into a longer movie clip. A first attempt at this! In fact, a first attempt at time-lapse photography, aside from a test sequence in my garden to see how the Dynamic Perception dolly works.
We rained out at some point, and the traffic in Manhattan on a Saturday night is dreadfully slow. So between the rain and traffic hold-ups, we managed to shoot 7 sequences which looked good. The opening sequence there was our 2nd try on that 1st set-up. And then the rain came down and we scrambled for cover. When we played it back … wow! High-fives! I was stunned at how cinematic it looked.
I can see a few things I'd do differently now – two of the sequences need to be slower, for example. But as it is, I am very proud of this first attempt.
Here is Erik setting up the MX2 Motion Controller on the dolly. This sets the duration and speed with which the dolly would travel. We usually had the dolly up on two tripods. A few times we had the dolly at an angle with one tripod, and the one end of the dolly resting on the ground.  For two of the sequences, we wanted the camera at this low an angle, and took the dolly off the tripods.
The mysterious girl in the 2nd sequence, is Elmira, who I have used as a model a few times recently.  She was lit by an iPhone, which I purposely moved around a bit during the time the time-lapse intervals. This helped to give it that shimmering look.
Since the Nikon D4 (and Nikon D800) produce the .mov files in-camera already, compiling the video clip is a very simple matter, using iMovie.
related article on time-lapse photography
- time-lapse photography tips on shooting sequences
equipment used to shoot the timelapse clip shown above:
Nikon D4  (B&H);  Nikon 24-70mm f2.8 AF-S  (B&H)
Manfrotto tripods & quick releases  (B&H)
Dynamic Perception Stage Zero dolly
Soundtrack courtesy of TripleScoopMusic
You can order the Nikon D4 and Nikon D800 and other goodies from B&H
via these affiliate links:
everything you want to know about time-lapse photography: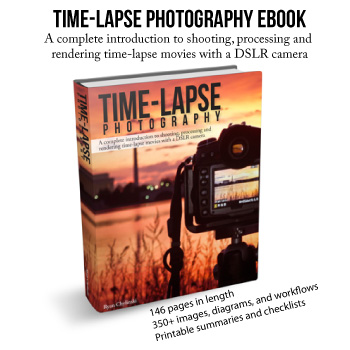 photography books written by Neil vN
newsletter / forum / workshops & seminars
Stay informed of new articles via the monthly newsletter.
Also join us on the Tangents forum for further discussions.
If you need more direct help or instruction on flash photography,
I do present workshops & seminars and also offer individual tutoring sessions.
If you find these articles interesting and of value, then you can help by
using these affiliate links to order equipment & other goodies. Thank you!