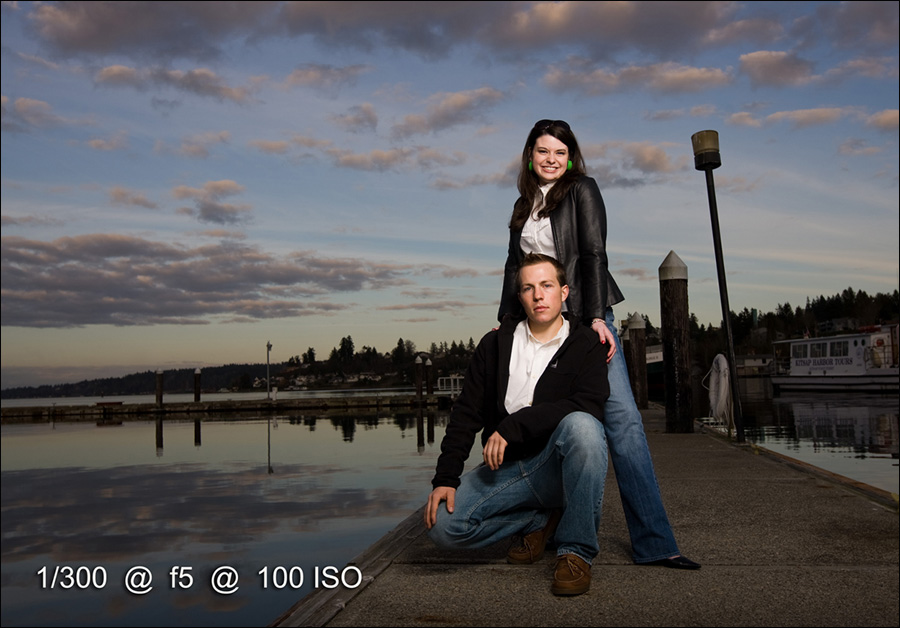 What are your settings? -  a question that I am often asked about various images.
And quite often, the answer is surprising  –  it doesn't really matter.
Sometimes the specific settings are of importance, but usually much less so than the method of getting to correct exposure of the ambient light and the flash.
This is the photographic equivalent of teaching someone to fish, versus just slapping a fish down on a dinner plate.  Just telling my settings will reveal very little about the how.  And yet, the how is far more important than just a listing of seemingly random figures.
Let's look at this recent image from one of my workshops on flash photography – especially since it is exactly the kind of thing which I teach during the course of the day.
In this instance, I used manual flash – a speedlight in a softbox. Since the flash was manual flash, there were then 4 factors controlling the flash exposure.  This topic was covered in this recent post: manual flash vs TTL flash.   (And if anyone is interested in the specific equipment, such as the softboxes used, or radio transmitters, here is the page with the list of equipment I use.)
Now, those 4 factors that control  our manual flash exposure are:
- power setting on the flash.
(I kept this to 1/2 of full power, so the recycling would be fast enough for everyone at the workshop, even though each Speedlite was powered by a Quantum 2×2 battery.)
- distance to the subject.
(Since the flash was in a softbox held aloft on a monopod by someone else, the other person could help control the exposure by bringing the softbox closer or further away on instruction of the photographer. This is our one variable at this point with which we can control flash exposure independently from ambient light.)
- ISO.
- aperture.
.
But first we had to start with the ambient exposure:
The sky was still fairly bright, therefore 100 ISO made most sense.
The actual ISO could've been higher, if I needed more depth of field.
Since ISO affects both ambient and flash exposure, any ISO would've been okay as long as we didn't run out of apertures.
Whenever we shoot a subject in shade against a bright background, we get most efficiency from our flash at max sync speed.  For many cameras this is 1/250th.  Check for your specific camera.
Now an appropriate aperture was chosen to expose correctly for the sky.  Or we could, as in this case, create a dramatic sky by underexposing slightly.  We've now established correct ambient exposure.
And then the softbox was held close enough – or far enough – for proper flash exposure. (ie, we controlled the distance between flash and subject.)
For that image, there were two speedlights, each with a softbox, that were triggered simultaneously – and pointing at each model.  But the same thought process holds as in the explanation.
Now, about the decision to go to maximum sync speed:
As noted in the previous postings, shutter speed controls the ambient light, and has no effect (directly) on flash exposure.
But when you work in bright conditions, the maximum flash sync speed is hugely important.
Think about it this way:
You want more range on your flashgun, since you rarely want to work riiiight up close to your subject. Or at least, not be forced to work right up close.
So you need more distance / range on your flash.  This implies that you need a wider aperture.
Since your ambient light is constant, you have a whole range of shutter speed / aperture combination's to work at.
Let's look at an example of bright sunlight outside. (Sunny 16 rule)
These are all the same ambient exposure:
1/60 @ f22
1/125 @ f16
1/250 @ f11
1/500 @ f8
1/1000 @ f5.6
etc.
Your flash is going to have a hard time at f22 to dump enough light to match the sun.
It is going to have an easier time at f16 .. but even better at f11.
But then you hit the ceiling at max sync speed … over that, you go into high-speed sync mode, and your flash's output drops considerably.
So you have a sweet spot at max sync speed.
Therefore, when you work in bright conditions,
you might as well just go to max sync speed immediately, since this is where you will have
- your widest aperture (and hence the most range / distance from your flashgun),
- for the most juice from your flashgun.
This is crucial in understanding how to balance flash with daylight.
It becomes an easy shortcut then:
Bright conditions? yup .. immediately go to max sync speed.
You might as well then go to 100 ISO.  (Or 200 ISO on some Nikon D-SLRs.)
Find your aperture for correct ambient exposure for these other two settings.
Now find your correct (manual) flash exposure.
You're done.  And it was easy because you immediately went to max flash sync speed. Simple.
For those of you who have delved in off-camera lighting via Strobist's website, this will sound very familiar.  These are fundamentals of lighting techniques. You can't escape them.
More articles on off-camera flash …
If you find these articles interesting and of value, then you can help by using
these affiliate links to order equipment & other goodies.   Thank you!
Stay informed of new articles via the monthly newsletter.
Also join us on the Tangents forum for further discussions.
newsletter / forum / workshops & seminars
Stay informed of new articles via the monthly newsletter.
Also join us on the Tangents forum for further discussions.
If you need more direct help or instruction on flash photography,
I do present workshops & seminars and also offer individual tutoring sessions.
If you find these articles interesting and of value, then you can help by
using these affiliate links to order equipment & other goodies. Thank you!