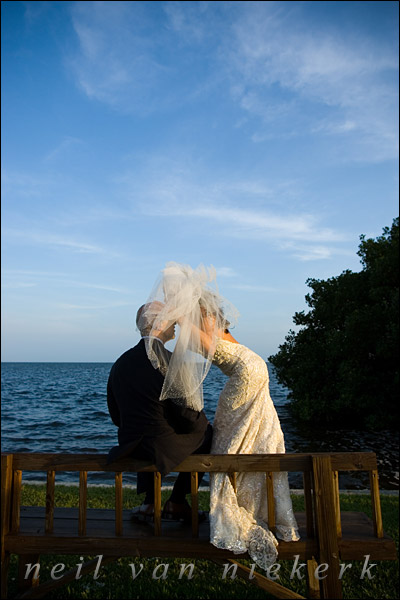 gear for destination wedding photography (Canon)
I enjoy photographing destination weddings– and I've been fortunate to photograph weddings in Aruba, Bahamas, Miami and Las Vegas.
These are weddings are often in exotic locales.  (Well, nearly everything will seem exotic outside of New Jersey, but I digress.)  Even even though it sounds exciting to photograph in faraway places, there is a challenge that comes along with that –  packing enough of my gear and getting it safely to my destination.  It is even more of a challenge with restrictions placed on air travel.
Since I frequently get asked via emails to show what I have in my camera bag, I thought I'd post some of what my camera bag looks like when I travel.
For me it was an  easy choice for a camera bag – the Think Tank Airport Security. This roller case is sturdy, protects all my gear inside, and has roller wheels that just glide ever so smoothly.  It is also surprisingly roomy inside for a case that can be taken on-board an aircraft as carry-on luggage.
.
There are a few pockets on the outside.  These are handy for phones, and an iPod and airline tickets and various bits and pieces and papers.
But let's have a look at what I keep inside …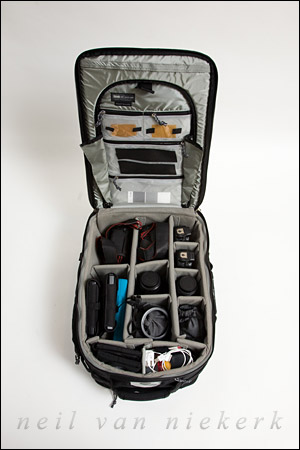 As you can see, I don't pack my roller-case super-tight with an overload of gear.  I still need to be able to pick this baby up when it is loaded.

Firstly, the inside of the roller case 'lid' in more detail …
Lots of zipped pockets for goodies, but mostly I keep this to stick various items onto the clear fronts of the pockets.  This is where I stick the CTS and 1/2 CTS filters that I use to balance my flash with Tungsten light.  There are also a few strips of gaffer tape. (Very handy stuff!  I never go without.)  And the white/grey/black card you see there is the Qpcard, in case I need it to easily correct the white balance in post-processing, for something I photograph in strange lighting.
.
The main compartment is where it gets more interesting …
… and here it is with the top layer of items unpacked outside the case :
Looking at the smaller items that I unpacked as the top layer …
The rows from left to right, (top to bottom):
–  Visible Dust – Arctic Butterfly.
This is a handy device to clean my cameras' sensor if I need to.
–  two Canon CP-E4 battery packs, which I already have loaded with rechargeable batteries.
–  two zip-lock bags with 8 rechargeable NiMH batteries for the CP-E4 battery packs.
–  two Tamrac memory card wallets.
Each wallet contains four 8Gb SanDisk CF cards, and four 4Gb SanDisk CF cards.
Each camera also has an 8Gb SanDisk SD card in them.
(I use the SD cards to record medium JPGs on, as a safeguard against any of the CF cards failing.
As an aside, I only shoot in RAW, other than the back-up JPGs.)
–  Canon ST-E2 wireless TTL transmitter
–  two Stofen diffuser cups
–  a business card holder.  (It is the aluminum case with the red ends.)
–  one spare battery for the Canon 1D mkIII bodies.
–  two pieces of black foam which I use as my light modifiers,
–  on top of this I have displayed the cord and plug to recharge my iPhone and my iPod.
–  black hair bands.  (I use this to keep items in place such as the black foam light modifiers.)
–  iPod, loaded with cool tunes.  (An essential item for traveling.)
–  iPhone.  This is also essential in that I have my Calendar and Contacts close on hand.
If you're interested in any of these items, check out these pages listing all my photo gear –  all which link to B&H's website where these items can be purchased.

And now, the larger items at the bottom of my roller case :
Firstly, the two cameras are both Canon 1D mkIII bodies.  They are currently my camera of choice.
The two flashguns in the front are Canon 580EX II Speedlites.
The lenses are,  in the back row, from left to right:
–  Canon 16-35mm f/2.8L II
–  Canon 24-105mm f/4L IS
–  Canon 70-200mm f/2.8L IS  (on the lens hood you can see another piece of filter stuck.)
The two lenses in the front are, from left to right:
–  Canon 35mm f/1.4L
–  Canon 85mm f1.2L II
As you can see, I favor zooms over prime lenses, but I do hedge my bets by adding two superb primes.
And again – if you're interested in any of these items, they can be purchased via these pages listing all my photo gear, which all link to B&H's website.

Perhaps as interesting, are the lenses I leave behind.
Two lenses which are covered (nearly) by the superb 16-35mm f/2.8L II, are:
–  Canon 14mm f/2.8L
–  Canon 20mm f/2.8
Two other primes that I leave behind, are:
–  Canon 24mm f/1.4L
–  Canon 50mm f/1.2L
This is a specific choice, in that I feel that the 35mm and 85mm primes make an excellent pair for their focal length and perspective.
A zoom that I leave behind, is the Canon 24-70mm f/2.8L – and the reason for this is that the range is already covered by the 24-105mm f/4 optic.  And since most destination weddings tend to be in areas where light abounds, I don't need the extra stop that the 24-70mm lens offers.  Besides, I am covered with the other zooms and primes should I need a faster lens than the 24-105mm f/4 optic.


Other items that I take with me, but don't put inside this roller case, are various bits of minimal lighting gear, and my battery chargers.  I place them in my check-in luggage.  Should my check-in luggage be mis-routed, I still have my core equipment to photograph the wedding shoot to my complete satisfaction.
As can be seen, I travel with a fair amount of gear, but carefully chosen.  There is back-up of everything, and redundancy in case of failure.  Since I'll be far away from home and my usual resources, it is essential that I am self-contained, and can meet any challenge head-on.

gelling your flash
Since I frequently gel my flashguns to turn the WB of my flash much warmer (usually for  Incandescent light), I use these gels that I cut up and tape to the top of my speedlight's head. One of these sheets (which aren't expensive), will give you a lifetime supply of these filters. For me, these gels are an invaluable part of flash photography. 
Tape the gels down on your lens hood when not in use.
You can buy gels through these affiliate links: