Bounce flash portrait & Photoshop retouching technique
When we were done with the studio shoot with Ulorin Vex, we still had a few minutes left, so I thought I could do a bounce flash portrait as well. Just for a comparison of sorts to show that on-camera bounce flash can give interesting results too. Here is the low-key portraits we did with the Profoto set-up.
The only semi-interesting background I could find in the studio (that wasn't a white wall), was this grungy green door to one of the store-rooms. I thought it might work as a gritty urban setting. I shot about eight frames in the tight corner, but didn't like what I saw on the back of my camera, so called it a day. We were done.
Looking through the images again today, cleaning up my hard drives, I hovered over the first image I took and thought it might hold some promise still if I worked it a little bit in Photoshop. Here is where I started …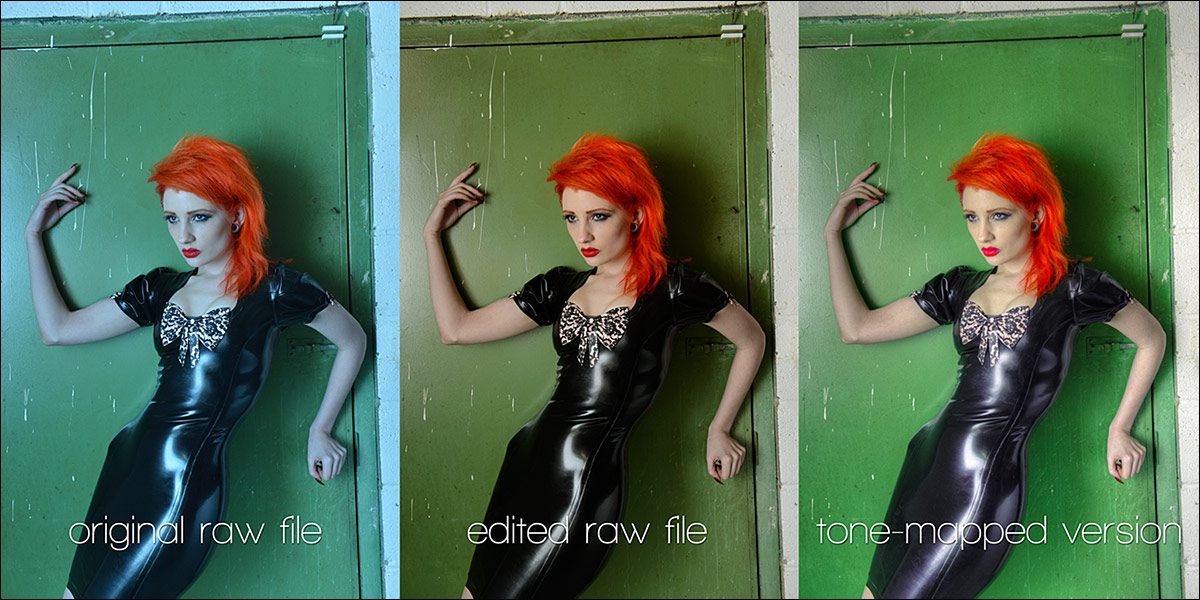 The image on the left is the out-of-camera image. The White Balance was way off, but that wouldn't be a problem in adjusting the RAW file. The middle version then is the out-of-the-RAW-converter JPG.
I knew I wanted a glossy look to this, so I adjusted my usual post-processing for portraits a little bit.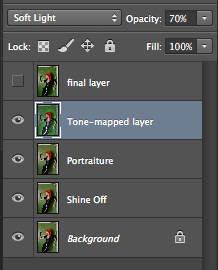 1.) The first step would be retouching for skin blemishes and marks on the door frame that I didn't want. I mostly use the Healing Brush for this.
2.) On a duplicate layer (of the retouched layer), I run Shine-Off to reduce any glare. I really like this Photoshop plug-in, and it is usually the first plug-in that I use for any post-processing. It is also very effective in removing that specular sheen off someone's face.
I use Shine-Off at the default settings, but often pull the opacity of the layer down.
Use Shine-Off to reduce specularity on skin tones.
Buy ShineOff Plug-In
Use code: neilvn10 for 10% off.
3.) Portraiture by Imagenoic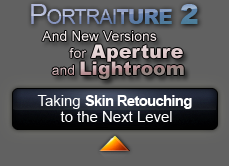 The next step would be to create a duplicate layer of the layer that I ran Shine-Off on. On this new layer, I run Imagenomic's Portraiture. It is also an essential Photoshop Plug-in. I tend to shy away from keeping the layer at 100% opacity, since Portraiture can make skin look plastic if it is used too aggressively.
With this specific styling of Ulorin Vex on this shoot, there was less need to keep a natural look. We could go a little over-the-top. So I kept this layer at 100%
4.) With the previous example of post-processing for portraits, I used Topaz Adjust as one of the final tweaks.
With this portrait, I wanted to really bring up the colors, and also in some way accentuate some of the detail we might've lost with Portraiture.
I decided to use Photomatix, the HDR software, to give a tone-mapped version of the image. This simultaneously flattened the image, and enhanced the details.
I added this version as a Soft-Light layer. (See the screen-capture at the top.)
5.) The final layer is a merged copy of all the other layers, so that I can do a last few tweaks and retouching with the Healing Brush. I also adjusted the Color Balance towards a warmer image.
This entire process could be done with an action, leaving the layers so that they can be adjusted for individual images. And of course, all this is a matter of personal taste. It's all wide open to interpretation.
For the image at the top, I leveled the image. I never intended for the tilted frame, but was shooting in low light, and cramped into a corner.
I'm a firm believer that it is always better to work on already-strong images in Photoshop, instead of valiantly trying to polish weaker images. But I'd like to think that here I was able to pull a worthwhile image out of meagre beginnings.
More articles about bounce flash photography