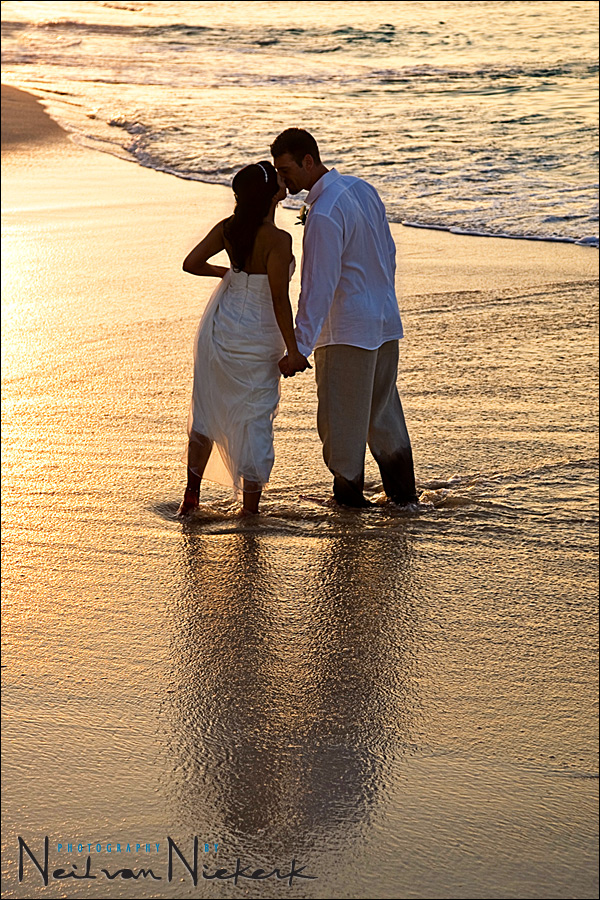 destination wedding photography
A few times a year I'm fortunate enough to photograph a destination wedding, where I fly out to a more glamorous location than New Jersey.  The Bahamas, Aruba, Jamaica, and even locations within the USA are choice destinations for couples who are looking to have their weddings in an exotic locale.
The choice of equipment to fly out to photograph a destination wedding, as well as the way to transport them becomes a real concern.  You have to have a flexible selection of gear with you, with a certain amount of redundancy in case something goes wrong with a piece of equipment.  Yet it all has to fit into a portable camera bag or case – and one that can be taken on board a plane as a carry-on bag.  This really is of great importance, since if you read some news reports it would even appear as if thievery from luggage at airports are rampant.
So there is the delicate balance – a sensible choice of equipment that has to fit into a bag that is the right size for international carry-on luggage …
For that the Think Tank range of rollers are perfect.  The Think Tank Airport Security roller cases come in two distinct sizes .. one specifically designed for USA Domestic air travel size; and the other for the international standard for carry-on luggage.   (They also have a wide range of bags, speed-belts and harness systems.)
Last year I posted about my choice of equipment that I take with me on destination weddings, based around the Canon system.  I fit a surprisingly large amount of equipment in the Think Tank Airport Security (version 1), roller that I have.  It was also the roller case that I used when I traveled within the USA to present the workshops on flash photography.
Since then, I've changed to the Nikon system, and with me traveling more on international flights, (including the upcoming workshops in the UK and Ireland), I decided to update my camera bag to the slightly smaller sized bag, the Think Tank Airport International. My new bag arrived yesterday, and I was curious to see if I could fit in a solid selection of equipment into the smaller bag.  (This post will then also double-up as a review of the Think Tank Airport International (v2)
The newer case (Airport International) is 3″ shorter than the older (Airport Security) roller case: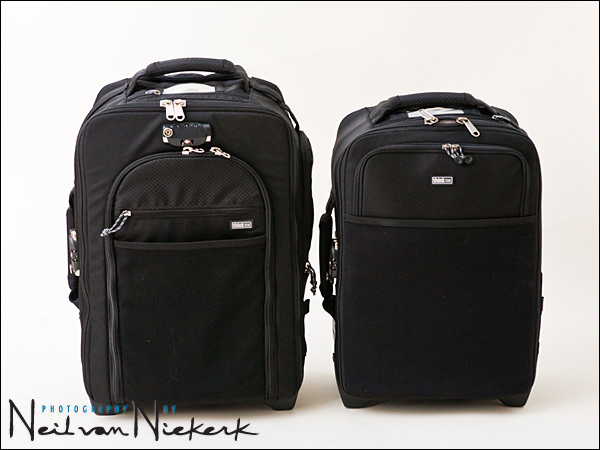 [ on the left is the Airport Security (version 1); on the right, the Airport Security (version 2) ]
So I was curious to see how I would have to re-arrange and re-think a new selection of equipment to take with me on destination weddings, and any other kind of travel overseas with camera equipment.  With some shuffling and re-shuffling of equipment, I was surprised to see everything I managed to fit into the bag.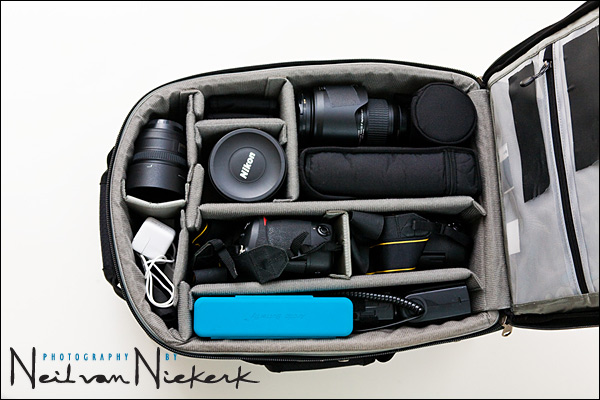 Jam-packed!
In this next image, I moved some of the layers out of the bag, otherwise I don't think anyone will believe me that I fit everything that I did, into the bag.

Looking at the smaller items first: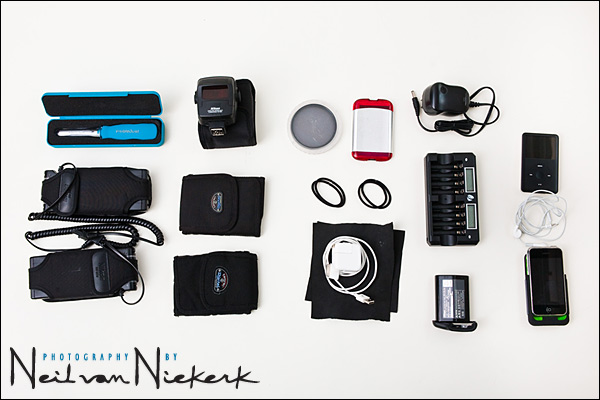 The rows from left to right, (top to bottom):
–  Visible Dust – Arctic Butterfly.  I just can't risk being powerless to remove a persistent dust bunny on my camera's sensor
–  two Nikon SD-9 battery packs, which I keep loaded with rechargeable batteries.
–  Nikon SU-800 wireless TTL transmitter, in case I need to control a speedlight off-camera.
–  two Tamrac memory card wallets.
Each wallet now contains eight 8Gb SanDisk CF cards.  Each camera also has two 8Gb cards.  I rely on the Nikon D3 offering a back-up card slot, giving me peace of mind against the possibility of  any of the CF cards failing.  As an aside, I only shoot in RAW.
–  a polarizer filter  –  I don't often use it, but like having it handy in case I want to super-saturate skies.
–  a business card holder.  (It is the aluminum case with the red ends.)
–  black hair bands.  (I use this to keep items in place such as the Black Foamie Things.)
–  two pieces of black foam which I use as my light modifiers,
–  on top of this I have displayed the cord and plug to recharge my iPhone and my iPod.
–  NiMH battery charger for AA size batteries.
–  a spare battery for the Nikon D3.
–  my iPod, an essential item for traveling.
(I actually keep this in the carry-case for my noise-canceling headphones.)
–  iPhone – indispensable.
I have everything on hand with the iPhone – my Calendar and Contacts.
–  the Mophie Juice Pack, to give my iPhone longer battery life.
If you're interested in any of these items, check out these pages listing all my photo gear –  all which link to B&H's website where these items can be purchased.  There is also an Amazon link at the end.
That's already a fair amount of stuff, but I can squeeze those items into the corners and crevices.  The real bulk of the equipment are the following items: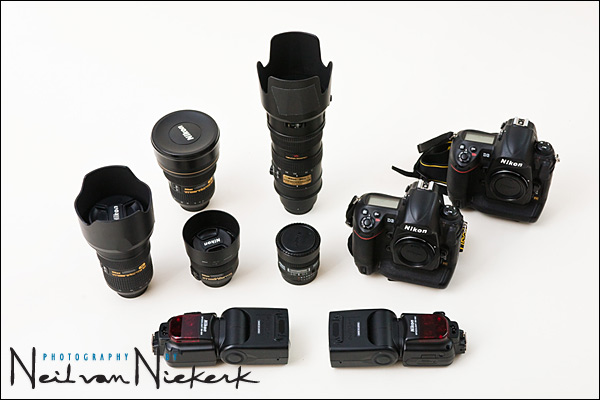 Firstly, the two cameras are both Nikon D3 bodies.  They are currently my camera of choice, and nearly the Best Camera in the World, (but not quite.)   Another good choice would be the Nikon D700, which when used without the grip, is lighter than the D3, and would save some weight and bulk.
The two flashguns in the front are Nikon SB-900 Speedlites.
The lenses are,  in the back row, from left to right:
–  Nikon 16mm f2.8 fish-eye
–  Nikon 50mm f1.4G AF-S
–  Nikon 14-24mm f2.8 AF-S (it's a big lens, but I just don't want to leave it behind.)
–  Nikon 24-70mm f2.8 AF-S
–  Nikon 70-200mm f2.8 VR AF-S
To not have this post be Nikon-centric, please check out the previous posting on my selection of Canon gear that I used to travel with.  As before, it is interesting also to see what can be left behind and not hamper you on an important photo shoot where you aren't close to your home-base or any kind of back-up
I hope this post, and the previous post will give some insight in the selection of equipment.  You have to be self-sufficient when you travel for a photo shoot such as this.  And paramount is that you travel as light as possible, without compromising quality and flexibility of equipment.
Once again, I am surprised at the amount of equipment that I was able to fit into this camera case.  The bonus of course is that this bag is designed to fit the requirements for carry-on luggage for international air travel.  On top of that, the Airport International bag (and Airport Security) come with a series of locks and cables, to help you secure your bag.
And again – if you're interested in any of these items, they can be purchased via these pages listing all my photo gear, which all link to B&H's website.  There is also the Amazon link.