Headshot photography lighting setup
"OMG, this was so much better than the experience we had last time!" That's the comment by the contact person who had arranged for the headshots photo session for 8 people at their office. That's the kind of thing I like to hear from a new client! What made this headshots photo session interesting for me is that I had to match an existing headshot by the CEO of the company. I had to make the headshots of the eight people I had to photograph, look very similar to the example they had given me. So I had to do mild reverse engineering to match the look.
You may well ask why my face is up there instead of a proper example photo from the photo session – I don't want to intrude on my corporate clients, so it is easier to just have a photo of myself there. I purposely gave the PR lady my camera with the 24-70mm lens – I wanted a slightly wider shot which simultaneously would show the result of the lighting, as well as reveal some of the background for context. And there we have it. The headshots were done with a 70-200mm f/2.8 lens for tighter control of the background.
Now, about the lighting setup – there are a number of ways to set up the lighting when working indoors or in a studio environment, but it usually comes down to two lighting types:
Loop lighting – the main light is off to the side, so that the shadow of the nose creates a gentle 'loop' to the side.
Butterfly lighting – and for this we often use a clam-shell lighting setup.
We will look at both these lighting setups in this article – so first let's step through the lights you might need to set up for the 'loop light' lighting pattern.
To re-create the lighting they had in their sample image, I set up four lights. Depending on what you want to achieve, you could use only one light. But here I felt I needed four lights.
I used studio lighting on location here, but you could also recreate this with speedlights. It's the thought-process in setting up the lights that counts, not necessarily the specific gear. So if you only have speedlights, stay with us – it all is still pertinent and translates to the smaller speedlights as well.
I used two Profoto B1 heads, and two Profoto D1 heads. The Profoto B1 flashes run off batteries … and I love them. But I can't afford 4 of these puppies (yet), so I still bring D1 lights from my studio when I need more lights. The D1 flashes run off AC power. Having two lights (B1) without cables help reduce clutter on the floor. The battery-driven flashes are also quicker to set up – no need to find AC outlets and run extension cables.
The photo above is the pull-back shot to show the placement of the four lights.
Photo gear (or equivalents) used during this photo session
1/125  @  f/8  @  100 ISO
Setting up the lighting in stages:
•  Main light:
You need at least one light – the main light. You could get away with just the one light, especially if you use some ambient light in the background to help create separation. If you had out-of-focus areas that are bring enough in the background, you could easily use those – especially so if your client wants a look that is more environmental than a evenly-lit paper or muslin backdrop.
My main light was one of the Profoto D1 heads with the Westcott 7′ umbrella – it's a massive light source that is easy to swing or move to change the way the main light wraps around your subject.
•  Fill-light:
With the main light more to the side, you might want to help ease up the contrast on the shadow side of your subject. You could do that with a reflector, or another light. In this instance I used a flash bounced into the offices – the walls and ceiling were white, so the bounce flash wouldn't really noticeably affect the color balance compared to the main light.
By ranging the power up and down of the fill-light (or bringing the reflector closer or further away), you will affect the contrast.
•  Rim-light:
To help separate your subject from an even background, you could add a rim-light. A gridded speedlight works well here. I used a grid on the one Profoto flash. In the studio I often use a small gridded stripbox. (1′ x 3′)
•  Background light:
Then, you might want to light up the background. I did so here with a bare flash pointed straight at the backdrop. I know the Profoto B1 and D1 spread the light very wide – I knew there wouldn't really be a hotspot. (Reference: Comparing output: Studio lights vs. speedlites / speedlights). Obviously I can now control how bright the grey background is, by changing the power of this flash.
---
Clam-shell lighting setup for headshots
With clam-shell lighting, you have one light directly angled above your subject, and a second light source (or reflector) below. This light pattern – butterfly lighting – gives a fairly even light. Here I had the main light angled slightly to the one side to give more contrast.
My subject here is my friend, Carlie Remiggio, a personal fitness instructor in Wyckoff, NJ. If you're in need of some fixing up with a tailor-made fitness program, he's your guy … if you're in northern NJ of course.
Charlie needed professional headshots for his website and for promotional use, so we spent some time in the studio to get photos with some variety to them. One of the ways I did that was to change the background colors with gels, and by changing the intensity of the background light. Just changing the power up and down on the background light, you can change it from a very light grey background to a dark grey background … and anything in-between. This way the same headshot could have a black background or a white background (if I moved a white V-flat in), to match any website or printing requirement.
Here is a somewhat similar setup: Headshot photography – Clam-shell lighting setup.
Here is the pull-back shot to show the four light sources – with three lights and one reflector.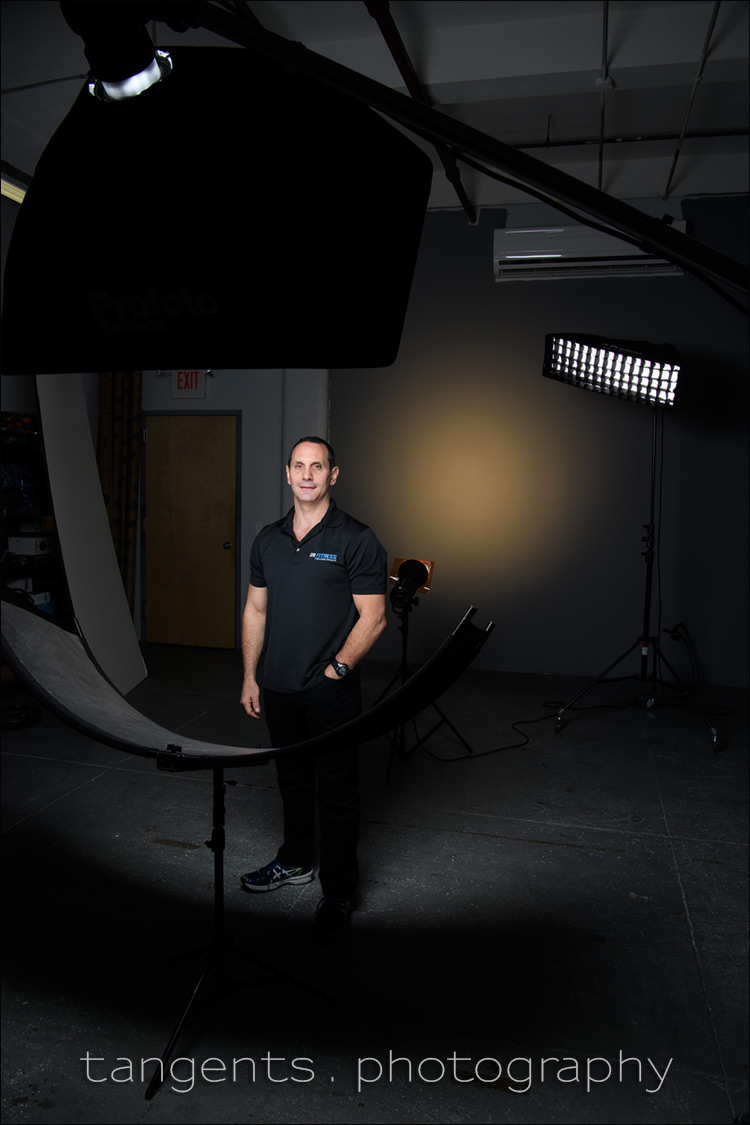 Photo gear (or equivalents) used during this photo session
1/125  @  f/11  @  100 ISO
Summary
You have a lot of flexibility in how you position your lights for headshot photography. An important note is that your subject's pose also affects the lighting:  Off-camera flash: Short lighting vs. Broad lighting. By changing the relative power (or position of the lights), you can affect the contrast and even the entire look of the images.
You don't need to set up four lights, but you need to use at least one light – the main light. From there you can build up the lighting as necessary. But you might find that just a single light source (and a reflector) is all you need.
While there are various recipes for lighting setups, they can be changed in nuanced ways by slight changes in position of the lights, and positioning of your subject. This is how I did it in this one instance … but I often change it up slightly .. or a lot. You have options.
Related articles & links