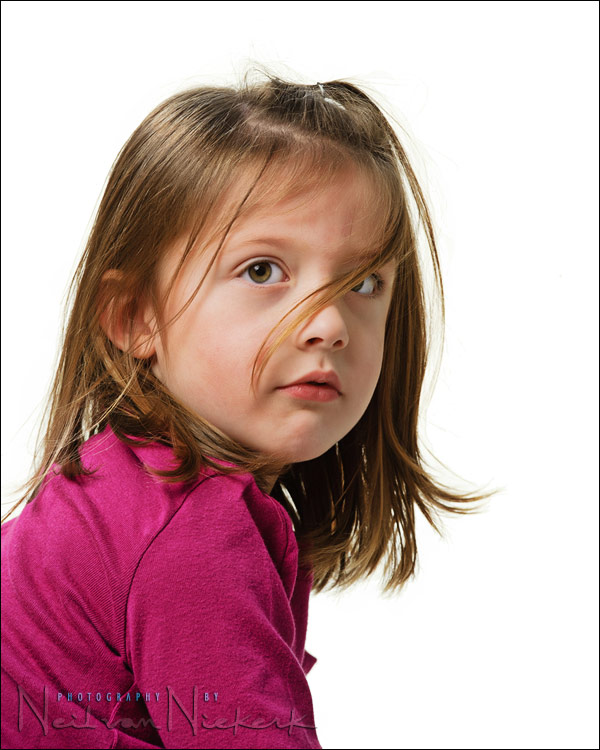 children's studio portrait – lighting setup and post-processing
The lighting setup was very simple. Mostly because there wasn't much space in the area where I set up my home-studio in my dining room area.  But also, because a complicated lighting setup wasn't necessary. Just two lights. One light on my subject – this adorable little girl; the other light on my background.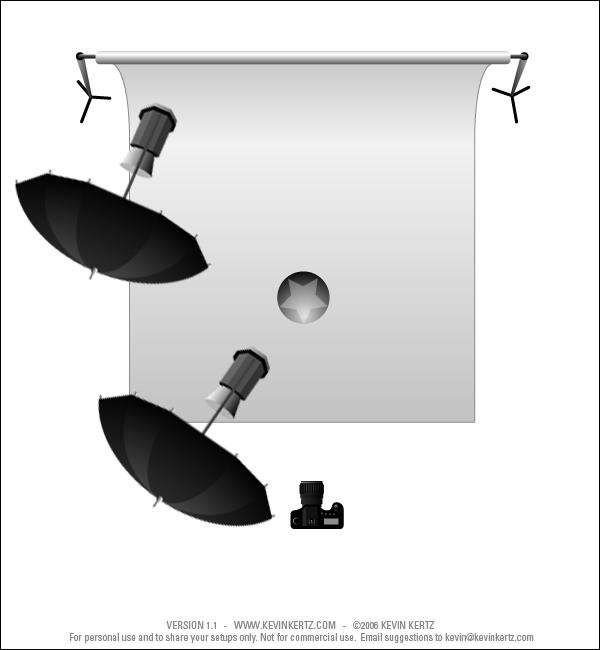 To get an even spread of light and to get softer light than a smaller umbrella (ie, smaller light source) would've given me, I used two 60″ umbrellas. Both of them with T2 Q-flashes. But in this small space, two speedlights would've worked equally well.
I shot close to the one large umbrella, hoping to create a kind of wrap-around light on the little girl.
She and her brother had come in for this photo session. Of the sequence of images, I like this one. She and her brother were great subjects, but her younger brother, being .. well, young, didn't have any interest really or the attention span for the photo session. He was zooming around the dining room and living room area. My assistant Jessica had the idea to use a laser pointer to get the cats involved to see how the kids would react. The kids were just as animated as the cats.
This image here was when she was on the floor and whipped her head around to look at me. I liked the way her hair, slightly in disarray, moved around her face, giving a kind of 3D effect there. Since she isn't posing for the camera here, I think this is more true to her spirit. I like it.
Back to the lighting. It really was a very straight-forward setup.  We had used a lightmeter to get the light on the background at least 1 stop brighter than where I would position the little kids. I wanted the white backdrop to approach blowing out. But not so much to create too much spill light (and flare) on my my subjects.
Looking at the histogram, we had the exposure bunched up tight on the right-hand edge.  This showed as well then that we were over-exposing the white background.  Even so, for the final edit of the image, I knew I would have to clean it up with Photoshop. But it is always best to start with the best possible image in camera.
camera settings: 1/200 @ f9 @ 400 ISO
Nikon D3; Nikon 70-200mm f2.8 AF-S VR II (B&H)
Here's an animated GIF to show the effect of the various steps in post-processing.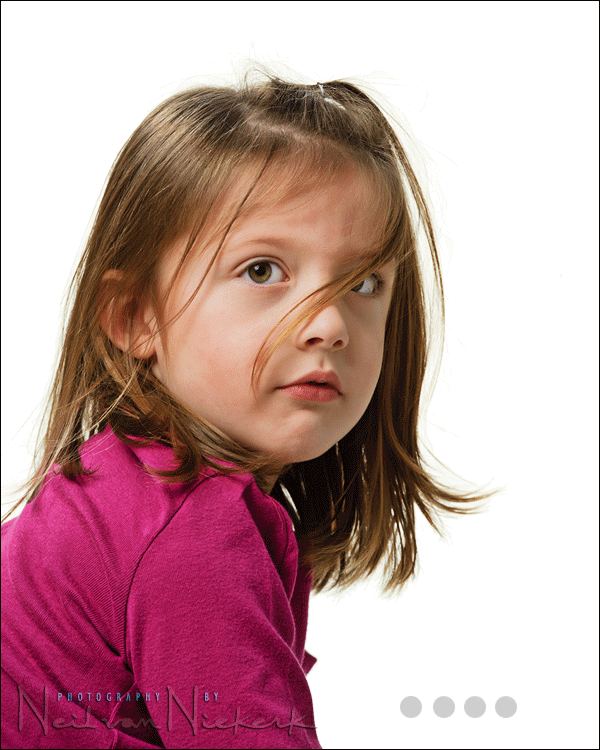 Image 1: the image directly out of the RAW converter. No adjustments made.
Image 2: clean up the white background; remove sensor dust spots; brighten eyes
I use the Magic Wand tool in Photoshop, and set it to a Tolerance of around 10. The entire background won't be selected on a first click.  Keep the Shift key down and click on the other areas which weren't initially selected. Select as much of the white background, without selecting large portions of hair.
Now with the background still selected, use the Eraser tool to erase the background and make it white. (Make sure the color is selected to white first.)
After this, use the History Brush to bring back any part of your subject that was lost with the selection and erasing of the previous step.  This can be tedious, depending on the level of precision you need in the final image. There are software tools like Vertus that makes this whole process much easier. I am sure there are readers of this blog that will have better ideas of how to accomplish this. Perhaps even doing this with minimal effort – a few clicks and its done.  I'd love to hear.
The better separation you get between your subject and white background, the better.  For then you have to do less work in Photoshop. But the trick is to find that balance where you don't cause flare or a kind of halo around your subject.
For the next step in post-processing, I brightened her eyes by using the History Brush, set to Screen, with an opacity of less than 10%
Image 3: further retouching
With this step I would use the Healing brush to remove any skin blemishes. Yup, little kids often have scratch marks and bumps. I then went through my usual series of steps for skin retouching, but brought down the opacity on some of those edits.
Image 4: some Photoshop fairy dust to subtly make the image pop a bit more. This step will have to remain my secret sauce for now.
There are the steps I typically use to photograph a portrait against a white backdrop, starting with the lighting of my subject and the background … and then finally finessing the image in post-production.