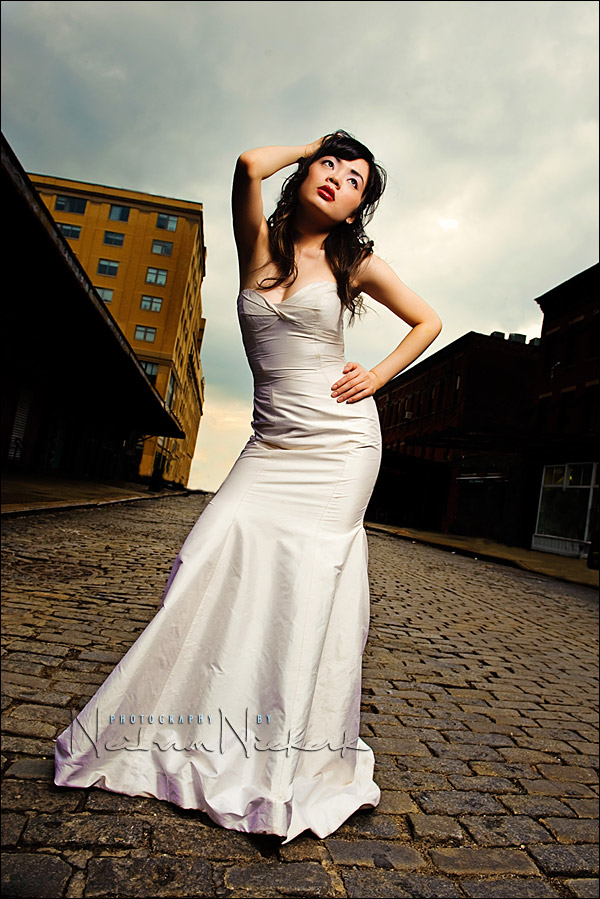 Another photograph from the recent NYC photo shootout.  We were a group of photographers working with Lea during this part of the afternoon.  There are several parts in what makes an image successful – the subject, the setting, lighting and then the post-processing.
There are limitations in working as a group with a model.  So where I would've preferred shooting with a longer lens to compress the perspective more, you sometimes have to accept the situation.  In this case, the setting wasn't ideal, and there was a fair amount of background clutter.  Therefore this might be a good time to to show some of what I might do with post-processing of an image.  Especially since with this image there was, for me at least, a fair amount of post-processing involved.
Before we get there, just a note about the lighting.  It was the same light as I used in this previously posted photograph of the NYC photo shoot-out.  The lighting set-up was similar to the one mentioned here, where I explained some of the metering involved in using manual flash with a softbox.
In this instance I wanted to expose for the sky, and then use flash to lift the model to the same exposure level.  Starting point was 200 ISO and max flash sync speed. (1/250th for the Nikon D3).   Metering for the sky with my camera's meter, and taking a few test shots, checking the preview image on my camera's LCD, I was happy with f6.3
I then had to move the softbox close enough, and set my flash power high enough, to give me f6.3 at that distance for that ISO.  For this, I used a handheld flashmeter.
This then is the photograph as I took it, and this is also then my starting point in editing the image afterward …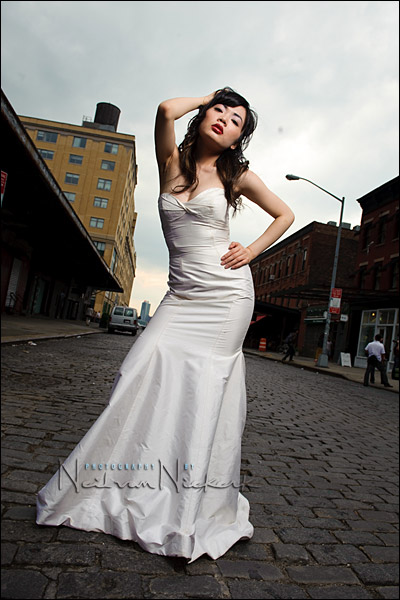 The original image, with no adjustments other than my default settings for ACR / Bridge in CS4.  There's a lot of clutter that should be eliminated.  My camera's sensor wasn't as clean as it should be and you can see at least one large dust bunny there.  The image also lacks punch.  So we can systematically improve on the image ..
First of all, I adjusted the color balance to give me a slightly warmer tone overall.  My preference is definitely for warm skin tones.  I also punched in a bit more Contrast and Vibrance.   Then, still editing the RAW image in ACR (CS4), I made the sky darker and more brooding by pulling the exposure down and increasing the contrast, using the local corrections feature.  I used the Auto-Mask setting. (Thank you for that hint, David!)   I then convert this edited RAW file into a JPG.  This then gives me a very good JPG to edit further in Photoshop.
.
Working with the JPG now in Photoshop, the first thing I did was to get rid of the dust bunnies.  The people in the background also had to go.  And the lamp light and all kinds of extraneous things in the background.  The simpler, the better.
.
I like this image, but I would've preferred if Lea had looked up for this specific image.  So I copied her eyes from another image in the sequence, and pasted it over this image.  This gives a more dramatic look to the image, and also gives me catch-lights in her eyes.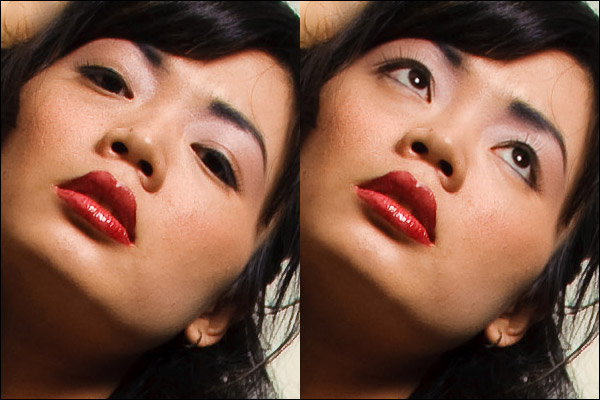 .
Okay, now we're getting somewhere!  But that van and building in the background still bothered me.  They had to go.  I cloned them out, using various parts of the building and sidewalks around that area.  This part of the edit is a little sloppy, and if you were able to look at the full-res image, you'd see it.  But this is where I had to decide on the trade-off between keeping the clutter (at no additional time invested), or get rid of them with a little bit of time invested (but slightly sloppy work there), or spend a lot more time in finessing that.  I decided I could live with that little bit of sloppiness there for showing on the web.  Very few people would've picked it up from the image posted at the top. I could live with it.
.
The next step for me was to give more detail in the paved road.  It's looking a little too somber in the image above.   I used the Shadow / Highlightsfeature in Photoshop to bring back a lot more Shadow detail.  The rest of the image was masked with a layer mask so that only the paving was affected.
.
Now for the next two steps are interesting, although I am going to gloss over the specifics.  In essence, the idea behind what I do for the next few steps are similar to what I wrought for the other photo of this session that I posted … but the specific way I implemented the edits and the specific actions and plug-ins that I used, are different for this image than I had used there.  But the approach is the same …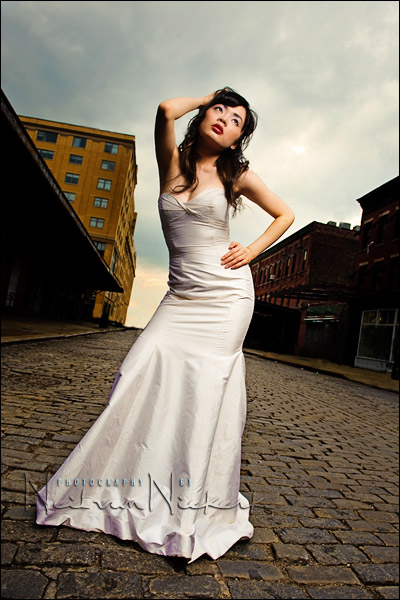 … and the idea is that I use a technique / action(s) / plug-in(s) for Photoshop to over-smoothen detail … but on another layer I use different action(s) or plug-in(s) to really boost the local contrast and saturation and detail.  By blending the layers between those two extreme ways of editing the image, you then end up with an interesting look, where there is a lot of detail, but the image looks like it might have been air-brushed.   And that's as much as I am going to give away here.  Play around with that idea and see where you end up.  There's a whole variety of ways that can be implemented.
And there's the final image .. a combination of having a great model, an interesting setting, solid lighting, and some finessing in Photoshop.
I have to underline that word there .. finessing.  You can't save a pitiful image, but you can make a good image even better with some Photoshop fairy dust.  But your original photograph needs to have everything in place already, or else the time you spent in editing the image will be needless polishing.