On-location headshots
With these on-location headshots of actor and TV presenter, Andy Peeke, there is a lot going on despite the apparent simplicity. The photos were done in a very short space of time – we rained out! So I had to work fast and still nail the images as intended. Also,
– I wanted that out-of-focus city scene behind Andy, and I wanted it to appear bright.
– The lighting, off-camera flash added to the ambient light, shouldn't intrude and make itself obvious. I wanted the light on him perfectly balanced with the way I intended the background to appear.
– Unusual for me, I shot with a Sony mirrorless camera – the Sony A7ii  (B&H / Amazon). The lens that I used here was the Zeiss Batis 85mm f/1.8  (B&H / Amazon).
– I used manual focus, even though the Zeiss Batis lens offers auto-focus. The Sony mirrorless cameras are ideally suited for this – fast and accurate manual focus. This allowed me the confidence to work at f/1.8 with precision.
Mainly, we had to work fast. In the photo below, you can see rain drops on his shirt. We rained out, but I grabbed a few last images before we dashed for cover.
The photos are part of an upcoming video that I shot with my friend, Tracy Bosworth Page, who is a busy headshot photographer based in Georgia. In the video we loosely compare our styles in headshot photography. We took turns photographing three different people in three different locations. For Andy's session, Tracy used available light and a reflector. On the other hand, I defaulted to my usual way of working – balancing off-camera flash with the ambient light.
Camera settings & Photo gear (or equivalents) used during this shoot
For these photos I used a loaner copy of the stellar Zeiss Batis 85mm f/1.8  (B&H / Amazon). It's razor-sharp, as you'd expect from any Zeiss optic. The Batis range of lenses by Zeiss are specifically designed to offer auto-focus with the Sony E-mount cameras. However, I used it in manual focus mode on my Sony A7ii camera (B&H / Amazon). The Sony and Zeiss combo generally nails the focus perfectly … but I didn't want to risk it grabbing an eyebrow, for example. With such shallow depth-of-field you have to be careful if you want precise focusing every time.
There is a specific thought-process, or algorithm if you want to think of it that way, in approaching on-location portraits like these – Checklist for portrait photography on location (with Anastasiya).
Here are the first two test shots: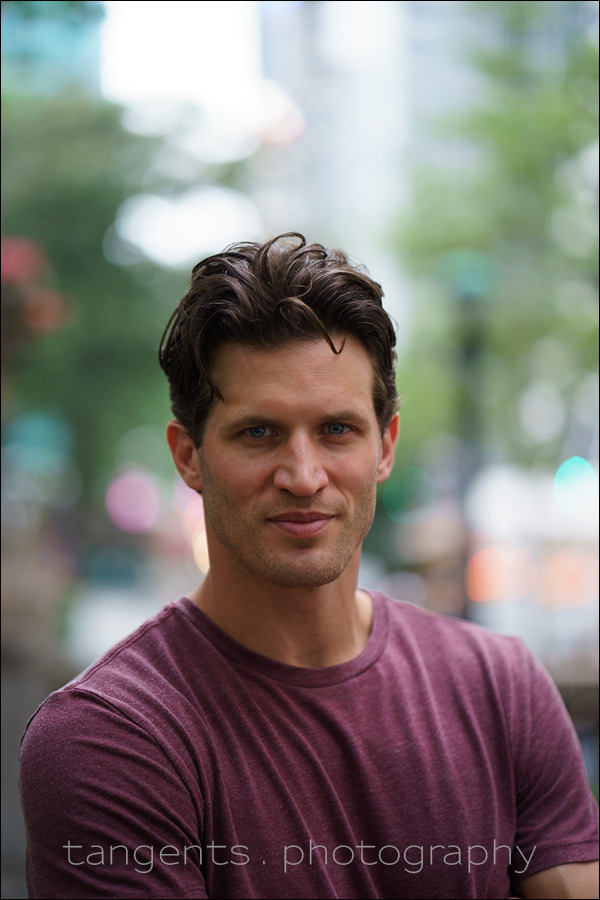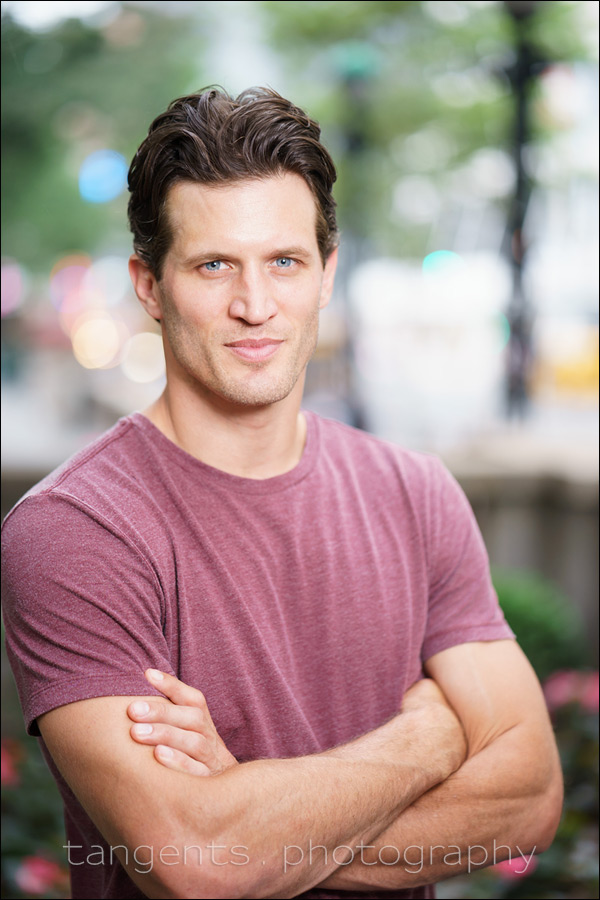 Using the Profoto B1 in TTL mode to establish exposure
I started with the background – I knew that I wanted that defocused city scene behind him. I also knew that I wanted it bright and 'airy'. In other words, about a stop up on my camera's exposure meter reading. Then a test shots to see how Andy would look at that exposure. As anticipated, he was under-exposed. With that, I switched on the off-camera lighting I had set up.
The Profoto B1 flash  with the Profoto OCF Beauty Dish (24?)  (B&H / Amazon). It is a relatively small softbox, but I had it close to me on my right to me, and fairly close to the camera axis.
This time I didn't want dramatic light from my off-camera flash. I wanted as soft and even as I could, with such a small light source.
I purposely had the Profoto B1 set to TTL flash, so that I could get an establishing first exposure. Surprisingly, it was over-exposed. The Profoto B1 usually nails the TTL flash pretty close to correct for my tastes. But working this close, it was about 2 stops over, guessing by the preview image shown on the LCD – the right-hand image.
One of the things that I love about the Profoto B1, is that if you like the TTL exposure, you switch the Profoto remote to manual, and the exposure is locked. In this instance, I locked the exposure, and quickly tapped the exposure adjustment button to give me two stops less light … in manual. And the exposure was perfect, as you can see in the two main images.
That took care of the lighting.
About the posing – I only had to minimally adjust Andy's pose since he is an experienced actor and TV presenter, with oodles of personality. (Here is his Instagram account.) So he needed little guiding or coaxing other than telling him where to stand, and how to turn towards the camera. Other than that, Andy knows how to switch it on!  I didn't want him with his shoulders square to the camera. It works better with his shoulders at an angle to the camera.
Summary
Here I wanted to run through some of the thought-process with this specific sequence of photos. Of course, working in a different location with different requirements, and a different subject, the technique might well be different. There are countless ways of getting great portraits or headshots of someone. This is but one such occasion.