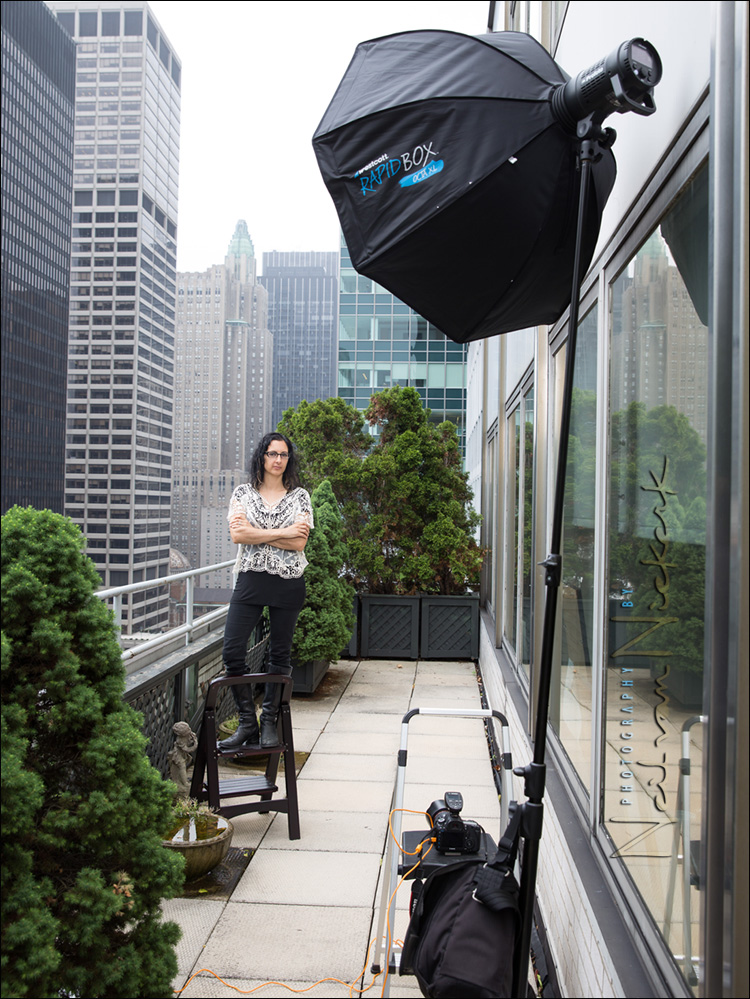 Best portable softbox for on-location headshot photography
I vary the lighting kit that I use for on-location portraits and headshot photography. It could involve multiple lights, or a single-light setup on location. My choice of lighting is most often decided by how complex it need to be, and the logistics of getting to the location and setting up.
More than struggling with something, I detest the appearance of struggling with something. Let me explain – when working with clients, it all needs to appear smooth and efficient. Everything in place, and professional. No struggling with gear. Set it up efficiently; shoot; and then break it all down even faster at the end. I don't want to appear like I am battling with anything. (This is also why I shy away from anything that looks home-made or makeshift.
With this extended gig described here – photo gear & logistics: corporate headshots – I used a large setup with multiple studio heads. This involved a lot of logistics with the lighting gear, carting it around in New York, and being able to set it all up quickly. With another headshots gig for a company, I needed multiple spots set up simultaneously on the company's site – on-location headshots and promotional portraits. Different needs, and different solutions.
When shooting inside, we can rely less on the available light to act as a natural fill light. But outside, on location, the ambient light and flash are often neatly balanced, and then a much simpler single-lightsetup can be sufficient.
Back to the idea of setting up fast, and not struggling – a softbox with speedring and rods can be a mild battle, with the need to push down on the rods and flex them.
The Westcott Rapid Box 36″ Octabox  (B&H / Amazon), alleviates that. This 36″ double-baffled octa-box opens and closes like an umbrella. There is a zippered opening on the side where you can stick your hand in to settle the mechanism inside, and then also wiggle it lose afterwards to collapse it. The Rapid Box 36 XL fits into a carry-bag.
With this headshots session where I assisted Yasmeen, a NYC headshot photographer, I handled the lighting – two Profoto B1 flashes (affiliate) transmitters, the Westcott Rapid Box 36″ OctaBox (affiliate), and a tall Manfrotto 1004BAC light-stand (affiliate). Yasmeen had her cameras and lenses and tethered laptop and a step-ladder. That's Yasmeen on the step-ladder where we posed the company's personnel for their headshots – a nice background that has some greenery and the city in the background. By the way, I brought two B1 flashes because you always need a back-up.
The Westcott Rapid Box 36″ Octabox  (B&H / Amazon) comes in different mounts too – AlienBees, Elinchrom and Bowens – depending on the lighting system you have.

Photo gear used in this setup
Related articles