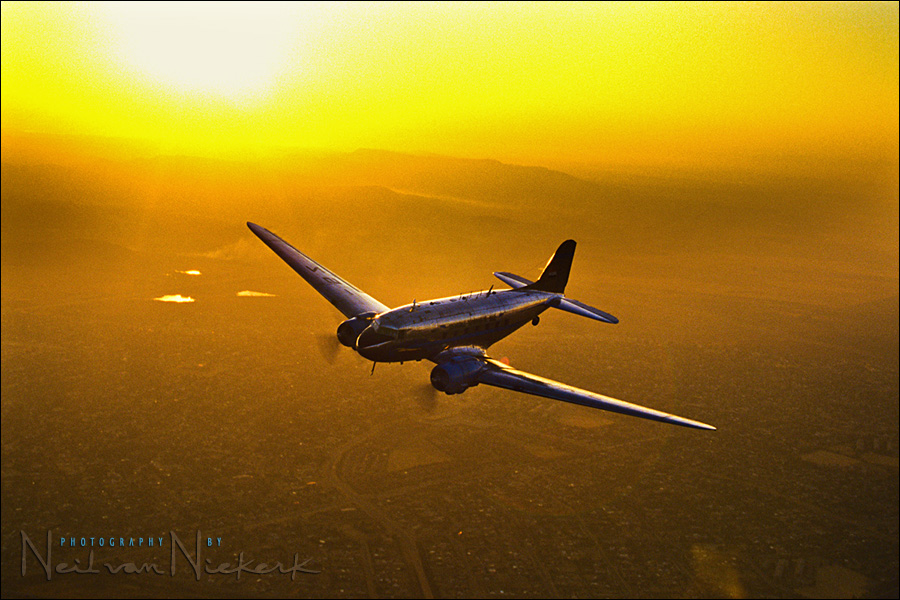 Personal photos from the archives – South Africa
Digging deep into the archives, here are some of my favorite images from way back.  These were all shot on transparency film – Fuji Provia RDP being my choice of film at the time.  And as usual with personal photography, there are memories and stories attached to these images.
To get this photograph above of the DC3 flying over Johannesburg, I had to wind down the window of the WW2 vintage Junkers I was flying in. Because there was no window glass in the way, I could get a crisp photo of this DC3 following us.  The golden glow to the photograph is actually the way it looked.  The air pollution is more pronounced in winter due to the fires that burn on the Highveld of South Africa.  And here we have the setting sun back-lighting the dust and air pollution particles.  Combining all of that with the way that the late afternoon light flared on my lens, is where this photo got that beautiful warm look.
[ Pentax Z-1; Pentax-FA 28-105mm f4-5.6 // Johannesburg, South Africa // June '94 ]
And no, I don't miss film. Really.  I wish I had all my slide film captures as original digital captures.  But that's another discussion entirely.
[ Pentax Super-A; Pentax-A 35-105mm f3.5 // Johannesburg, South Africa // circa '88 ]
This is a candid image.  As the boy in front of me was watching a polar bear swim in his tank at the Jo'burg zoo, he lifted his hand up to match it against the polar bear's paw.  There's something magical about this image for me.  Pity about the crack in the glass – the image would've been even more enigmatic without that real-world flaw.
As was usual when I walked around, exploring with my camera, I had a habit of pre-focusing on various distances as I anticipated I might come across things to photograph.  And this meant that I only had to lift my eye to the camera, and the (manual focus) camera was already focused very-very-nearly correctly.
[ Pentax Z-1; Pentax-A 24-50mm f4 // Johannesburg, South Africa // Nov '93 ]
This wonderful and over-size mural  in Yeoville, Johannesburg, has long since been demolished when the building was updated and painted a staid colour of bland.  The entire character of the neighborhood has radically changed since then, with everything left to decay.  I'm not even sure if the No Parking sign would still be there anymore.  And as with some of the other images shown here, I used a polarizing filter to cut glare and saturate the colors.
[ Nikon F90x; Nikon 80-200mm f2.8D // Cape Town, South Africa; ca. 1998 ]
Green Point Lighthouse is the oldest Lighthouse in South Africa.  I liked this juxtaposition of the older colorful lighthouse, against the drab blocky modern building. The tight composition reduced the urban landscape to geometric patterns.  This was shot on slide film (Fuji RDP 100) at sunset, hence the bold golden colors. In going through my older photographs, I noticed that in my landscape photography, there were two common links simplicity of design / composition, and saturated colors. Very often too, the landscape is photographed as a simplified basic shape or pattern.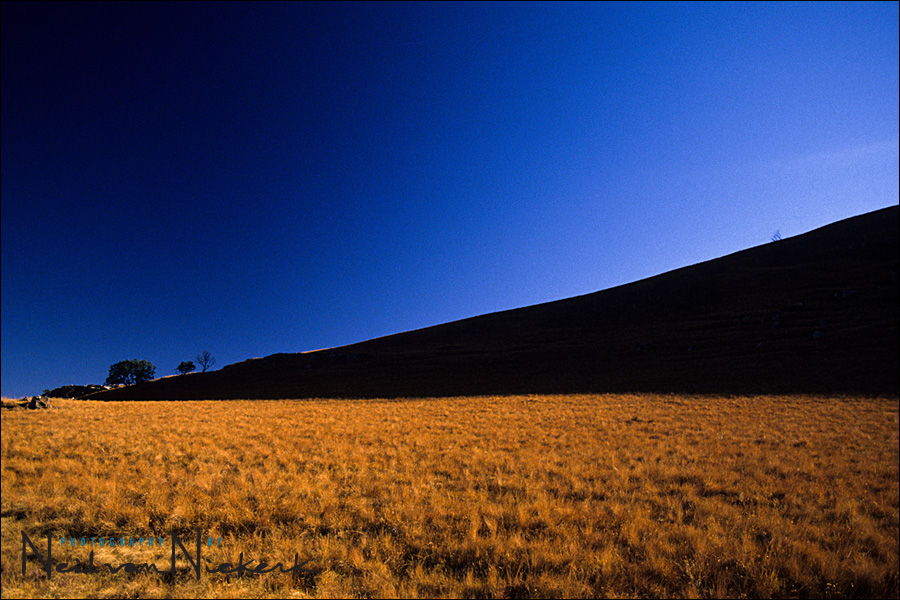 [ Pentax Super-A; Pentax-A 24-50mm f4 // South Africa // circa '89 ]
This landscape in Zululand is a loose series I was working on where I tried to reduce landscapes to basic geometric shapes. When I saw the shadow side of this hill, I noticed how the triangular dark shape divided the yellow grass from the blue sky. By framing the edge of the hill to the very edge of the frame, I was able to reduce this landscape to the geometric shapes – a triangle, rectangle and trapezoid. I darkened the sky, by over-saturating it with a polarizing filter. This also helped darken the winter-dried grass, which was side-lit by the sun.
[ Pentax Super-A; Pentax-A 24-50mm f4 // South Africa // circa '89 ]
A polarizing filter punched the sky that deep a shade of blue, and made all the colors more vivid on this late afternoon.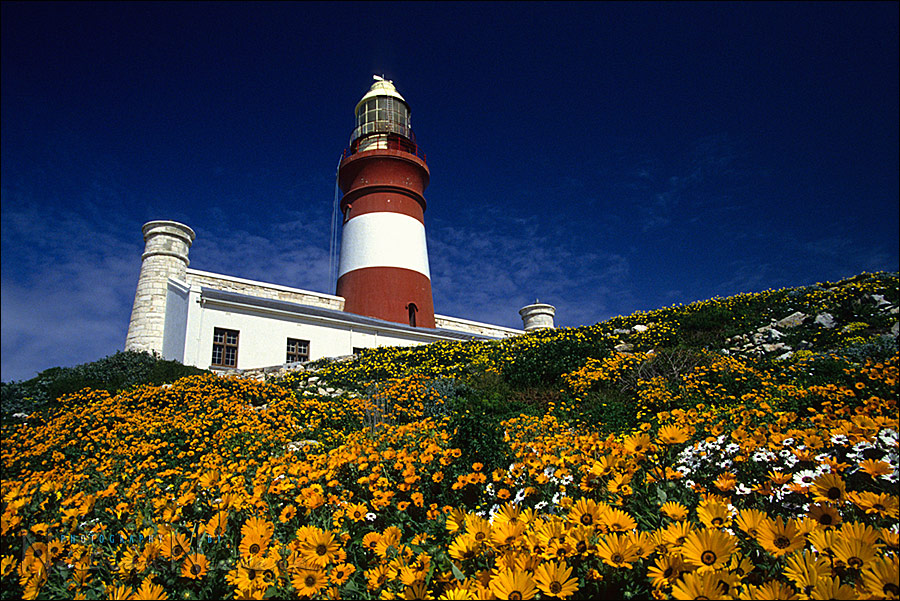 [ Pentax Z-1; Pentax-A 24-50mm f4 // South Africa // Sept '92 ]
This super-saturated landscape features the lighthouse at Cape Aghulas – the southern-most tip of South Africa. I loved how the complementary yellow and near-violet colors are saturated to a deep color, with the red and white lighthouse is then neatly positioned between these two bands of colours.
This enigmatic landscape was taken while on a hike in Magoebaskloof in South Africa (Dec '89). I wanted to portray some of the eeriness of walking through the misty forest that morning. I remember it being very quiet. I kept looking for *something* to photograph .. something that I could focus my attention on. But there wasn't anything specific. Just the trees and the sloping mountainside fading away into nothing as your gaze wandered further. Then I realized that that is exactly what I wanted to encapsulate in a photograph.
So instead of trying to find a specific "thing" or a specific part of the landscape, or geometry or pattern or composition … this was just how it was … stark trees in the mist.  Nothing else.
This is why this particular image appeals to me.  I felt that this simple lateral movement in my mindset, got me closer to photographing the essential aspect of this particular landscape.
One of my favorite landscape photos at the time was this backlit scene, taken near Fouriesburg in the Free State, South Africa. May '95
At one point, while walking around in the veldt here, I turned around and looked back from where I had come … and saw the landscape looking entirely different when partially backlit.  A simple change of viewpoint completely changed the way I saw the light fall on the landscape.  What appealed to me here was the subtle way the lines and colors converged.  A polarizer filter saturated the colors even more by cutting down on the glare.
[ Pentax Z-1; Pentax-FA 28-80mm f3.5-4.7 // Waenhuiskrans, South Africa // Sept '92 ]
All elements in the frame stripped to a minimum – my preferred approach to landscape photography. Again, the colors are saturated with a polarizer filter.
[ Pentax Z-1; Pentax-FA 28-105mm f4-5.6 // Johannesburg, South Africa // circa '92 ]
I would often wander around with my camera, exploring, and looking for interesting and things to photograph.  This afternoon I was watching cars and delivery bikes swish past, and I was practicing panning with them … and then this colorful character zoomed by on his Harley.  I remember it was one of those moments where I just knew I had the shot .. and I also realized that nothing else I would get that day would match this .. so I just went home right after I took photograph.
[ Pentax Super-A; Pentax-A 24-50mm f4 // South Africa // circa '89 ]
Brakko, my lovable Dalmatian that I had.  I still insist that Disney didn't quite do them justice in how adorable and companionable they are.  He looked quite apprehensive here at being photographed so closely.  I remember that at the time I was testing out my brand-new used flashmeter – an old Gossen.  Early days.
Related articles