Photographing couples – Posing and composition
Re-editing and re-vamping photographs for my blog post of a destination wedding in Aruba, I found it enlightening to realize how much my style has progressed over years in post-processing too.
As part of destination wedding photography coverage, I offer extended photo sessions around the exotic locale after (or before) the wedding date. While we're there, we may as well use the opportunity.
The photograph at the top was taken on the day after the wedding when we took a rented car and drove around the arid areas of the island – away from the touristy parts. There was a short rainstorm while we were driving, and the landscape looked really crisp. Offsetting the couple against this landscape just seemed like a great idea. I posed them into the light. I had various compositions of this, but liked the off-center image the most.
In this way, for any single setup, I always shoot wide & tight; vertical & horizontal; high & low viewpoints. This way I get a variety of images, and in the culling process later on, I can pick the few that work, or give me the most variety.
But there's usually more than just one photograph …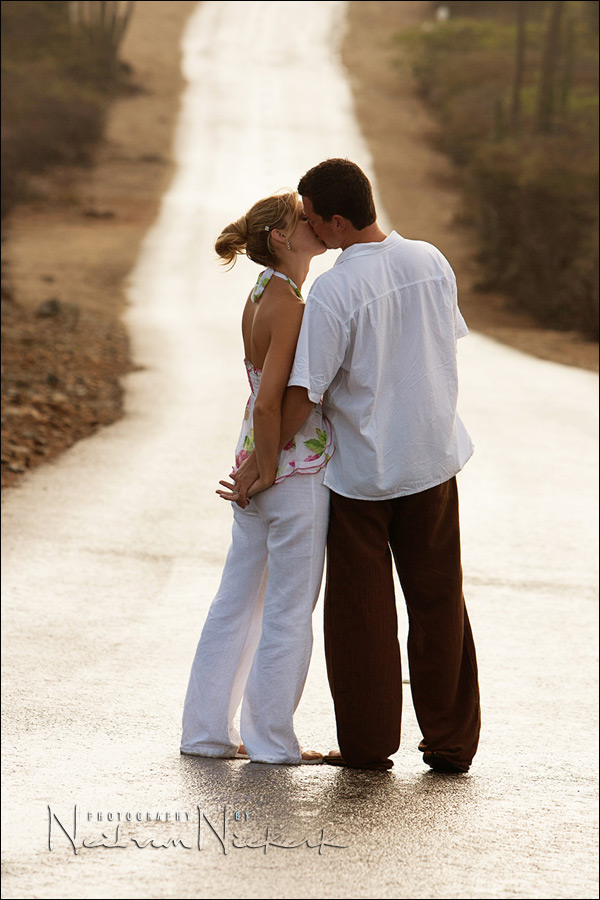 For the image at the top, I was standing in the road. Looking to my left, I saw the road surface glistening with the rain that had fallen. I then asked the bride and groom, Desha and Kyle, to slowly meander down the road. Perfect. I instantly liked what I saw in my viewfinder. A vertical composition like this just made the most sense.
Just a minute and a half had passed between these two images, and the clouds came over, softening the light a bit. Not that that mattered really – this image would've worked with sunlight as well.
---
---
Change your position relative to your subject
The key idea here is that if you change your position and move around, you can often get images that look hugely different, because …
1. you're changing your background, and
2. you're changing your position in relation to the light.
For me, finding an interesting background, is nearly as important as having great light. Now, with off-camera flash, you can concentrate on the background since you can add awesome light anyway.
Changing your position in relation to your subject and the light – that triangle – changes the way the direction of the light. Check this related article: off-camera flash – changing your position, change the direction of light  (model – Ulorin Vex), for a striking example of that principle.
Related articles