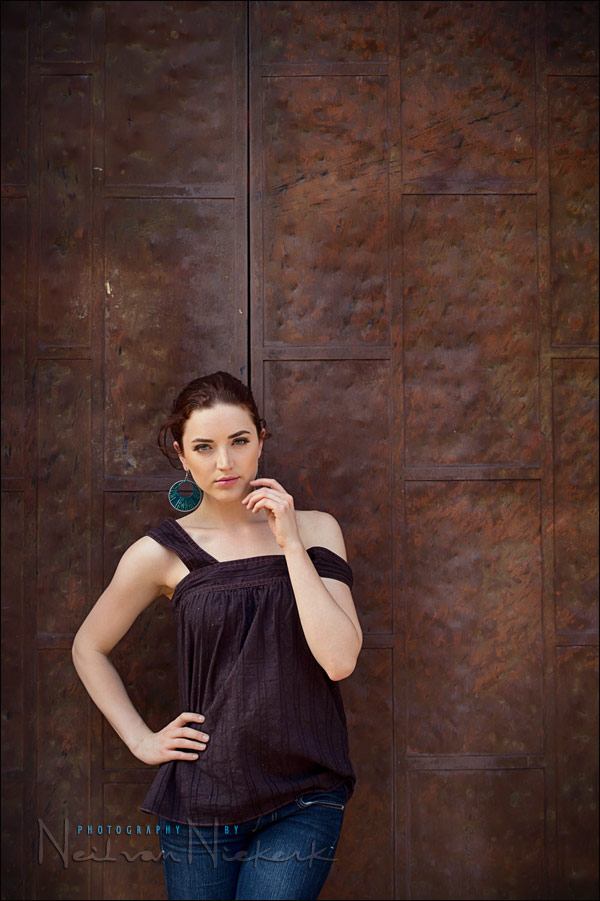 Posing tip – Check the wrists and hands
In posing, a good tip is to have the wrists and hands form a kind of S-curve instead of being straight. While this photograph works for me,  and I really like the composition and her direct gaze into the camera … I should've guided Anelisa to bend her left wrist (the hand closer to her cheek), a bit more. That would've made her gesture a touch more elegant in this photograph at the top.
Of course, in analyzing your photographs closely, there is (nearly) always something to pick up on how you could've improved the final image.
Here is another photograph in the sequence, where you'd be able to clearly see the difference a change in the pose would've made …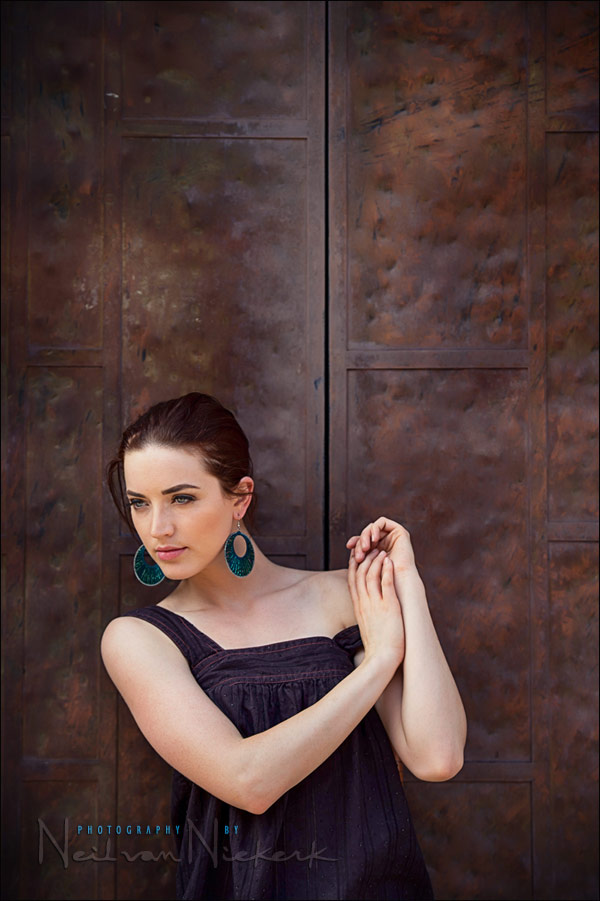 With this photo, I love the pose and her gaze out of the frame, but her hands and wrists are too straight. Instead of an elegant gesture, her  hands are now clumsily posed from this angle. This is something I should've caught at the time. Any failure in this photograph is entirely mine.
As experienced as your subject may be – and Anelisa is supremely easy to work with – your subject can't see exactly what you're seeing through the camera's viewfinder. Nor can they see how you're framing the shot. So it still is up to you, the photographer to guide your subject.
With this photograph, if I had told Anelisa to drop her left wrist a bit to create an angle, then her right hand's fingers would've flexed as well … and the entire gesture would've been that little bit more graceful.
As an exercise, try mimicking her pose, and see what the difference in her gesture would've made to the final image. No really, I am serious – hold your hands in that pose to copy it, and then see and feel the difference it would've made for yourself. Remember, the best way to pose someone, is to physically show them.
---
---
Related articles on posing tips
Camera settings & photo gear (or equivalents)
1/250 @ f/4 @ 200 ISO;  available light only