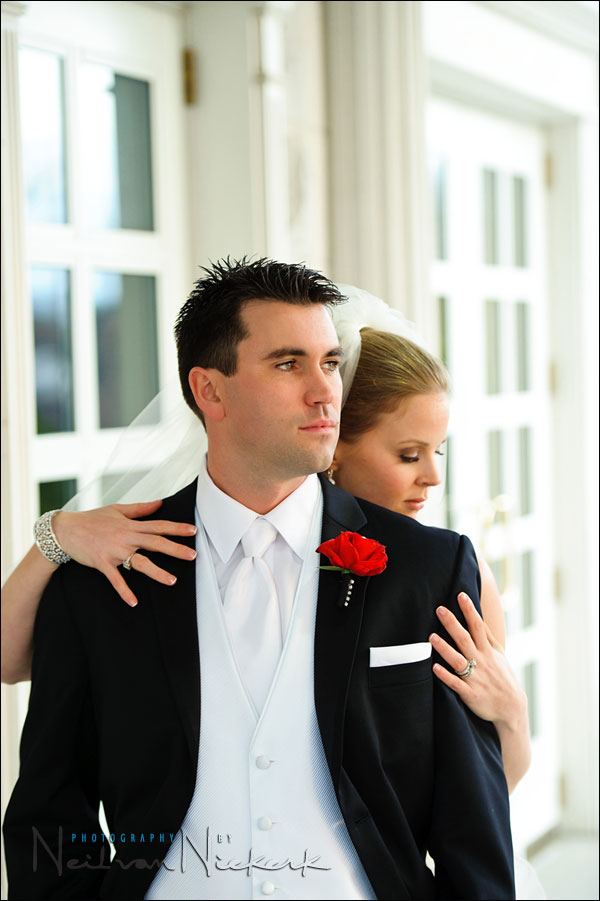 Wedding photography – Tips on posing – asymmetry
When working with a bride and groom for their portraits, there are a few ideas that I know will work. You have to have somewhere to start. Some fail-safe ideas for poses that allow you to at least get the essential images. From there on, I try to improvise a little, depending on the personalities of the couple, and also the place where we find ourselves, and the light. So opportunity does sway the portrait session a fair amount.
I prefer working this way, rather than applying a more mechanical "flow posing" technique. I feel that allowing opportunity and the couple themselves to guide the photo session to an extent – is a more natural way of working towards definitive portraits of the couple.
This does mean that you need to *look* at the couple, and how they appear within the camera's frame … and then gently adjust their pose if necessary. At this point then, it becomes more about photographic composition. Now we need to look at balance and symmetry … and asymmetry.
One key tip that I rely on, is that while a symmetrical pose can be striking … the easiest way to break it up and get more variety, is to change the position of hands and feet. One hand lower than the other. A different level. The same for how you position feet – one foot on a different level than the other. Up / Down. Front / Back.
Here's a sequence to show the thought-process …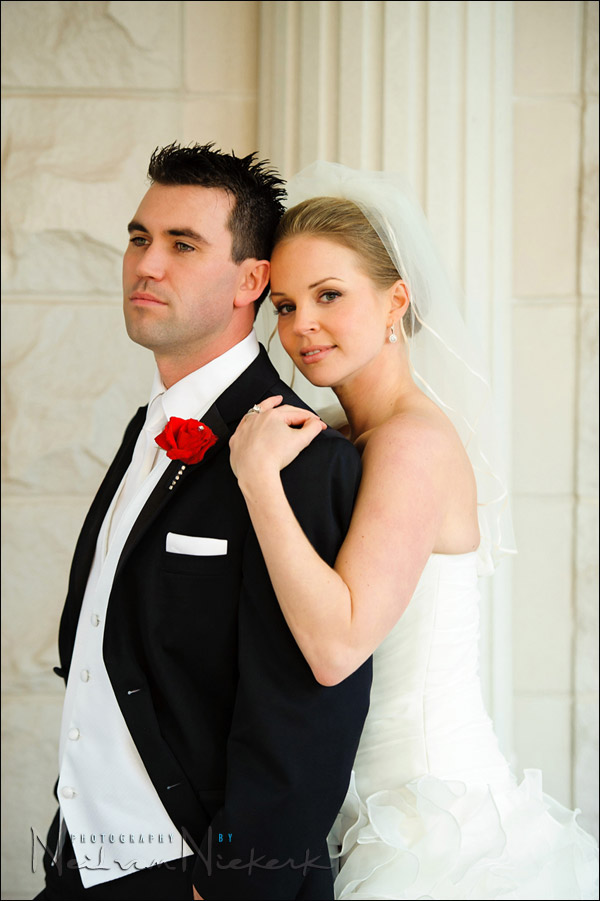 This is where I started this sequence. I wanted more of a Fashion feel to this sequence. (Easy enough with a couple this photogenic!) For one of the first images in the sequence,  I had Kyle look off into the distance, while Justine hugged him from behind. I then asked Justine to make eye-contact with me for at least one photograph.
Photographing Justine and Kyle outside their venue, the early evening light was soft and warm. No flash needed. The light was perfect.
I then swung around to shoot from the front. But her hands were too symmetrically positioned here on either side of him. Instead of the photo looking balanced, to me it looked less dynamic because of that.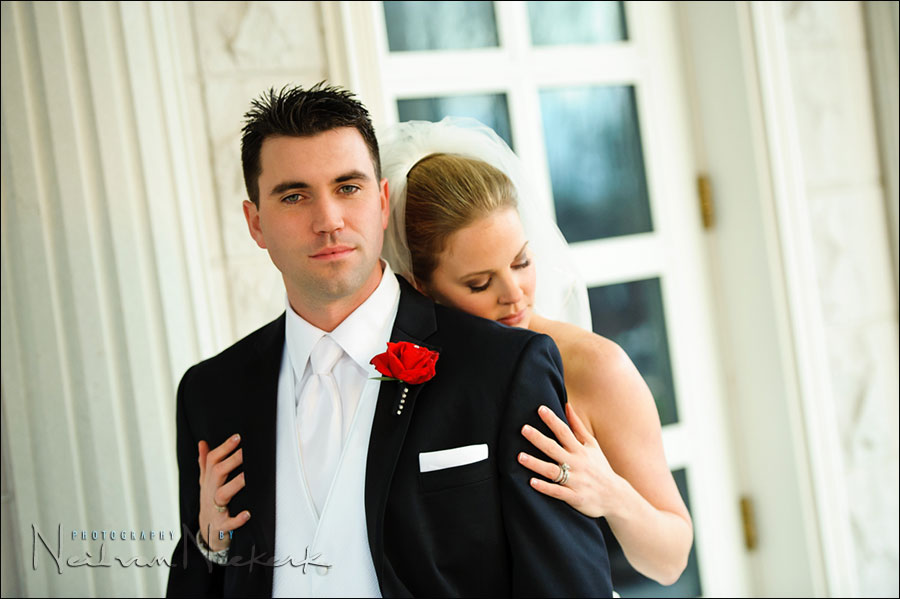 So I quietly asked Justine to bring her right hand up to his shoulder …. and here is that image.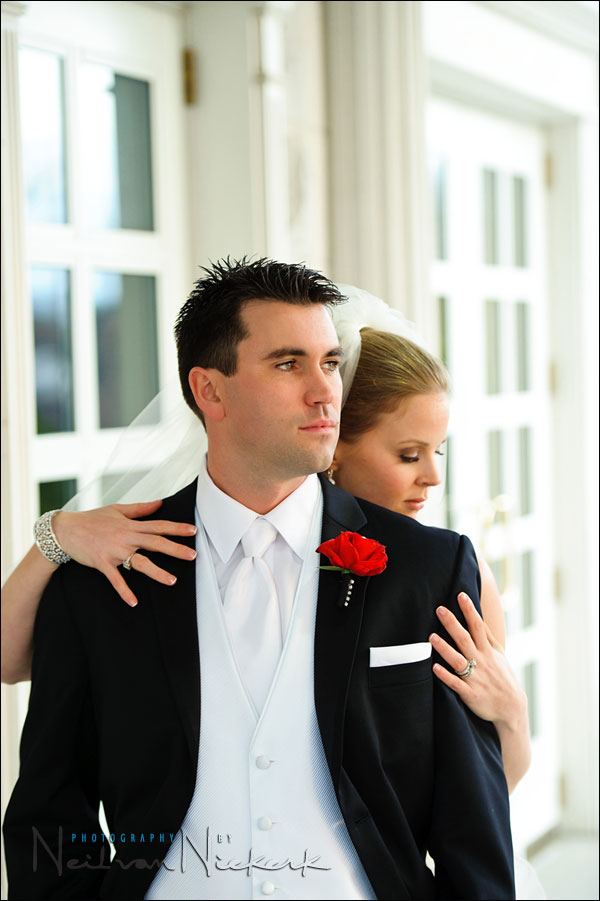 This pose also allowed my 2nd photographer to get a few complementing frames.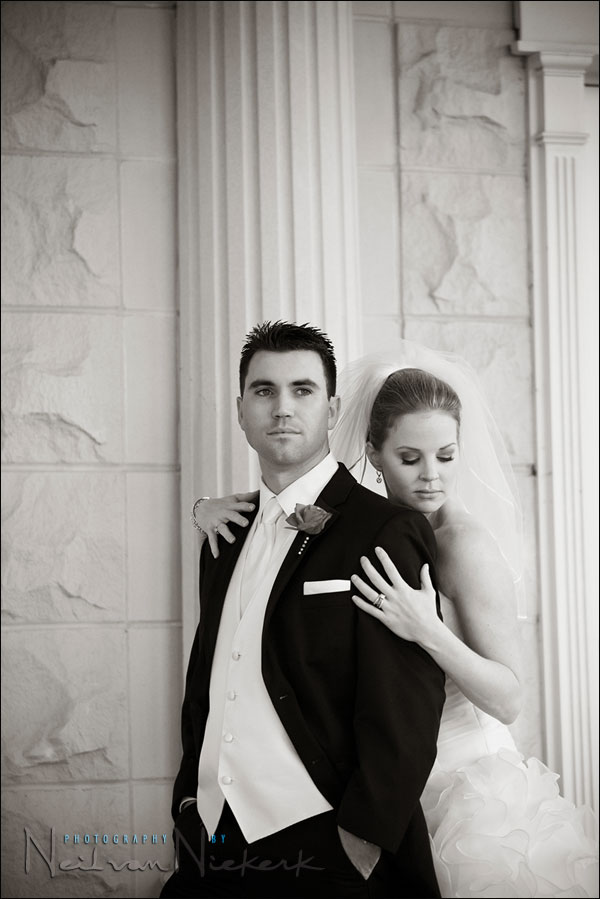 Just that subtle shift in the position of her hand, created a more dynamic composition.
This is the kind of finessing of a bride and groom's posing that I prefer for wedding portraits – a gradual unforced change to their pose. It is always a good idea to study books and photographs for poses to use, and internalizing some of the best ideas. However,  instead of relying on mechanically replicating those ideas, I rely on a more instinctive approach, looking at the composition, and subtly adjusting what is needed, right there and then.
Related articles