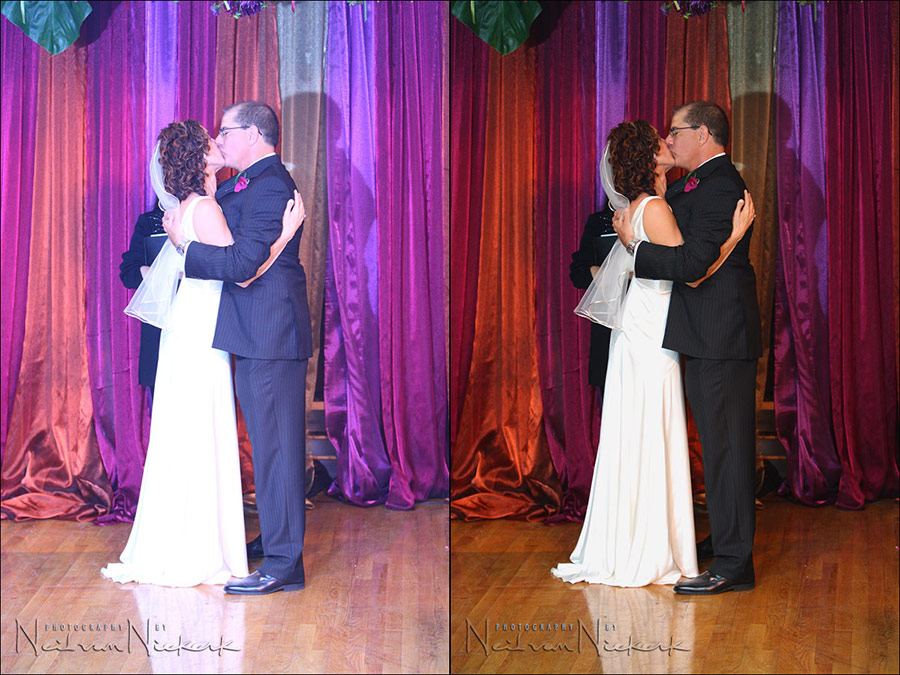 RAW vs JPG – the final discussion
The RAW vs JPG debate has raged on to the point where pretty much every photographer has been worn down, or left confused. It's been done. But bear with me on this one. It'll be quick. And convincing. Then we really are done with this. Here it is:
There is NO photographer on this planet who is good enough to get:
– correct white balance,
– correct exposure,
– correct brightness level,
– correct overall and local contrast,
– correct saturation,
– a good black point,
– or anything else you'd like to add,
DURING the moment of capture, for EVERY situation they are likely to encounter.

You have no excuse to shoot in JPG (only) format, unless perhaps …
– you're out on assignment in Afghanistan and need to wire your images through, or
– you're shooting hundreds of portraits on location to be printed out immediately, or
– you really really really need the small file size of a JPG, or
– you shoot with the Fuji S2, that JPG machine, or
– your phone's camera is your choice of artistic expression, or
– unless you have some other truly specialized need to shoot in JPG.
Other than that, there is no reason not to shoot in RAW. It has to be RAW. Always.
If you shoot in a studio, and have absolute control over the lighting, and colour balance, and have fine-tuned your in-camera settings … then sure, shoot JPG. Knock yourself out. You are all set to shoot within one specific scenario. Great.
But let me emphasize my previous statement again:
There is NO photographer on this planet who is good enough to get every aspect of the image quality correct during the moment of capture, for every situation they are likely to encounter.
This implies that you will have to do some kind of adjustment on your selected images in post-processing. And then you might as well use the file format that gives you the most latitude and control for your initial edit and adjustment … RAW.
[ / discussion ]
You might hear the rebuttal that if you are good enough, you wouldn't need to rely on the latitude of RAW. Well, that insult is disingenuous, since it assumes we are always in control of our environment. We usually aren't.
Here is a typical scenario I encounter as a wedding photographer. During a key moment, guests will whip out their cameras, and blast away with their point & shoot cameras. These are often set to red-eye reduction mode. So there's a lot of flash going around.
During this wedding ceremony, I was trying to retain as much of the ambience as possible, shooting with only the available light. My camera was set to Incandescent WB. This meant that during the key moment – the kiss – my shot was severely over-exposed by a guest's flash going off. This also means that I had the wrong WB set. I had Incandescent WB, not Flash or Cloudy WB.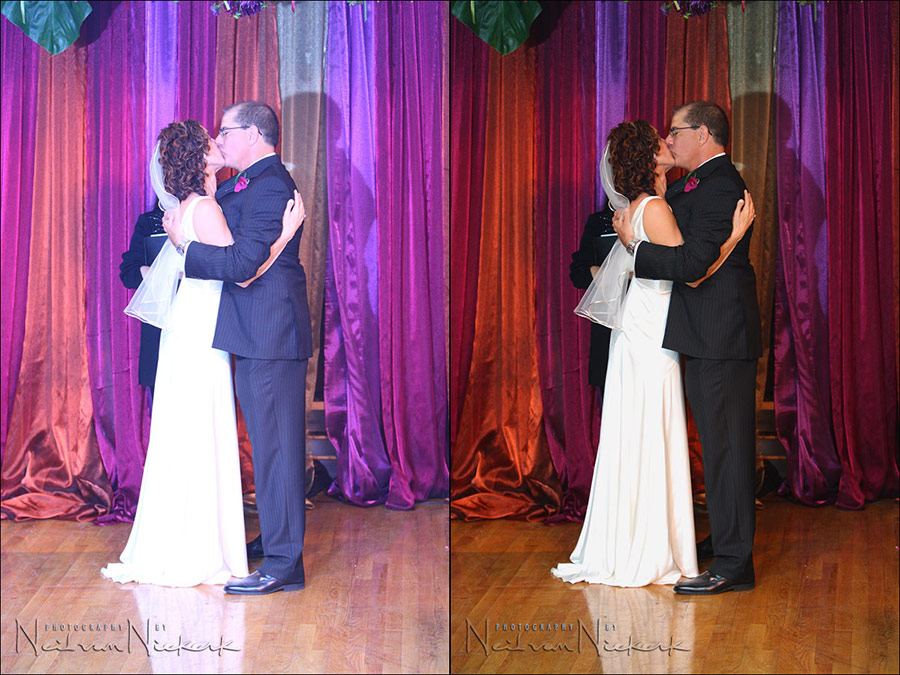 Here is the comparison to what the JPG-only shooter would've started off with in the editing of the images. On the right-hand side, is the JPG that I very easily generated from Canon's DPP software. I pulled the exposure down by more than a stop, and completely changed my WB.
My starting point, as a RAW shooter, is the JPG on the right. The JPG-only shooter would've had to deal with the problem image on the left. I have no idea of how to go about fixing that as a JPG. And honestly, I have no intention of ever finding out how to fix that JPG. For me, it is irrelevant.
To finally reiterate this point – all the discussions and arguments you've seen about RAW vs JPG are trivial, because the one format is clearly superior.
related articles