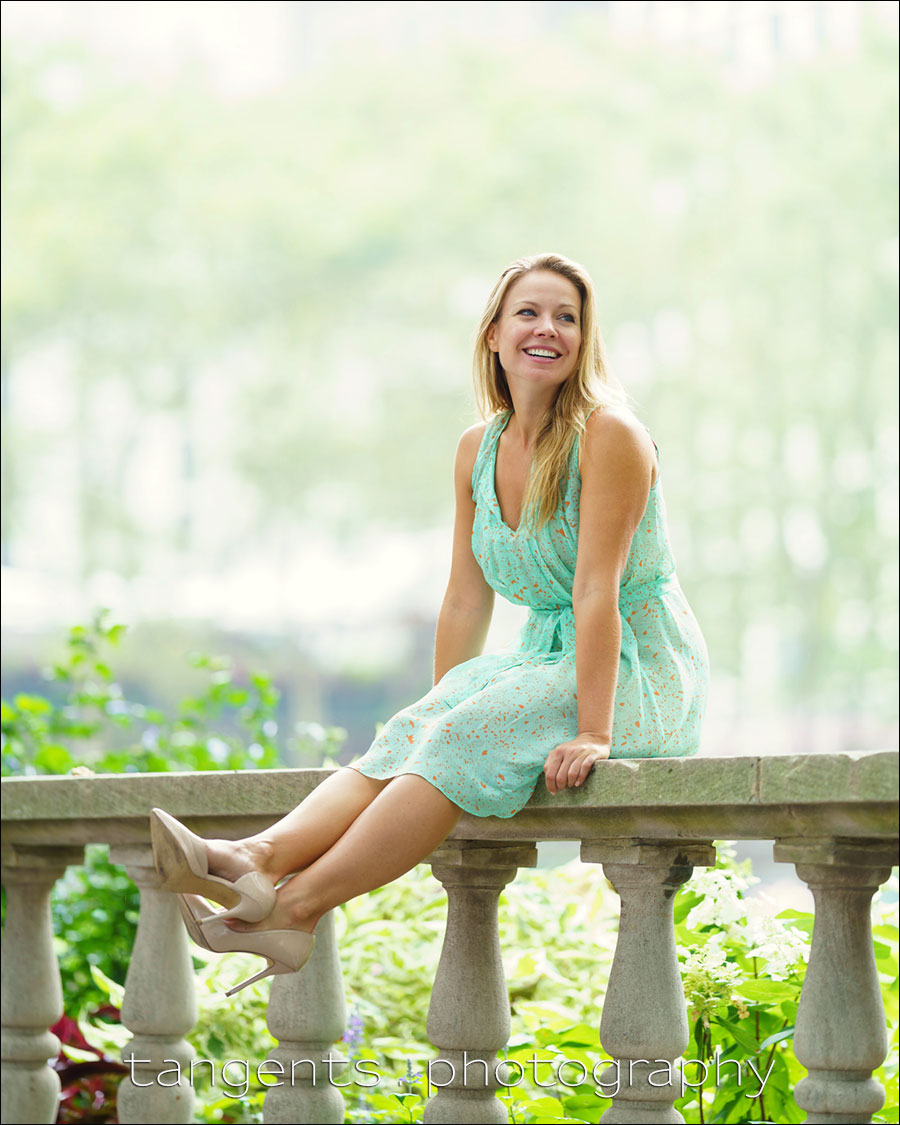 Review: Sony 135mm f/1.8 GM lens
The 135mm focal length is super for getting more reach than 85mm or 100mm would, but still keeping the lens to a smaller size. While the smaller size is nice, it was the fast aperture was what I really wanted. That the lens is super-sharp is an extra bonus. The Lens Rentals review has this as "This is the sharpest lens we've tested. Period." That says something!
The first thing to notice about this lens is the fast f1/.8 aperture. Even though I mostly use a 70-200mm f/2.8 lens for events and headshot photography, there are times where I need that extra speed in the aperture. Sure, stabilization allows you to handhold to an astonishingly slow shutter speed sometimes, that doesn't do a thing for subject movement. So there are situations like low-light churches and corporate events, where the light levels are super low, and you need that extra 1.3 stop in aperture. I discuss this in a previous article too: Event photography in low light.
With this review of the Sony FE 135mm f/1.8 GM lens (B&H / Amazon), we're going to look at the bokeh of this lens and the sharpness. Mostly with photos of two models that I used for images for this review, but also a few examples from actual events that I photographed.
The image at the top of a model, Stacey, was shot in Bryant Park, and I used an aperture of f/2 — and as you can see the background of trees (and buildings) just become an indistinct wash of colors and shapes at that distance. Just beautiful. This is the kind of image that the Sony 135mm f/1.8 GM lens excels at. With the compression that this focal length offers, and the wide aperture, it easily separates your subject from the background.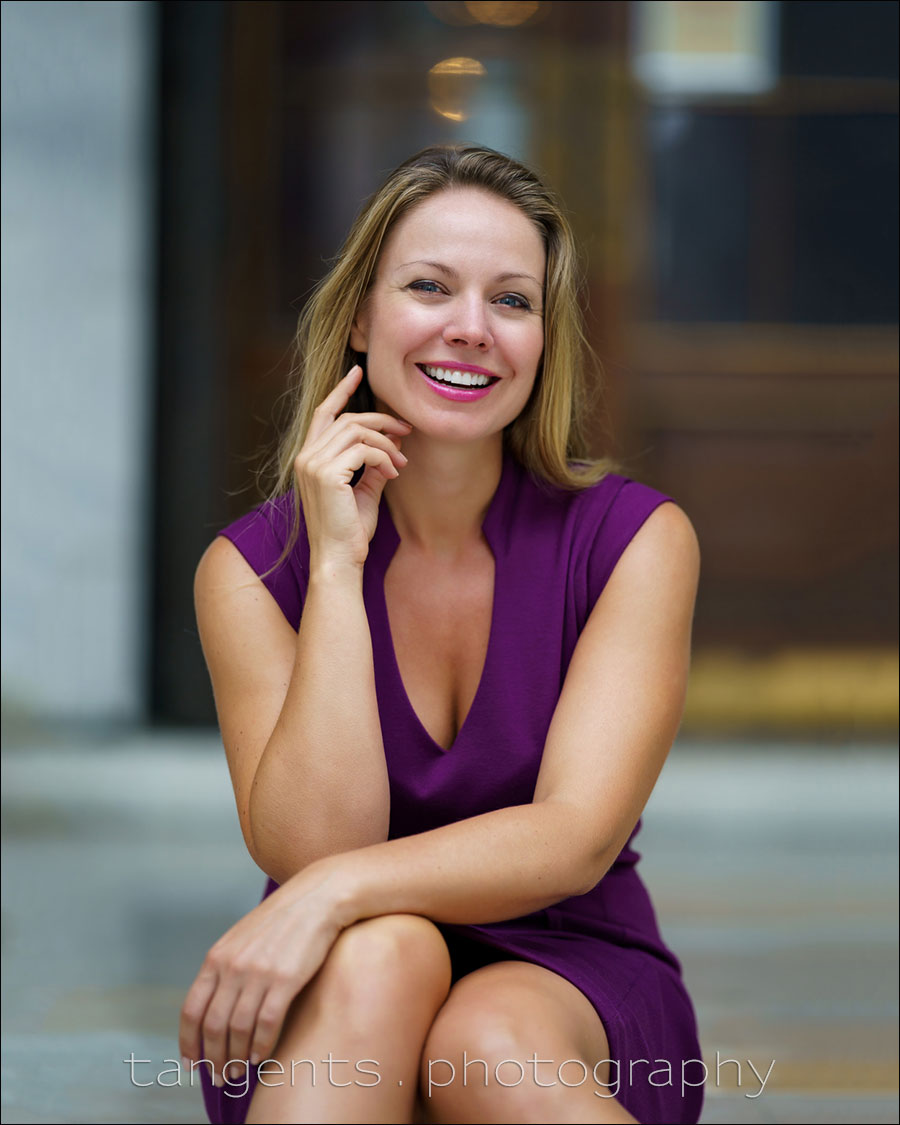 Even in this straight-forwards portrait of  Stacey, you can see how the door and wall at the relatively short distance behind her, just melt away. With this, and the other examples shown here, you will see that the bokeh is very smooth. No jittery edges or lines.
Before we go much further, please note that shallow DoF and bokeh are not necessarily the same thing, and shouldn't be interchangeably used: Bokeh vs shallow depth-of-field (DoF).
f/1.8 @  1/500  @  250 ISO
Available light
---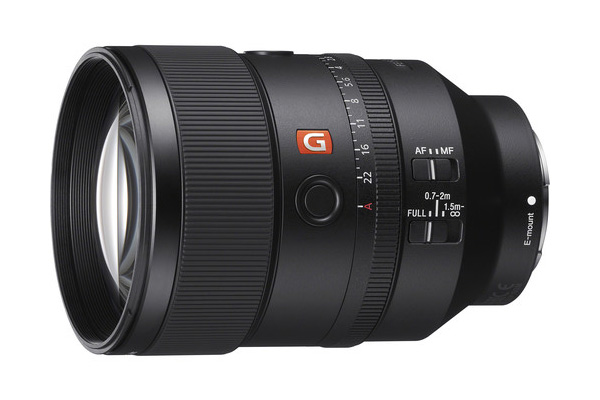 Features and specifications of the Sony 135mm f/1.8 GM
Sony E-Mount Lens/Full-Frame Format
Aperture Range: f/1.8 to f/22
AF/MF Switch and Range Limiter Switch (both of which can be seen in this image of the lens.)
Internal Focus – which means the lens doesn't grow longer or have the front element rotate. The non-rotating front of the lens makes the use of polarizing filters easier.
Two Focus Hold Buttons on the body of the lens. One for horizontal holding, and the other for when you hold the camera vertically.
The physical aperture ring has a de-click switch for smoothly changing apertures. This is useful for shooting video.
Dust and Moisture-Resistant Construction
Rounded 11-Blade Diaphragm
Then of course, the spec sheet bumf mentions all kinds of things which we can assume are very good to have in a high-quality lens:
— XA Element, Super ED and ED Elements
— Nano AR and Fluorine Coatings
— XD Linear Motor AF System
---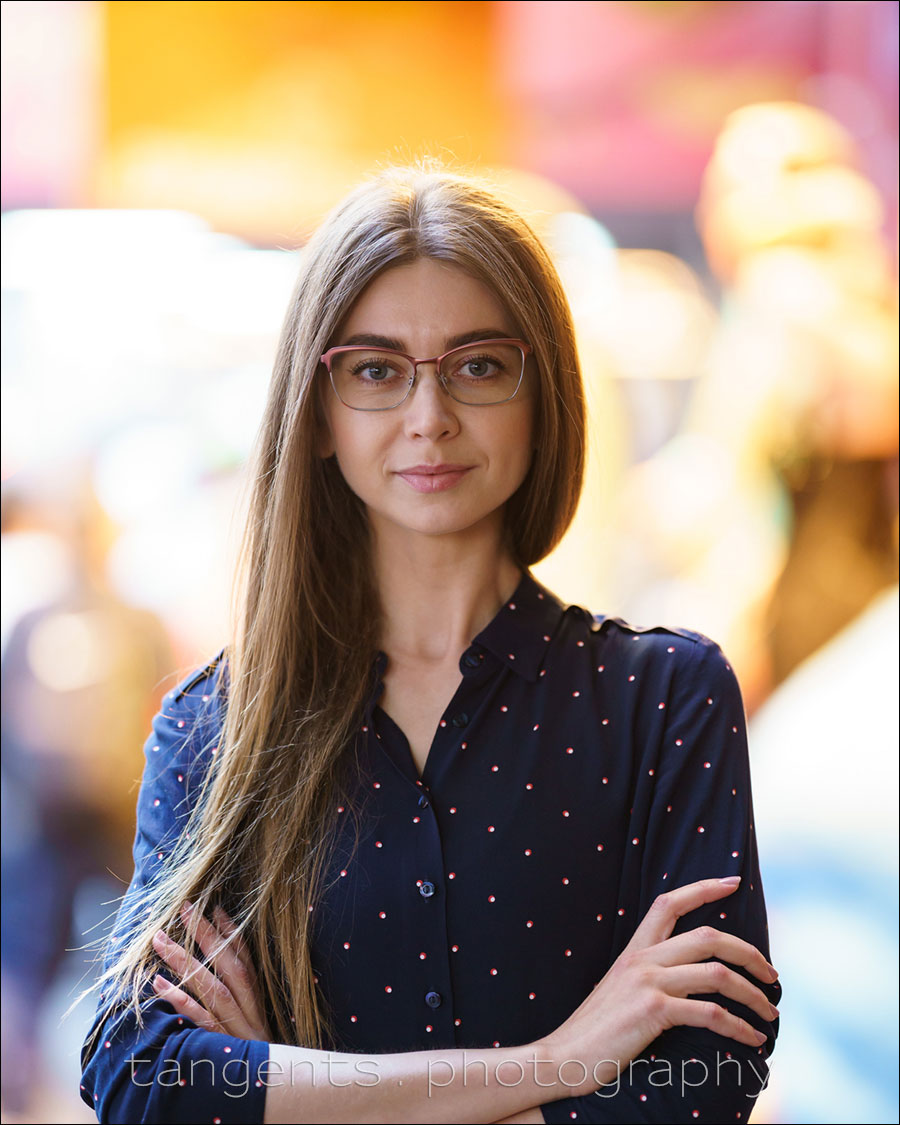 Sony 85mm f/1.4 GM vs Sony 135mm f/1.8 GM
One of the questions which will invariably come up, is how Sony FE 135mm f/1.8 GM (B&H / Amazon) performs against the  Sony FE 85mm f/1.4 GM (B&H / Amazon).
Obviously the focal lengths differ, and this means that for the same size subject in the frame (in other words, as you step back with the 135mm lens), the background will appear larger. That's the effect of how the perspective changes between the longer focal length and the shorter focal length. However, the way the background is rendered between these two lenses, is very similar to the point that if anyone was shown an individual image, they would often be hard pressed to say which of the two lenses was used.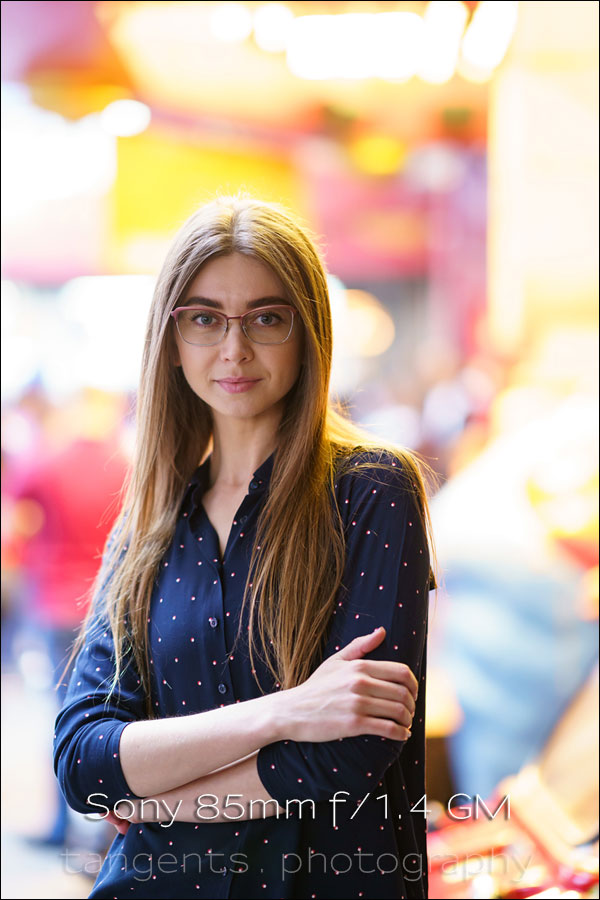 Look at these two photos of our model, Claudia. The place we took these photos in, was a busy sidewalk near Times Square in New York. You can see the pull-back image shot with my iPhone, when you click on the drop-down menu below. In using the fastest aperture on both lenses, the busy background just becomes a wash of colors. Both photos look about the same even though in comparison you can see the background elements are larger in the image shot with the longer lens.
To my eye, they look equally good, and my advice to anyone who already has the Sony FE 85mm f/1.4 GM (affiliate), is that you already have a fantastic lens in your hands, and should only consider the 135mm lens if you need the extra reach.
Click here to see the pull-back photo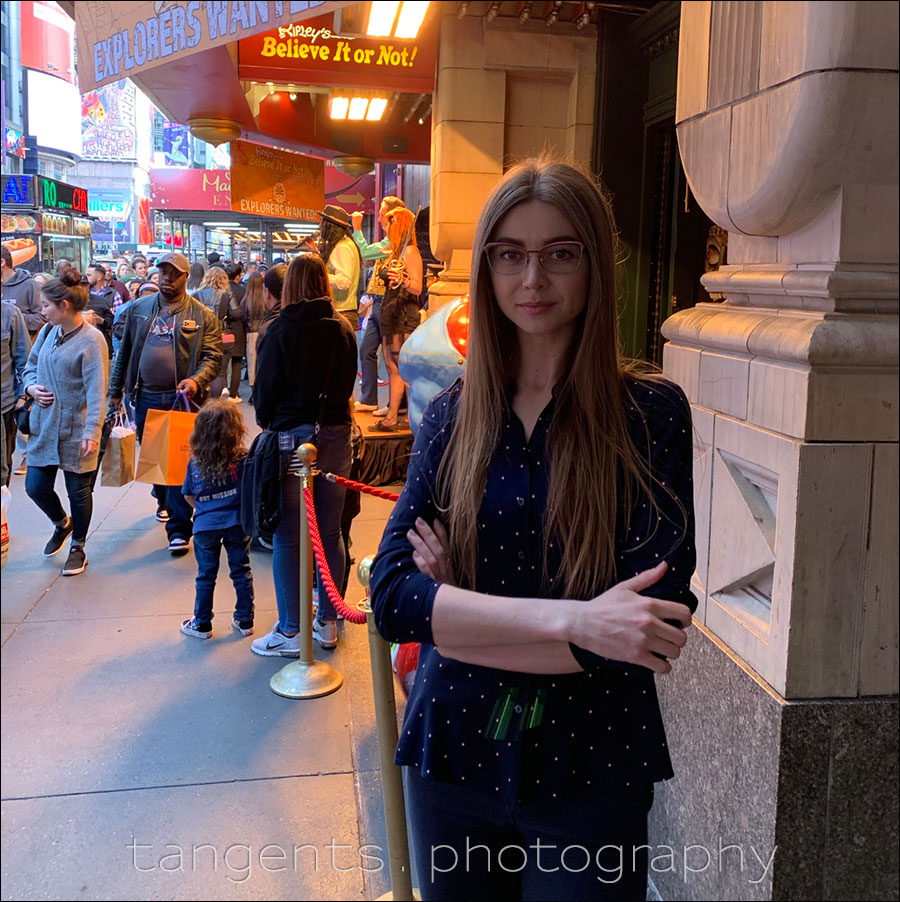 ---
Bokeh of the Sony 135mm f/1.8 GM lens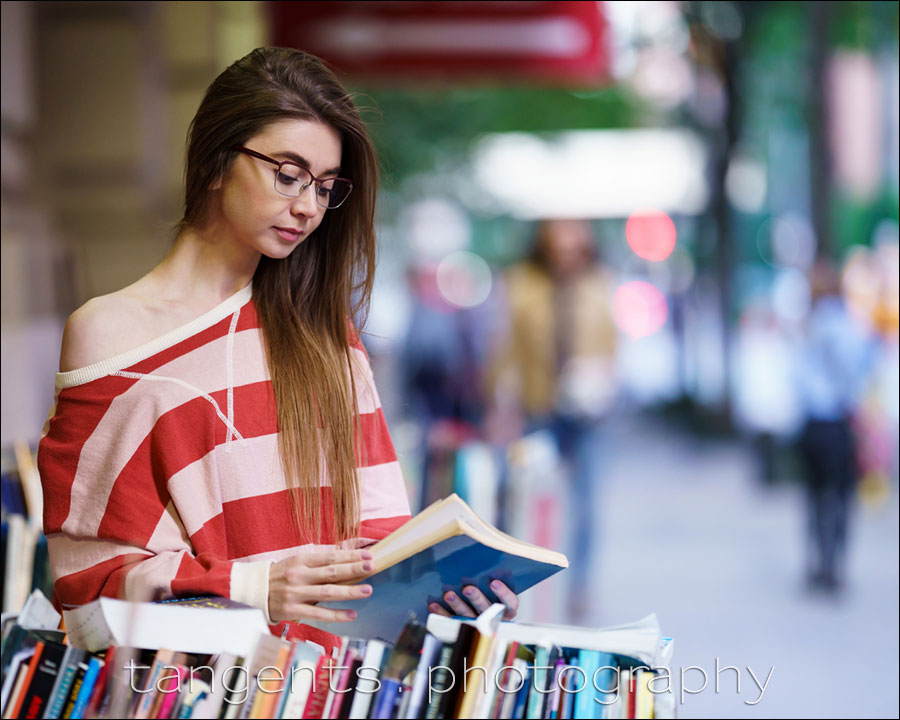 The painterly way the out-of-focus elements in the background were rendered in this photo, should tell you pretty much everything you should know about the bokeh of this lens.
f/1.8  @  1/400  @  800 ISO
available light only
And in case you missed this point earlier on, please note that shallow DoF and bokeh are not necessarily the same thing, and shouldn't be interchangeably used: Bokeh vs shallow depth-of-field (DoF).
This next sequence of photos of Claudia should be especially convincing that this lens has incredible bokeh, and that the fast aperture allows you wonderful photos even in locations which don't appear to have anything going for them.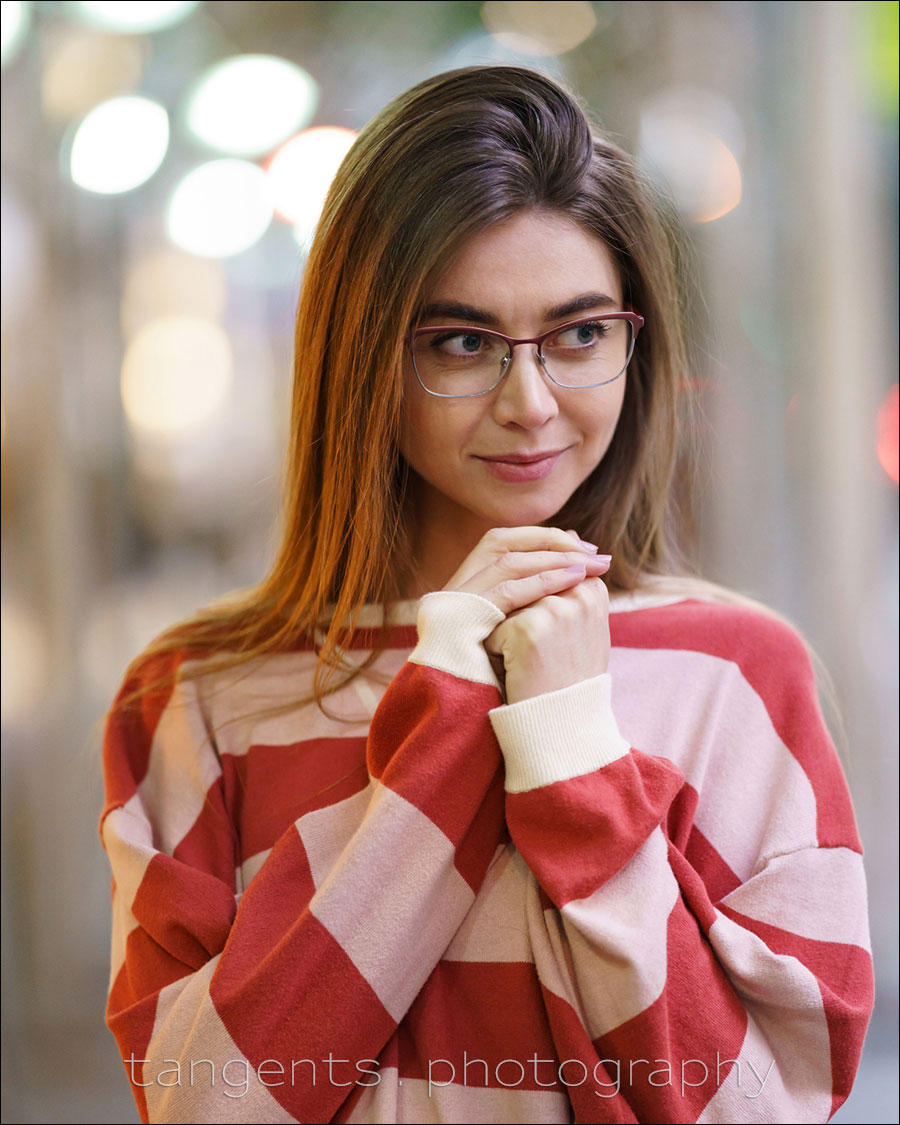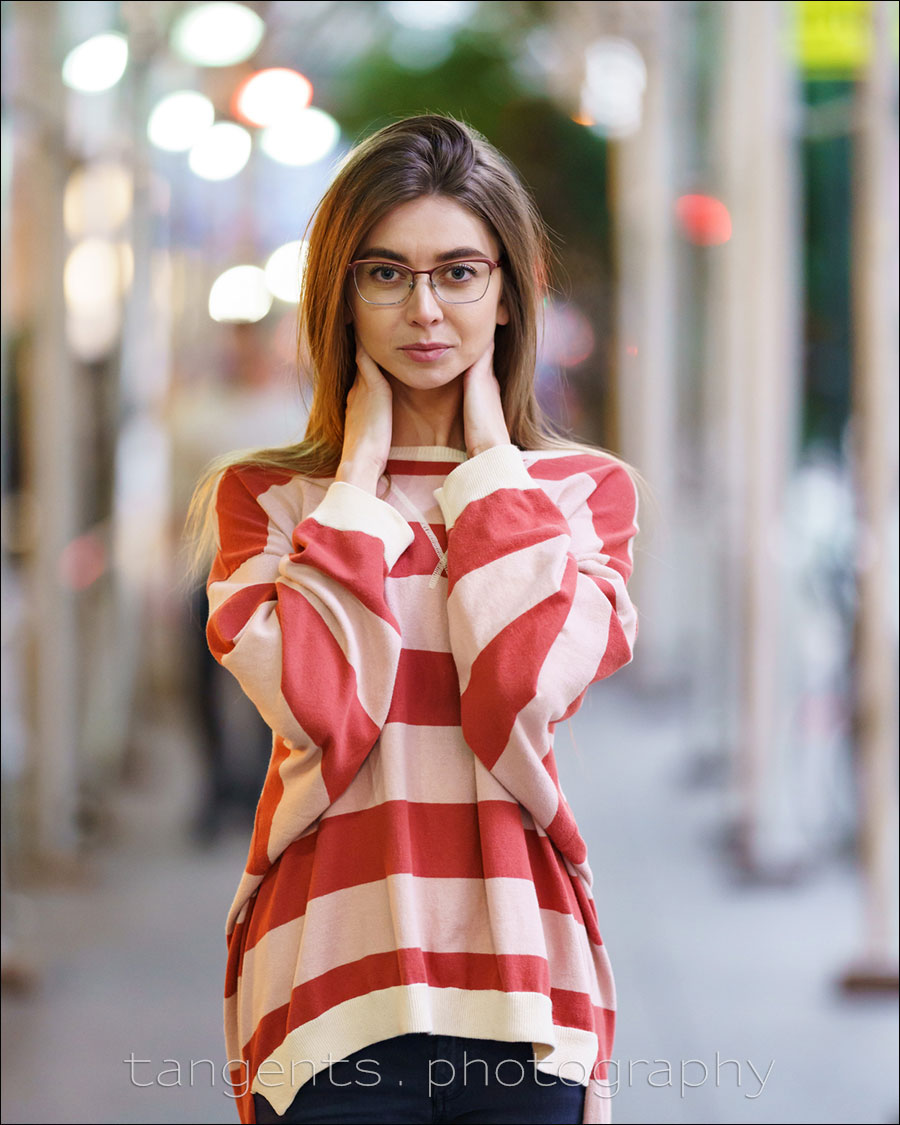 Have a look at the 3rd image in this sequence, posted below in the drop-down menu. It is the pull-back shot with my iPhone, and you will see where we were — in the middle of an uninspiring New York sidewalk surrounded by scaffolding. All of that just melts away with this lens because of the wide aperture and the compression afforded by the longer focal length.
The camera settings will tell you that the light levels were quite low, but this lens helped pull out something magical.
f/1.8  @  1/125  @  2500 ISO
available light only
Click here to see the pull-back photo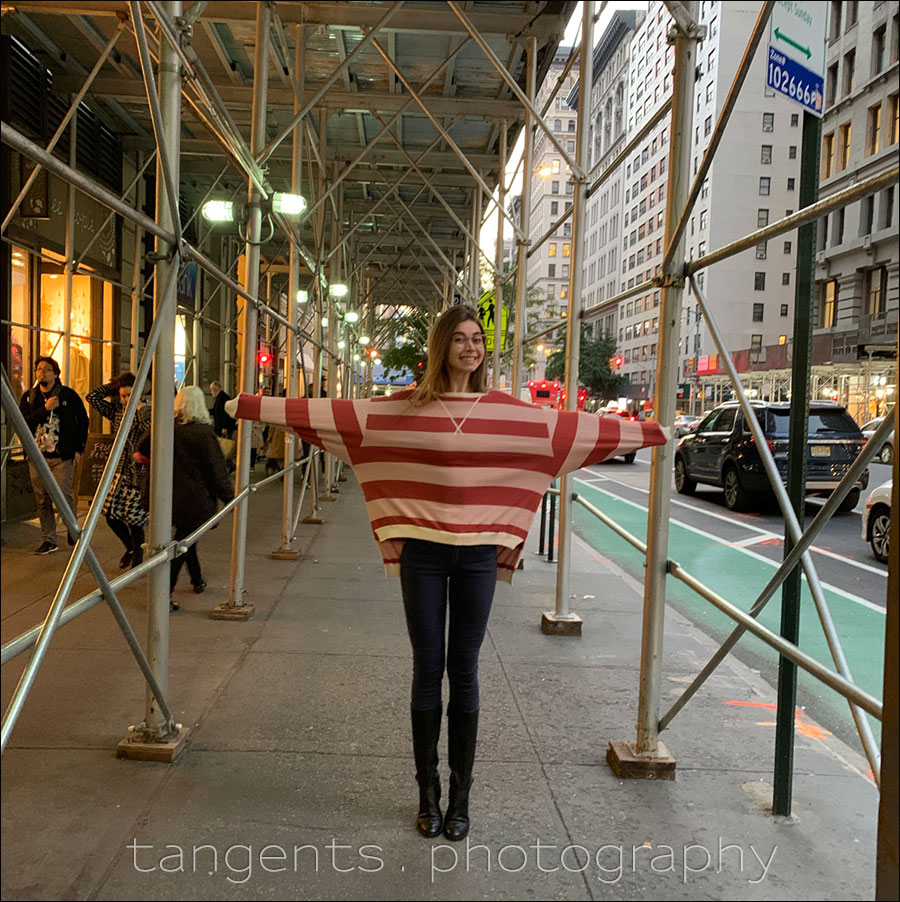 ---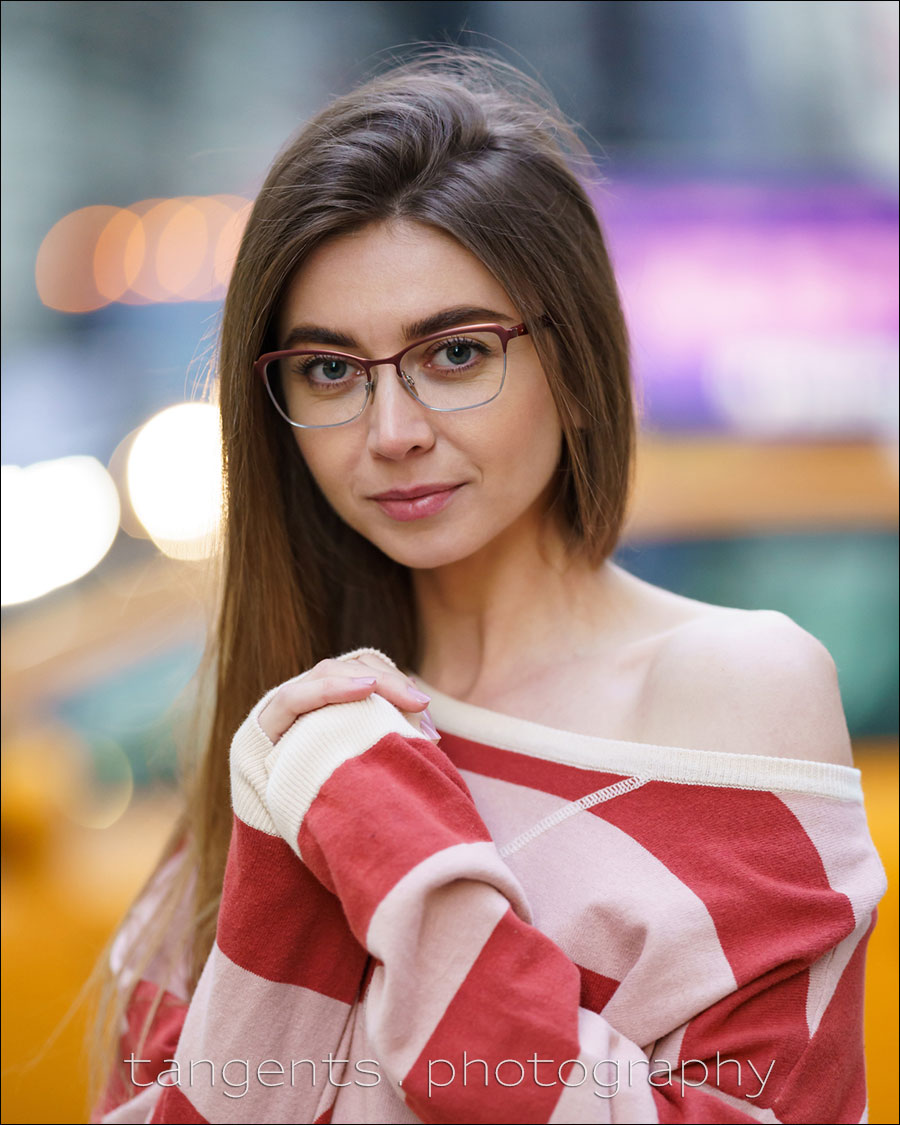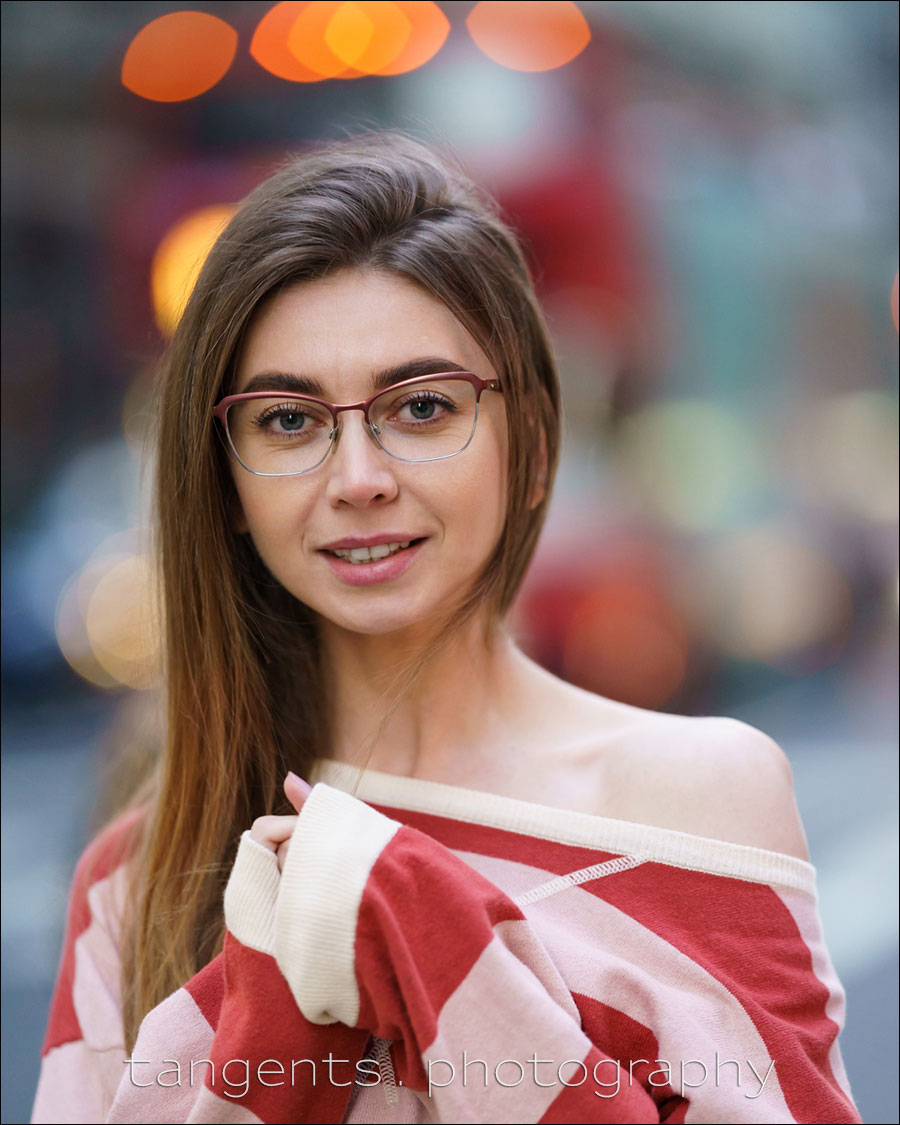 These two photos aren't substantially different — just the background changed, and kept changing as the traffic flowed behind Claudia. An ever-changing swirl of colors as buses and taxis and people moved by.
That's part of the beauty of working with longer focal length lenses when doing portraits — just a small change in your position can affect your background, giving you photos where there are changes within even single sequences.
f/1.8  @  1/250  @  1600 ISO
available light only
Click here to see the pull-back photo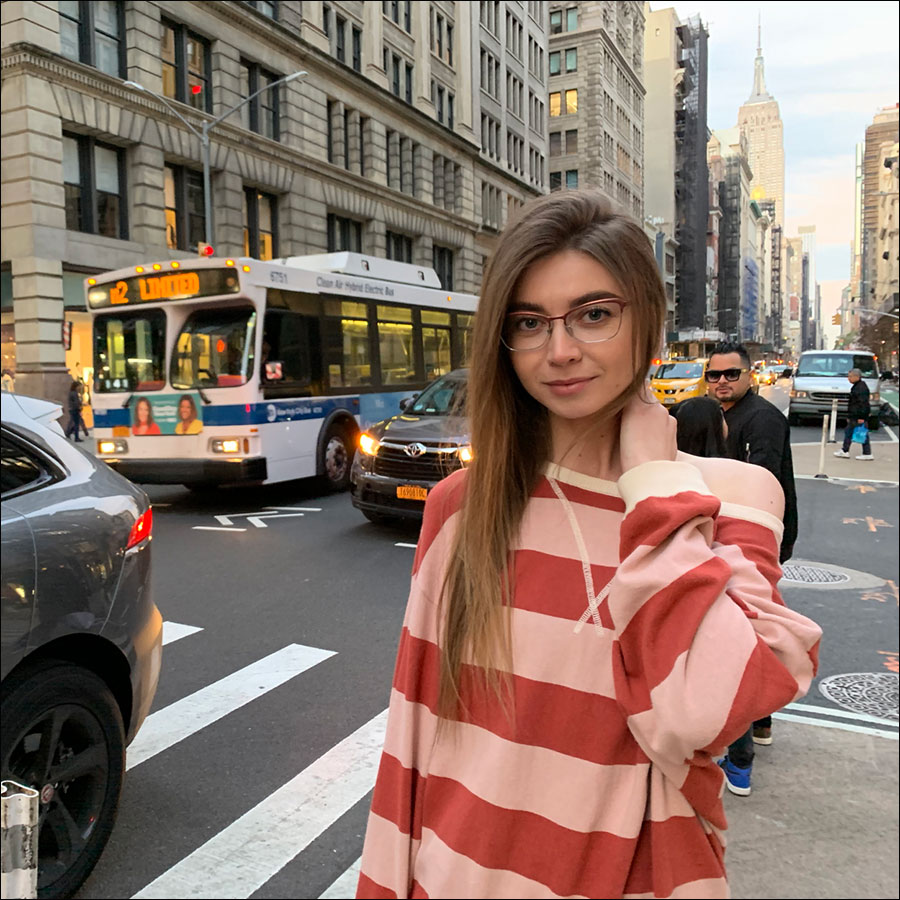 ---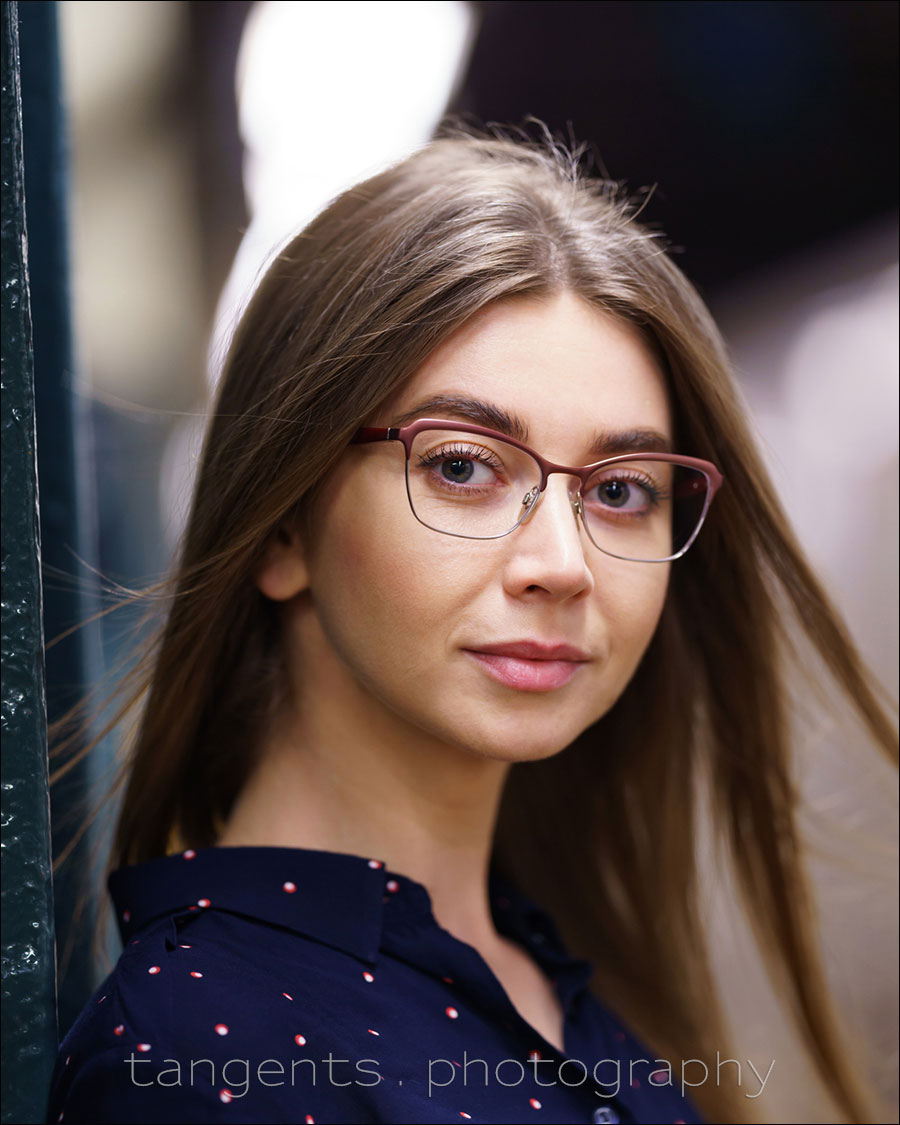 This photo of Claudia was taken down in one of the New York subway stations, as the train moved in to the platform. That rush of wind swept her hair like that.
The pull-back shot below will show the location better. Even in this seemingly unappetizing location, this lens allowed an interesting portrait.
Click here to see the pull-back photo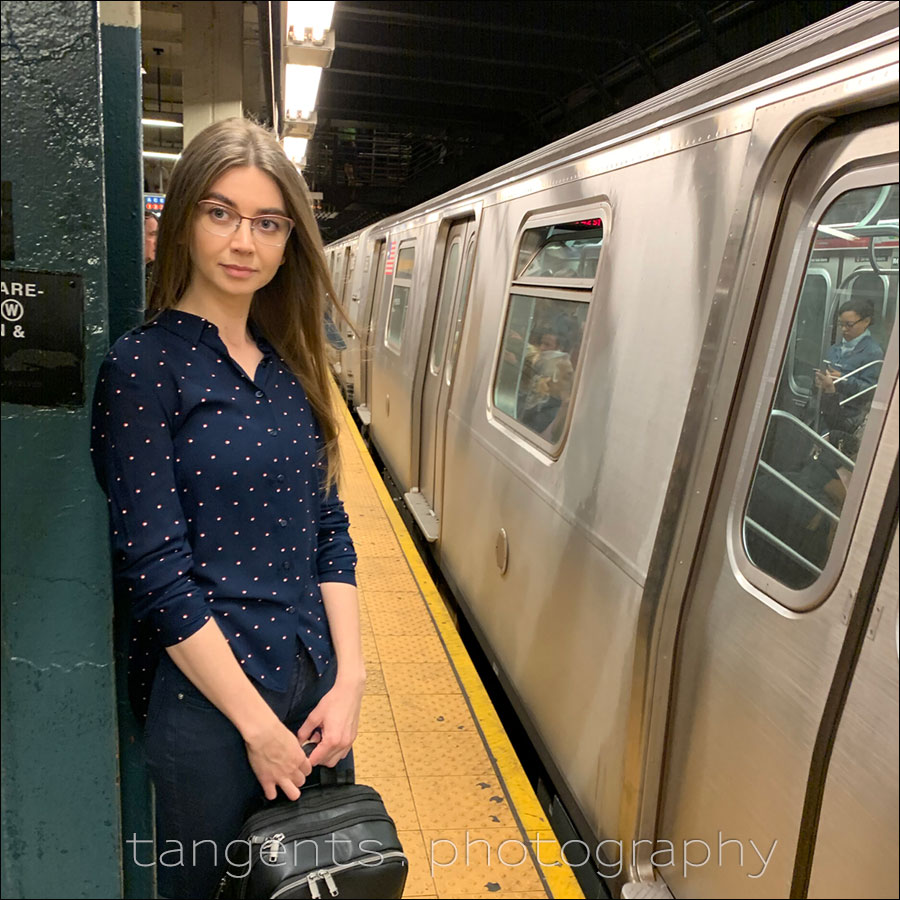 ---
This photo of Claudia was a bit of an opportunistic moment that I used. She still has her bag over the shoulder, and we didn't have much time to properly pose her for a photo before the moment was gone. The yellow light behind her was the flashing light from some tow truck waiting. You can see it in the pull-back shot. The flashing yellow light kinda blends with the light fixture on the wall far behind it, but you get the idea. This also gives an indication of how this lens handles flare.
Again, an interesting portrait was pulled out of an non-interesting scenario.
Click here to see the pull-back photo
---
The Sony 135m f/1.8 GM lens for event photography
As mentioned before, I got this lens specifically to use with low-light weddings, and with corporate events. That extra 1.3 stops can mean the difference between crisply sharp and an image which is a bit too soft.  Also, the 70-200mm f/2.8 lens can be a dauntingly large lens to point at someone if you want to be more unobtrusive.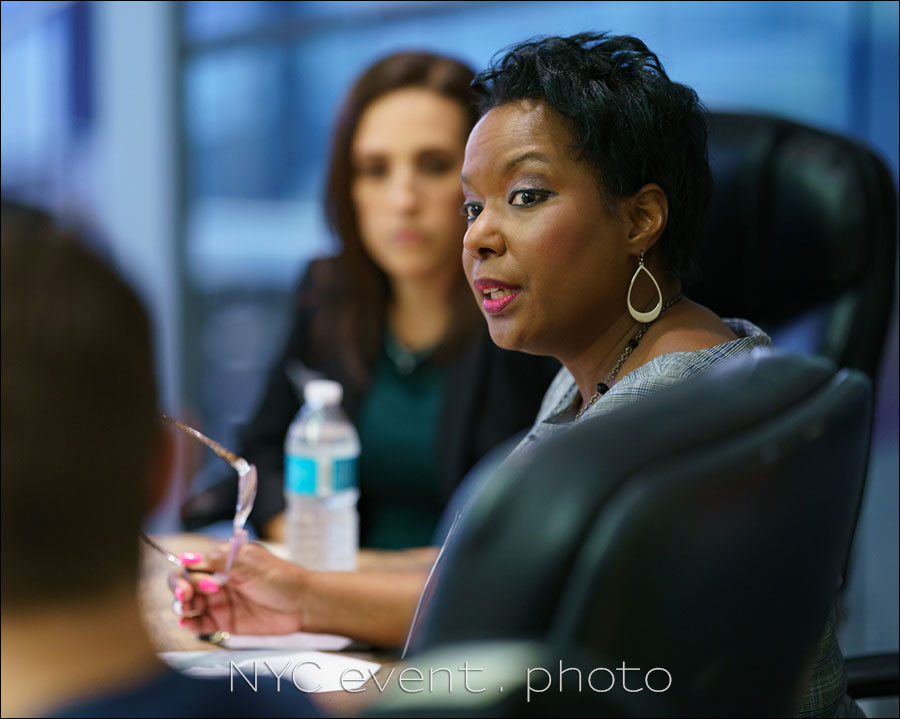 This photo was one of the images I took at a marketing event / discussion group. The lens gives me just the reach and compression that I like for tighter images like this one. (This photo was cropped to 5×4 ratio for my website though.) The silent shutter on the A9 is perfect for smaller events like this where I need to take numerous photos of each presenter in order to get photos where their expressions are good.
f/1.8  @  1/200  @  2000 ISO
available light only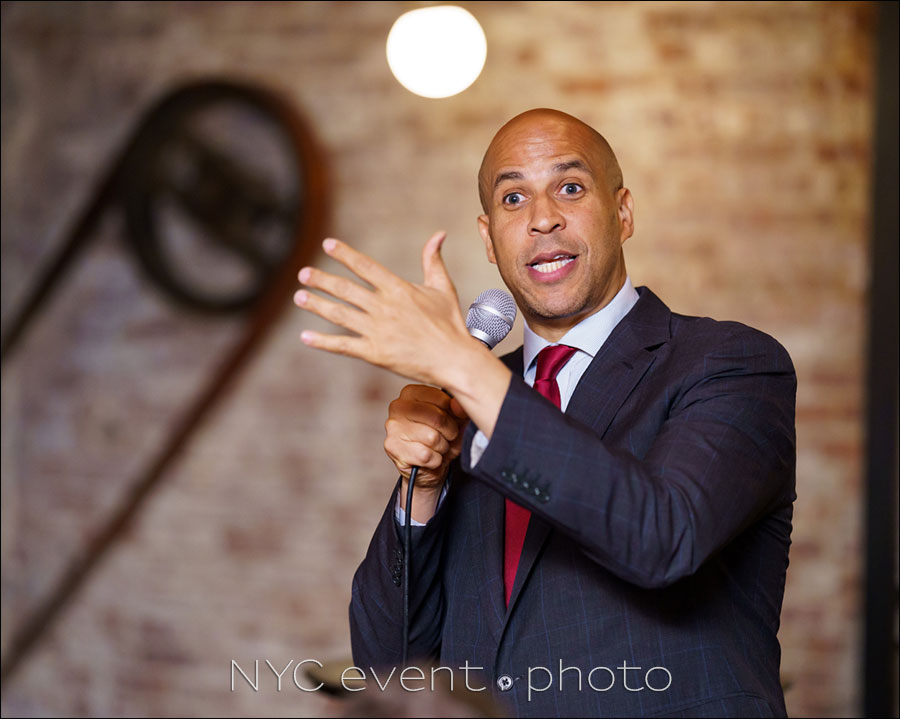 This photo and more of the story behind it, was posted in the article on event photography in low light.
f/2 @  1/200  @  3200 ISO
Using flash with the BFT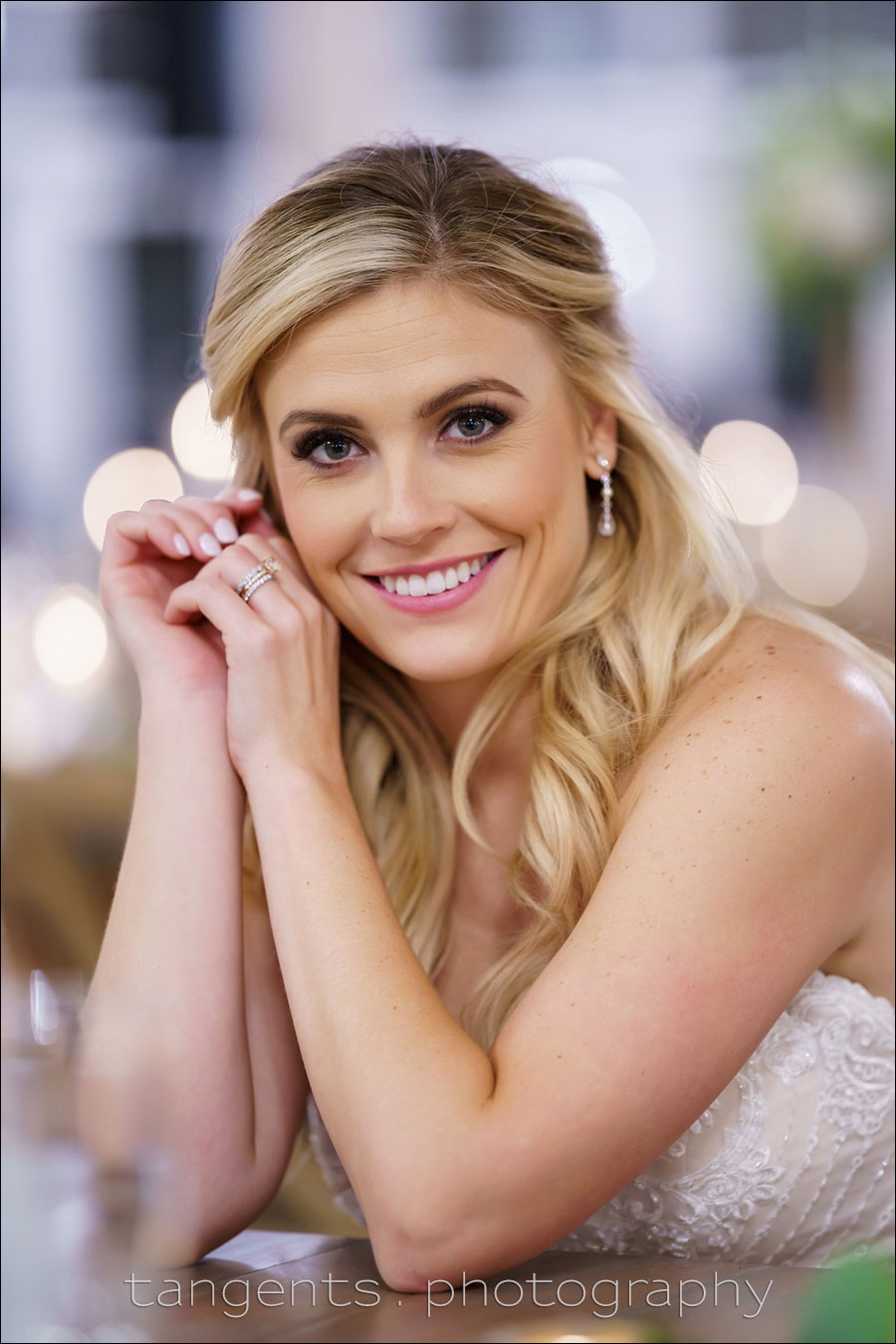 This portrait of the bride was taken in the reception room before the guests entered. Using the wide aperture and compression of this telephoto lens, everything else was rendered out of focus, turning this purely into a portrait with nothing else giving it much context that this was the reception room.
f/1.8  @  1/160 @  2000 ISO
available light only
---
Sharpness of the Sony 135mm f/1.8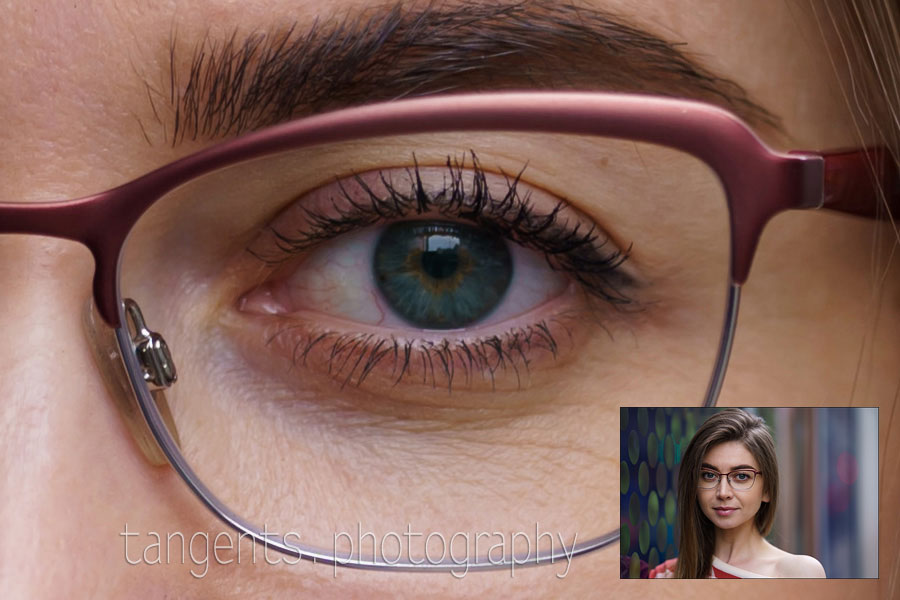 I am a little hesitant in posting these two 100% crops to show the sharpness of this lens. The incredible sharpness of this lens is another of its standout features. Count-the-eyelashes sharp. But both these images were shot out on the street, and weren't controlled test images.
The shutter speed was 1/320 so even with the camera having built-in stabilization, there will be slight impact from camera shake and subject movement — these aren't controlled tests for sharpness. So if you perhaps think these images aren't truly razor-sharp, keep that in mind. But in a sense, this also gives me a real-world idea of how sharp the results will be from this lens when used wide open. And for me, this is plenty sharp. For portraits, I will use a Photoshop plugin like Portraiture to soften the results anyway.
---
Summary
From all this, it should be quite apparent that I am in love with this lens. It is everything that you'd want and would need from a lens of this type. Focus is very fast. It is razor-sharp. The way this lens renders the out-of-focus background (ie, the bokeh), is just beautiful. There's not a single thing I would want differently from this lens. It is quite perfect.
Related articles