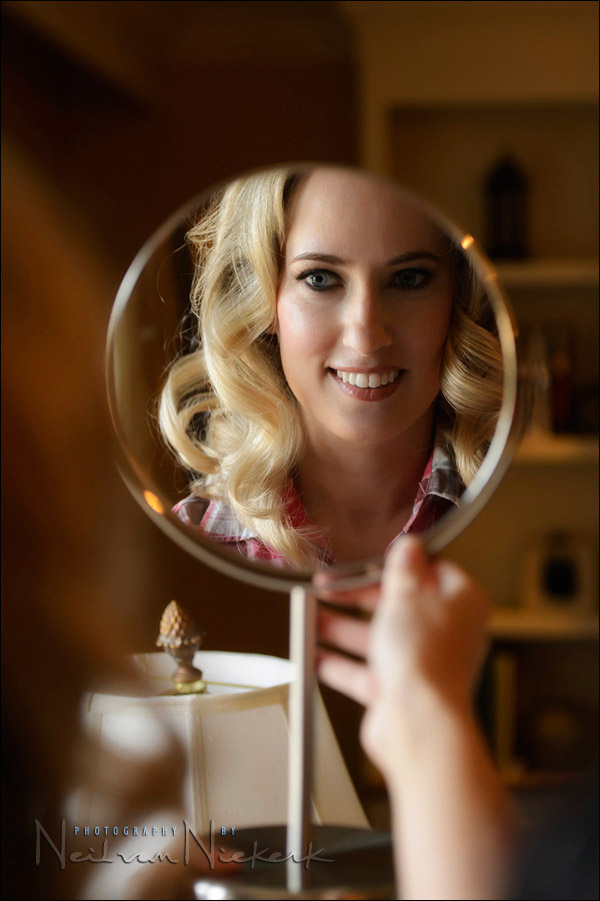 Wedding photography: Controlling those found moments
This photograph of Catherine, during the preparation on her wedding day, triggered a question in album of photos I posted on Facebook. The question was about the focal length I used, and also about how did I get this photo?
The answer is that this is a found moment – a candid moment – that I controlled. As I discussed in the article – wedding photography – a photo-journalistic style, or more posed? – I often guide things along on the wedding day. If I see something that I could nudge towards being a better photograph, I have no hesitation.
I think that many newer wedding photographers have a fear of interacting with their clients while taking photos. Perhaps this is due to shyness? (You're in the wrong business then!). But this could very well be because the photographer is reluctant to do anything that smacks of posing their clients, thinking this won't be quite the story-telling "photo-journalistic" moment then.
The photo above isn't complicated at all, but it might serve well as a discussion on this topic.
I shoot most of the wedding day with two lenses only – the 24-70mm f/2.8 and the 70-200mm f/2.8 zoom lenses. I like zoom lenses, since I can finesse my composition in-camera, without having to necessarily force the composition to match the specific focal length. The telephoto zoom then is essential for me, not just for the reach, but in tightly composing the image and isolating my subject.
Catherine, like every bride would, wanted to see how her make-up looks. A perfect moment to photograph. Yet, this usually happens too fast to capture with a longer focal length.
Therefore, when I see the moment, I would ask the bride to hold the mirror for a few seconds longer … then twist her hand slightly until she can see *me* in the mirror … and then to look at herself in the mirror. Of course, she will only see part of her reflection in the mirror, but in the resulting photograph, it appears as if she is looking at herself in the mirror.
Because I have the extra few seconds, I can now zoom my lens to get the composition I want.  (And no, you can not "zoom with your feet". If you were thinking that, you really have to dissuade yourself of that notion. You can't zoom with your feet.)
There it is – a slight adjustment to a found moment which enhances the final photograph … while still appearing spontaneous and real.
Camera settings & equipment used (and equivalents)
camera settings: 1/250 @ f/3.5 @ 1600 ISO
available light only, coming from the window
Related articles