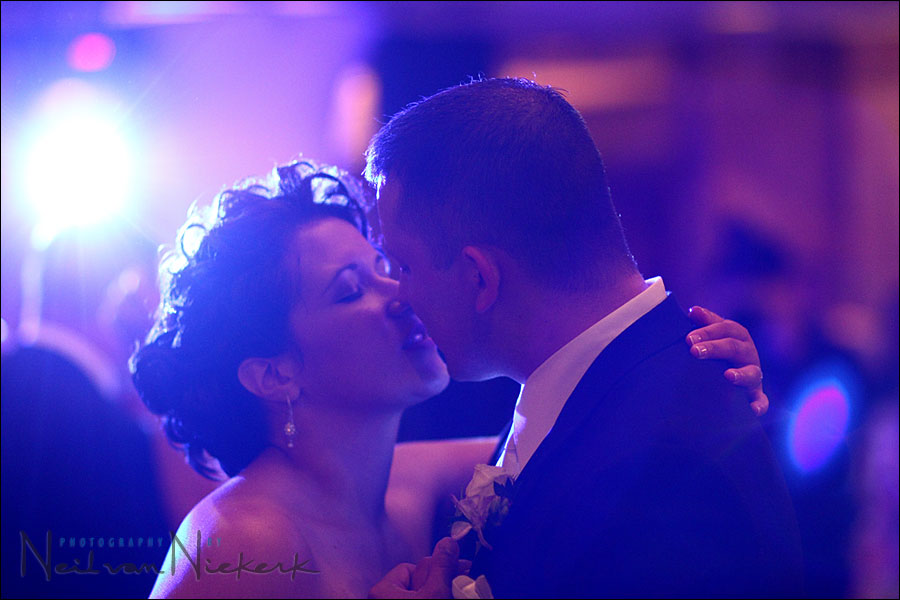 Wedding photography – Dealing with the DJ's lights
As wedding reception venues and DJs are becoming more sophisticated in their lighting, there's now the added challenge of spotlights and lasers and other lighting effects that compete with the simplicity of just using flash.
So how do you deal with this? You just deal with this. One way or another.
You can either embrace the colors (as in the example above),
or you can use flash to neutralize some of the wild color casts.
Just how do you do that? Well, there's a little bit of homework at the end of this.
Very often, I shoot towards the DJ's booth, so that the wild colors become splashes of color, whether I add (on-camera bounce) flash, or not. This way I don't have to directly compete with the lights, but they become an enhancement of the image.
With lasers skimming around – my advice is to shoot a lot to make sure you have enough images, in case some were spoiled by bright green dots. Also, learn to love photoshop and the Healing Brush.
With up-lighting that becomes quite prominent – well, there's the little bit of homework to do at the end!
And if anyone advises you to use specific settings such as (for example):  1/60 @ f/4 @ 1600 ISO to cover every situation, they are fools who are misleading you. There are too many variables for generic camera settings. Scenarios and situations change. You need to adapt.
You're not a passenger of your camera's settings. You control them to allow more ambient light in, or less. And if you allow less ambient light in, you need to add additional light, whether flash or video light.
A little bit of homework
Step-by-step, how do you "neutralize the wild color casts" of any up-lighting or DJ lights, using your flash?
Related articles
Final thoughts
If this all seems like a bit of a stern lecture, you're quite correct. My reply when asked for specific camera settings is that there is no real value in the numerical value of camera settings. But, there is value and insight in the thought-process.
Back to my seemingly non-advice advice to just deal with things (since you're a professional who took on to photograph weddings) –  You are in control. You decide and you make it work. Innovate and adapt and be creative. You're not a passenger of your camera's settings.