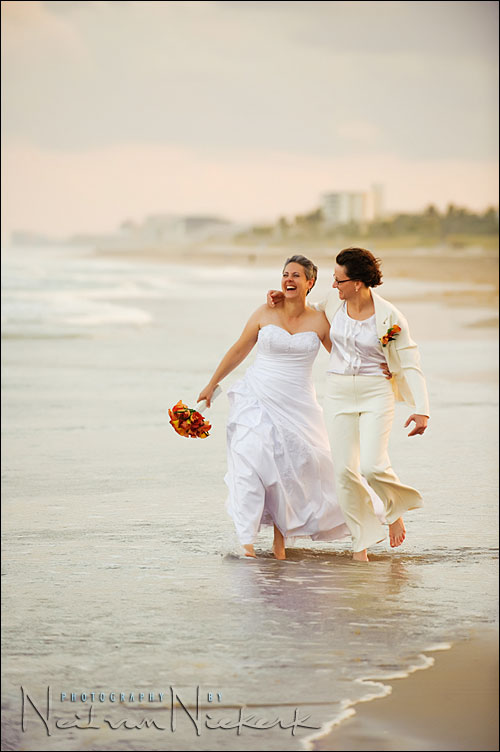 Wedding photography – Retouching & style
My style in wedding photography veers towards the more straight-forward image – uncluttered and without much Photoshop work done. I really believe that the more you fudge with a photograph, the more likely it would not be as timeless as you might want it to be. Retouching styles become dated. So I tend towards the more straight-forward rendition of a photograph. That said, you can most definitely enhance the original photograph to make it really pop.
Here is an example – a favorite image from a sequence taken during the romantic portrait session after a wedding.  The wedding took place in Florida. As a wedding photographer in New Jersey, it is quite a treat to do a destination wedding – someplace a little more exotic than the Garden State. Not only was it a destination wedding in Florida, but this also happened to be the first time that I photographed a same-sex wedding.   And I felt particularly honored to have so much faith placed in me with a special event like this.
The reason why this image is my favorite is that it shows a wonderful couple together in a spontaneous moment.  It is  very much *them*, and I am sure their friends and family will instantly recognize this image as capturing the essence of who they are, and how they are.
This is where a lens like the 70-200mm f2.8 is essential .. it allows breathing space between you and your subjects.   The light is all available light.  No flash necessary with the soft early evening light.
But I did a little bit of work on the image in Photoshop, so let's see how I got there ..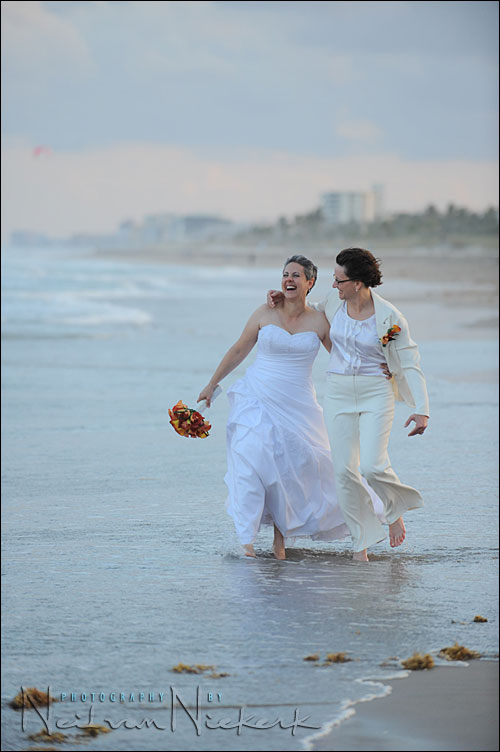 Here is the image directly out of camera.   To get this, I extracted the embedded JPG from the RAW file using BreezeBrowser.
The first thing you'll notice is the strong blue color cast because of the late evening.  Even with my WB set to Cloudy, it is still too cold.  But instead of wasting time messing around with the white balance settings, I accepted this .. and knowing I have the leeway with a RAW file, I just got stuck into the actual job of photographing the couple.  I could always fine-tune the WB later to my liking.   And my liking is a much warmer color balance, as adjusted in ACR / Bridge …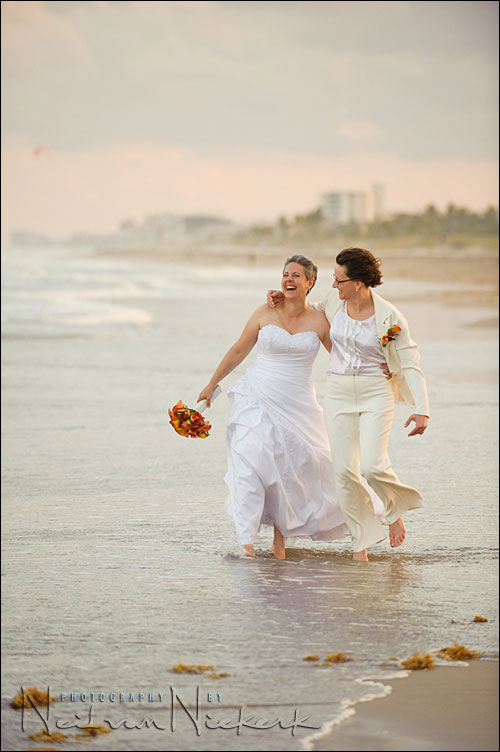 With this I would like to labor a small point again.  I am often asked what White Balance setting I am using, or used in an image … but really, it isn't of much consequence.   Rather concentrate on the moment .. the lighting .. reacting to what you're seeing .. than getting stuck into specific Kelvin settings during the photography session.
Which does briefly bring us to the technical details:
Nikon D3;  Nikon 70-200mm f2.8 AF-S (B&H)
1/500th @ f4 @ 500 ISO … but exposure was pulled up 0.5 EV in  post-processing the RAW file.
Back to the image .. now you'll notice that compared to the original, I cloned out all the seaweed.  That's just visual clutter distracting from the couple.  I also removed a hint of red in the clouds to the top left in the image.  It kept pulling my eye away .. when I really wanted attention on the bride's expression.
Then with those details taken care of, I wanted a bit more snap to the image.  The previous post on this blog touched on this topic .. making the image pop a bit more, and for this image, I used a different technique.
I created a duplicate layer on which I ran a softening plug-in -Portraiture by Imagenomic.  I used it at the default settings.  Simple.  There are hordes of other actions and plug-ins available to soften an image.
But what I really was after was some snap to the image.   For this I used an amazing piece of software  – Topaz Adjust (Topaz Labs).   (And as software goes, it is quite affordable.)  I ran Topaz Adjust on another layer, and then set it to Soft Light blending mode.  Very similar to that previous article on making an image more vibrant.
And there you have it .. the final image that I am very proud of.