Wedding photography tips
When I first started as a wedding photographer, the biggest hurdle for me was feeling like I had a grasp over the entire day's time-line. For 8+ hours, you have to balance so many things – being creative, working with people, dealing with ever-changing environments and lighting situations, while still hitting every beat. You have to stay on top of things, and deliver the best images you can, as your clients expect of you. It felt over-whelming at the beginning, but eventually I found my stride – my own rhythm where I could more effortlessly do my work as a wedding photographer.
Here are a few of my best tips for wedding photographers … but before we even get there, let's make this even more interesting – I would like to hear from you, what advice you have for other photographers shooting weddings. Post your reply in the comments section.
A few of my best wedding photography tips
•  Take control with the family formals. Don't assign the task to someone else to gather people for you. That isn't efficient. You need to take control and make sure everything runs smoothly. If this part of the wedding is daunting to you, then do check out my video tutorial: Posing and sequencing the family groups.
•  Help keep things rolling along. Often enough as the wedding photographer, you become the de facto wedding coordinator on the day who has to help keep things on track. So have an eye on the time-line, and gently guide events along. The church ceremony should start on time, and the wedding reception will start on time – and this means you have to help keep everything rolling along or the time will be curtailed that you have to photograph the couple, and their families and the bridal party. This is going to rouse the ire of the wedding photographers who consider themselves to be purely photojournalistic, but I do believe that as a great wedding photographer, you can't be passive. You are there to help make the couple's wedding day be fantastic.
•  Make sure that you get straight-forward portraits of the bride and groom, individually and as a couple, where they look at the camera. Regardless of how "photojournalist" you may think you are, and that these more traditional photos don't fit into your style – getting these straight-forward portraits are quickly done, and is good practice since doing this will help keep parents and family happy. Trust me on this one. Also, when doing this, shoot full-length, half-length and portraits.
•  Shoot for variety. When you have the B&G set up for a pose, remember to shoot wide, medium and tight. Vertical and horizontal. Sweep around and shoot from other angles as the couple interact with one other. Change your composition, and shoot off-center compositions as well.
•  Have the bride and groom fill out a time-line and info sheet. But remember, you will invariably have to adapt. So consider the time-line as a rough guide. On that note, make sure beforehand that your GPS can find the various places you will be driving to. I am so paranoid about this, that in addition to my car's built-in navigation, and the navigation on my phone, I have an extra GPS in my car. Oh, and my car has run-flat tires. Have I mentioned that  paranoia is a good thing?
•  Back to your shooting workflow on the day. However many batteries you think you may need during the day, double that. Same with memory cards. Have enough memory cards so that you can shoot two (or even three) weddings back-to-back, without having to erase memory cards for the next shoot. The ideal should be that you only format a memory card once the processed images are uploaded to the gallery – which then acts as your off-site / on-line backup. Oh, and never ever format a card on the job!
 •  Make sure you have back-ups. In fact, make sure your back-ups have back-up. This may sound like redundant advice, but I often see photographers post in FB groups about images lost, and other catastrophic failures – all because they don't grasp the idea of 'Single Point of Failure', and how that is something you'd want to avoid. Paranoia is a good thing when it comes to workflow.
•  Shoot on two large memory cards per camera. Not smaller ones. You run a huge risk swapping smaller memory cards out during the day. Two big cards in each camera, which never leave your body. The idea of not having too many eggs in one basket, and spreading the day over several memory cards, has become a useless and even dangerous practice with dual-slot cameras. So, shoot shoot RAW+RAW as back-up in-camera. Memory and storage is so cheap now that it would be false economy to skimp on this. Think of how any single failure in your workflow might entirely disrupt  you – and then take pre-emptive steps to avoid that.
•  Know your gear! You need to be familiar with your cameras and lenses and your lighting. You should be so familiar that you don't even have to think about camera settings, and that much of it comes from finger memory. Struggling to figure out camera settings on the day, means you aren't ready yet. I remember reading an article way way back in American Photo where a photo-journalist described how he would practice loading film in his camera while jogging in the dark. You want that kind of familiarity with your camera gear.
• Be sure to stock up on some essential items in your camera bag that will help in unforeseen situations: What else is in your camera bag?
Related articles
What are your best wedding photography tips?
I'd like to hear from you what you your best advice would be to make photographing a wedding, a more successful task. What are the essential things that you believe photographers should look out for or do?
So let's make it fun, and inspire each other. Post your ideas and plans in the comments section.
The contest closed on Friday, July 15th, 2016
and the winners of the two prizes announced.
To make it interesting, two of the entries were picked for a prize each.
 •  Brett Florens' latest book  – Shot In The Dark.
 •  The other is a copy of Brett Florens' tutorial video on Destination Wedding Photography. Totaling 5.5 hours of material as Brett covers how he photographed a wedding in Dubai.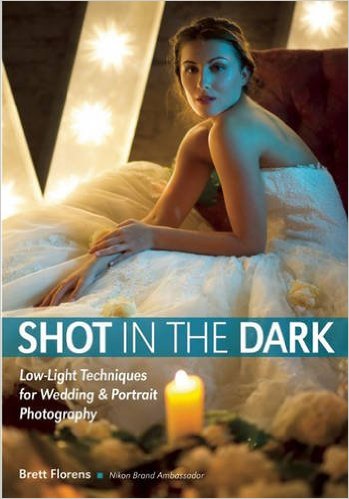 In this book, Brett Florens and contributors show techniques and lighting solutions — from reflectors, to LED lights, to flash — that will help you ensure that no important image is lost to poor light or exposure concerns.
From choosing and using the best camera settings to scouting locations with interesting, workable light, to creating gorgeous artistic effects, this book provides the skills you need to get THE shot at every stage of the wedding and in any locale.
You can either purchase a copy via Amazon USA or Amazon UK.
---
One Wedding | Destination Dubai from Brett Florens on Vimeo.
One Wedding | Destination Dubai, by Brett Florens
Take the trip of a lifetime with Brett Florens to the exotic location of Dubai, as he shoots a magnificent Destination Wedding that was featured in Harper's Bazaar magazine. In this 5½ hour video, Brett guides you meticulously through his first meeting with the client, packing equipment, the fabulous fashion-inspired Engagement shoot, the beach wedding and opulent reception as well as the Post-Wedding shoot – in the heart of the Dubai Desert complete with a camel! He then leads you through his album design and finally you can join him as he presents the album to the bride just after she returns from her honeymoon.
Regarded as one of the world's most influential photographers, Brett is a greatly accomplished and respected teacher of his craft. As we've come to expect, he shares every aspect of his journey, from great technical tips, inspirational composition and creativity, to his own personal attributes when forming a great working relationship with clients.
This video has over 5½ hours of highly valuable material, and is available for $179.
---